Addiction Congress Market Analysis and Reports | UK Conference Series
Market Analysis - Addiction Congress 2018
Summary: Addiction Congress 2018 welcomes attendees, presenters, and exhibitors from all over the world to London, UK. We are delighted to invite you all to attend and register for the "7th World Congress on Addictive Disorders and Addiction Therapy" which is going to be held during July 16-18, 2018. The organizing committee is gearing up for an exciting and informative conference program including Keynote presentation, plenary lectures, symposia, workshops and poster presentations on various topics related to addiction research and therapy around the theme "Exploring the new ideas and remedy solutions for Addiction Disorder for participants from all over the world".
In European countries total public spending for hospital-based treatments of only alcohol and illegal drugs is estimated to be around 7.9 billion euros per year. For the addiction induced brain disorders it's around 500-800 billion euros. Neurological disorders resulted from addiction activities costs 196.8 billion euros. Anxiety and psychoatic disorders caused by addiction costs 72 billion euros to the european countries.National Institute on Drug Abuse (NIDA),USA evaluates these enslavement costs USA more than $600 billion dollars in the term of human services, sponsored medications and counteractive action endeavors.
Cannabis is the most commonly seized drug, accounting for over 70 % of seizures in Europe. Cocaine ranks second overall (9 %), followed by amphetamines (5 %), heroin (5 %) and MDMA (2 %).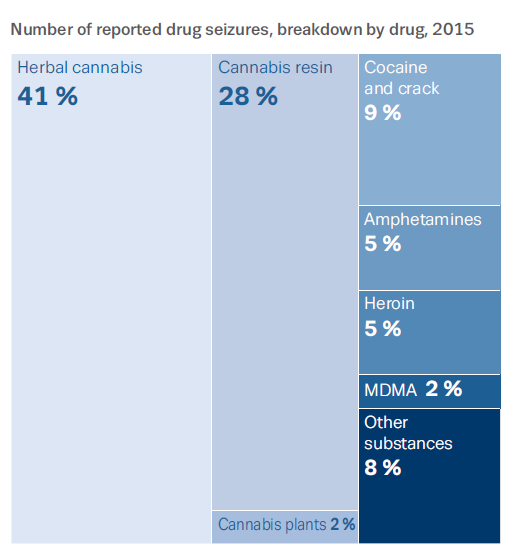 In 2015, more than 60 % of all drug seizures in the European Union were reported by just 3 countries, Spain, France and the United Kingdom; considerable numbers of seizures were also reported by Belgium, Denmark, Germany, Greece, Italy and Sweden. It should also be noted that recent data on the number of seizures are not available for the Netherlands or for Poland and Finland. These gaps in the data add uncertainty to the analysis.
Heroin is the most common opioid on the European drug market, with an estimated retail value of EUR 6.8 billion (likely range EUR 6.0 billion to EUR 7.8 billion). Historically, imported heroin has been available in Europe in two forms, the more common of which is brown heroin (its chemical base form), originating mainly from Afghanistan. Far less common is white heroin (a salt form), which in the past came from South-East Asia, but now may also be produced in Afghanistan or neighbouring countries. Other opioids seized by law enforcement agencies in European countries in 2015 included opium and the medicines morphine, methadone, buprenorphine, tramadol and fentanyl. Some medicinal opioids may be diverted from legitimate pharmaceutical supplies, while others such as the 27 kilograms of morphine powder seized in 2015, are illicitly manufactured.
Afghanistan remains the world's largest illicit producer of opium, and most heroin found in Europe is thought to be manufactured there or in neighbouring Iran or Pakistan.
ESPAD also reports on the use of alcohol and tobacco. More than four fifths (83 %) of the students had consumed alcohol at least once in their lifetime. Half of the students reported drinking alcohol at least once in the last month, with 39 % of boys and 36 % of girls having had five or more drinks on one occasion during the last month (heavy episodic drinking).
Just under half (47 %) of students had smoked cigarettes. In the month prior to the survey, 23 % of students reported smoking one or more cigarette a day, with 3 % smoking more than 10 a day.
Across all age groups, cannabis is the illicit drug most likely to be used. The drug is generally smoked and, in Europe, is commonly mixed with tobacco. Patterns of cannabis use can range from the occasional to the regular and dependent.
It is estimated that 87.7 million European adults (aged 15–64), or 26.3 % of this age group, have experimented with cannabis at some time in their lives. Of these, an estimated 17.1 million young Europeans (aged 15–34), or 13.9 % of this age group, used cannabis in the last year, with 10 million of these aged 15–24 (17.7 % of this age group). Last year prevalence rates among 15- to 34-year-olds range from 3.3 % in Romania to 22 % in France. Among young people using cannabis in the last year, the ratio of males to females is two to one.
Major Addiction related research centers and societies in London, UK
· Institute of Psychiatry, Psychology & Neuroscience, King's College London
· Developmental Psychiatry Centre (MRC)
· Addiction and Lifestyles in Contemporary Europe Reframing Addictions Project (ALICE RAP)
· Alcohol Action Ireland
· Alcohol and Drugs History Society
· Alcohol and Health in Older People
· Alcohol Research UK
· Alcohol, Other Drugs, and Health: Current Evidence
· Australian Drug Information Network (ADIN)
· BEAD: Bereaved through Alcohol and Drugs.
· British Association for Psychopharmacology
· British Liver Trust
· British Medical Association
· British Medical Association Report on Drugs of Dependence
· Cannabis Cohort Research Consortium (CCRC)
· European Commission Public Health Alcohol
· European Commission Public Health Illicit Drugs
· European Commission Public Health Tobacco
· European Monitoring Centre for Drugs and Drug Addiction (EMCDDA)
· International Cannabis and Cannabinoids Institute
· International Doctors for Healthy Drug Policies (IDHDP)
· International Nurses Society on Addictions (IntNSA)
· International Society of Addiction Medicine
· National Association for Children of Alcoholics
· National Centre for Smoking Cessation and Training
· National Institute for Drug Abuse
· National Institute for Health and Clinical Evidence
· National Institute on Alcohol Abuse and Alcoholism
· National Library of Medicine Medline Plus
· National Organisation on Fetal Alcohol Syndrome
· Public Health England: New Psychoactive Substances: A toolkit for substance misuse commissioners
· Royal College of General Practitioners Substance Misuse and Associated Health (SMAH)
· Scottish Schools Adolescent Lifestyle and Substance Use Survey (SALSUS)
· Substance Misuse Management in General Practice
· Substance Use Screening & Assessment Instruments Database
· The Australian Professional Society on Alcohol & Other Drugs (APSAD)
· The Brief Addiction Science Information Source (BASIS)
· The International Narcotics Control Board
· The National Documentation Centre on Drug Use
· The role of smoking in the progressive decline of the body's major systems
· The Scottish Public Health Observatory
· World Anti Doping Agency