Aerodynamics Market Analysis and Reports | Australia Conference Series
Market Analysis - Aerodynamics 2018
Importance and Industrial scope
Fluid Dynamics and Aerodynamics plays the main role on the global market in Aerospace industry. It provides the employment for more than 500,000 people and generated a turnover of close to EUR 222 billion. The EU is the top place to manufacture civil aircraft, it includes helicopter, aircraft engines, parts and components of vehicle engines. The employment in the aerospace industry is major in the UK, France, Germany, Italy, Spain and Sweden. Due to high productivity and despite high employment costs, the sector is in profit. A huge amount is spent on R&D which results in R&D employment and will increase the patent applications.
Why Australia?
Australian aerospace is an innovative sector that manufactures, engineers, designs and repairs components, parts and equipment for flying machines of all kinds, from commercial and defence aircraft, helicopters, to missiles and unmanned aerial vehicles. It contributes significantly to the Australian economy, with annuals revenue of $4bn, and it employs over 14,200 people in 892 businesses, according to IBISWorld's December 2013 Aircraft Manufacturing and Repair Services in Australia market research report.
The report reveals that Australian parts are key features in both the Airbus A380 and the Boeing 787 Dreamliner. During 2013-14, IBISWorld predicts that the industry revenue is expected to increase 3.9% as domestic demand from the commercial sector recovers from recent turbulence caused by overseas manufacturing strikes and delays of new aircraft. The development of commercial aircraft and parts represents the industry's largest product segment, accounting for 33% of industry revenue in 2013-14.
Air traffic in the Asia Pacific Region is growing rapidly, according to Aviation/Aerospace Australia (A/AA), the national association of aviation and aerospace industries. A/AA is also currently working together with Austrade on an aerospace manufacturing capability research project, which aims to develop an industry-wide database of Australian aerospace manufacturers. Around 200 aerospace manufacturers are currently being interviewed for the project.
A/AA is focused on promoting Australian innovation and expertise as well as building capacity and skills, with an emphasis on four industry-wide activity areas of: data, research, policy, and development – in both the domestic and international domains. "With the added air traffic and increased passenger numbers, there will be a massive need for more planes to be built and subsequently a greater demand for manufacturing of aircraft components and parts," said Tamara Bell, A/AA Director of National/International Programs. "The Australian aerospace industry is very well positioned to supply the Asia Pacific region, with an industry which has high standards, is very advanced and innovative."
Education platforms in Asia
Asian Countries has grown vastly in the field of aerospace engineering in recent years and many companies has setup the industries in Asia to increase the need in demand for Air Carriers. Asia has many Aerospace engineering universities and research centers making it accessible for both national and international students who wish to pursue studies in the field of Aerospace Engineering.
Target Audience
The conference discusses the latest research outcomes and technological innovations in the field of Aerodynamics, Scientists, Researchers, Industrialists, students related to the Aerodynamics and Exhibitors to exchange and share their views on critical aspects of Otolaryngology research. The event is organized to provide an exclusive platform for new researchers, scholars and educators to present and discuss the most recent innovations in the Aerodynamics and Aerospace industry.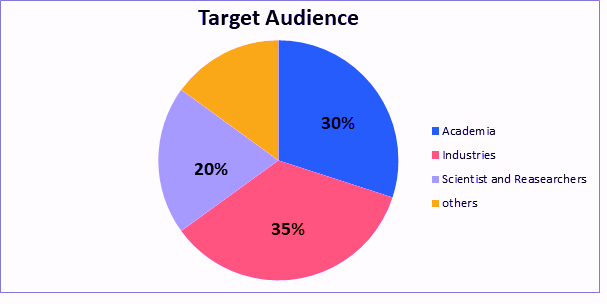 The Top Universities in the World for Aerospace and Aerodynamics Engineering
Stanford University
Georgia Institute of Technology
Massachusetts Institute of Technology
California Institute of Technology
University of Michigan
University of Texas
Purdue University
The Top universities for Aerospace and Aerodynamics engineering in Australia:
The University of New South Wales
The Australian National University
Queensland University of Technology (QUT)
The University of Western Australia
The Top universities for Aerospace and Aerodynamics engineering in Asia:
Nanyang Technological University (NTU)
National University of Singapore (NUS)
The Hong Kong University of Science and Technology (HKUST)
KAIST - Korea Advanced Institute of Science and Technology
University of Hong Kong (HKU)
Tsinghua University
Fudan University
City University of Hong Kong
Peking University
The Chinese University of Hong Kong (CUHK)
The Top Universities in the Europe for Aerospace and Aerodynamics Engineering
Teesside University, Middlesbrough, UK
Politecnico di Milano, Italy
Aalto University, Finland
University of Pisa
Technical University of Berlin, Germany
Technical University of Munich, Germany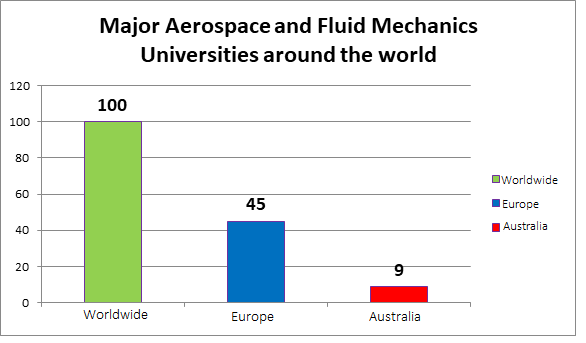 Top Aerospace companies and their revenue
Airbus $78.7 billion
Lockheed Martin $45.4 billion
United Technologies $33.1 billion
Northrop Grumman $4.7 billion
Raytheon $23.7 billion
General Electric $21.9 billion
Finmeccanica $19.4 billion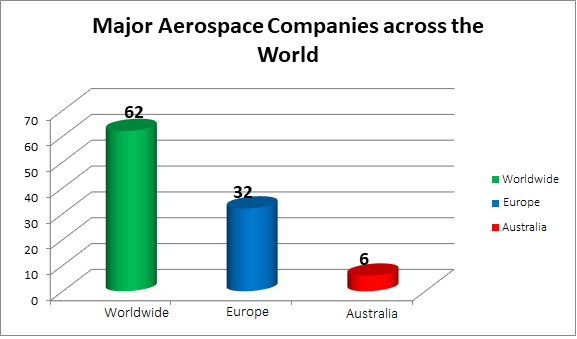 Major Aerospace Associations around the World
Aerodynamic Testing Association
Aircraft Research Association
The Low Speed Aerodynamics
Research Association (LSARA)
European car aerodynamic research association
The Airship Association
American Physical Society
The Japan Society of Fluid Mechanics
National Society of Fluid Mechanics and Fluid Power IIT Bombay
The Airship Association
Major Aerospace Associations around the Europe
French Aerospace Industries Association, France
German Aerospace Industries Association, Germany
Italian Industries Federation for Aerospace Defense & Security, Italy
Defense and Security industries, UK
Association of Finnish Defense and Aeros
pace industries, Finland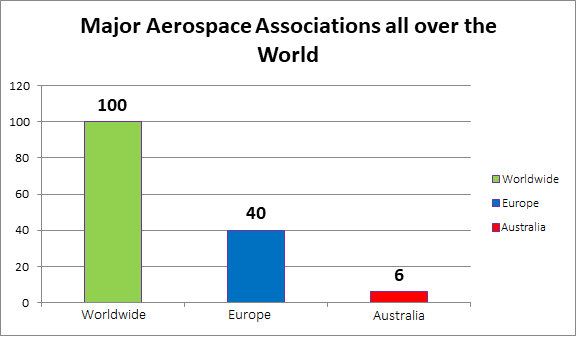 Glance at Market and Funding for the new Research
The European Commission's biggest ever investigate and advancement subsidizing program, with an add up to budget of over €70bn running from 2014 to 2020. It is organized around three columns: Amazing Science, Industrial leadership and Societal Challenges. Aviation is arranged inside the Societal Challenges column and falls inside the 'Smart, Green and Integrated Transport' region .
The European Countries point is to create (and additionally illustrate) get through innovations for the common AIRCA market to cut AIRCRA emission and noise and secure the future worldwide intensity of the European flying industry. European airspace and its air traffic management (ATM) started a commission and the funding program is overseen by the SESAR Joint Undertaking. European airspace and ATM methods will be moved forward by modernizing ATM through the definition, advancement, approval and sending of unused innovative and operational ATM arrangements and there is financing accessible to associations wishing to participate in this try.
Growth: Scope and Projection for next 5 years in the Aerospace Engineering and Aerospace Industry
One of the most challenging areas of engineering, Aerospace Engineering and the industries is to deal with the development of innovation in the field of aviation, defense and space systems. Aerospace Engineering involves design and manufacturing of hi-tech systems; hence the engineer requires possessing manual, technical and mechanical Skills. This space specializes in planning, development, advancement, testing and upkeep of commercial and military discuss carriers and spacecrafts. Aeronautical courses specialize in the development and plan of aircrafts, rockets and helicopters. Astronautical Designing incorporates space carriers, rockets and space stations.
The scope of the aeronautical engineering is increasing vastly and with the growth in population and there is a huge requirement of the aeronautical industry. The turnover revenue for the Aerospace industry in 2013 is 140 billion Euros and in 2015 is 222 billion Euros. Worldwide Aerospace and Defense (A&D) part incomes developed by 2.4 percent to US$674.4 billion out of 2016, somewhat over the estimated gross Domestic Product(GDP) development of 2.3 percent. The top 100 Aerospace organizations added revenue of US$15.7 billion in incomes, with development principally determined by the European business. The aerospace industry has a huge revenue growth.
The best aerospace companies are investing £20 million with alongside government in the skills that will take the sector to new heights It is estimated that in the next five years the development and innovation in the aerospace industry will be developed so vast and we can also see the further developments in the Aerospace industry. Six ventures will share £80 million for aviation research to offer assistance convey development and innovation in key ranges of technology. This financing comes from a £2 billion pot committed mutually by industry and government as portion of our industrial procedure, through the Aerospace Technology Institute (ATI).
ConferenceSeries Ltd welcomes you to attend the "International Conference on Aerodynamics, Fluid dynamics and Aerospace engineering" (Aerodynamics 2018) scheduled to be held during November 12-13, 2018 at Melbourne, Australia . The conference invites all the participants across the globe to attend and share their insights and convey recent developments in the field of Aerodynamics, Fluid dynamics and Aerospace engineering.
On this auspicious occasion, Organizing Committee invites the participants from all over the globe to take part in this annual flagship conference with the theme "Multiphysics approach in aerodynamics". Aerodynamics 2018 aims in proclaim knowledge and share new ideas amongst the professionals, industrialists and students from research areas of Aeronautics, Astronautics,Fluid dynamics, Materials Science, Fluid mechanics, Heat transfer and Physics to share their research experiences and indulge in interactive discussions and technical sessions at the event. The Conference will also have a space for companies and/or institutions to present their services, products, innovations and research results. If your company/organization is interested in participating in this event, contact us here