Euro Cancer Market Analysis and Reports | Belgium Conference Series
Market Analysis - Euro Cancer 2017
Summary
Cancer is a major public health problem worldwide and stands as one of the biggest killers in the 21st century. Cancer is treated with Surgery, Radiation, Chemotherapy, Hormone therapy, Biological therapy (includes Immunotherapy, Monoclonal Antibody therapy). Type of Cancer treatment is based on location and grade of the tumor, stage of disease and general state of a person's health. Cancer mortality can be reduced if the disease is detected and treated early. Advancements of Anti-Cancer therapies are growing rapidly due to the awareness of early diagnosis, longer treatment duration and increased effectiveness of drug therapies. Among all the treatments, Radiation therapy is commonly used for any cancer treatment. Hence, Radiation Oncology, a branch emerged, as a medical specialty field that involves treating cancer cells with regulated doses of high energy radiation. Presently, Radiotherapy is used in a wide range of applications for the treatment of benign cancers, prostate cancer, gynecological cancer, cervical cancer, breast cancer, lung cancer, penile cancer and many more.
The organizing committee is gearing up for an exciting and informative conference program including plenary lectures, symposia, workshops on a variety of topics, poster presentations and various programs for participants from all over the world. We invite you to join us at the Anti-Cancer Therapy 2017, where you will be sure to have a meaningful experience with scholars from around the world. All members of the Anti-Cancer Therapy 2017 organizing committee look forward to meet you in Brussels, Belgium.
Importance and Scope
Radiation therapy is one of the prominent therapies used today in the treatment of cancer. Developed countries such as U.S., Europe have already considered radiotherapy procedure as the gold standard for cancer treatment. Radiotherapy refers to therapeutic procedures using high-energy electromagnetic waves or radioactive particulates to thwart abnormal cell growths and repair different physiological abnormalities within the human body. Anti-Cancer Therapy 2017 will be the best platform for radiologists, oncologists, researchers working in this field to connect and exchange ideas.
Hall marks of Conference:
Radiation Oncology and Recent advances in Radiation therapy
Principles of Anticancer therapy
Uses of Surgical Oncology
Cancer Chemotherapeutic Drugs
Multimodality treatment in Cancer
Adjuvants, Neo-adjuvants and Palliative treatment in cancer
Cancer Screening and Diagnostic Tests
Prophylactic and Therapeutic Cancer Vaccines
Conferenceseries LLC welcomes all the radiologists, oncologists, research scholars, industrial professionals and student delegates from biomedical and healthcare sectors to be a part of the esteemed Radiation Oncology. As this will be the best amalgamation of academia and research involving every aspect of radiotherapy and imaging techniques, it is open to all types of research methodologies both from academia and industry
Why to attend?
20th Euro-Global Summit on Cancer Therapy & Radiation Oncology is organizing an outstanding Scientific Exhibition/Program and anticipates the world's leading specialists involved in Radiation Oncology. Conferences share a lot of information to universities and companies. It benefits to medical students, researchers as well as professors.
Target Audience:
Radiologists
Oncologists
Chemotherapists
Doctors
Oncology Institutes
Medical Colleges
Research faculty
Academic Scientists
Students
Cancer Diagnostics Associations and Societies
Diagnostic laboratory professionals
Business Entrepreneurs
Industry professionals
Directors/Managers/CEO's
Presidents & Vice Presidents
Brand Manufacturers/ Marketers of Consumer Products
Marketing, Advertising and Promotion Agency Executives.
Why Brussels?
20th Euro-Global Summit on Cancer Therapy & Radiation Oncology is going to be held in Brussels, Belgium. Brussels, known as the Belgium's fascinating capital and the administrative capital of European Union is filled with art and architecture created from an unmistakably Belgian point of view that cannot be replicated. Brussels, a region of Belgium comprising 19 municipalities, is a city of contrasts with enormous diversity, experiencing cool climates all throughout the year. Brussels is also becoming known as a mecca of style, art, and design having bilingualism of Modern French and Old Dutch. While attracting more and more big names in international fashion to its growing shopping districts, home-grown Belgian designers are rapidly gaining global notoriety. The streets of the city feature as a center for fashion, art, Belgian culture. The word 'Brussels' meaning 'Home in Marsh', is mainly known for Chocolates and Beers. Apart from its famous Chocolates and Beers, there are almost 90 world class museums, art galleries, beautiful parks, architecture, Bars and much more. Among all, the top tourist attractions of Brussels include The Grand Palace, Mini Europe. As the Centre of European culture and Institutions, Brussels has much more to offer than people imagine.
Brussels Tourist Attractions:
Museums : The Museum of Ancient art, Magritte museum, The Museum of Musical instruments, Museum Horta, The dinosaur gallery at the Royal Belgian institute of Natural Sciences, The Belgian Comic Strip Centre and lot more.
Monuments : Grote Market / Grand Place, Town Hall, The Royal Palace, Manneken Pis, Coudenberg, Galeries St Hubert, Atomium, Place du Petit Sablon, Laeken Palace and many more.
Parks : Leopold park, Egmont park, Tenbosch park, Josaphat park, Atomium and Bruparck, Royal park and Parliament, Colonies street, Botanical garden of Brussels, Cinquantenaire, The Bois de la Cambre, Ter Kamerenbos, parc Malou, Brussels park and many more
Churches : Koekelberg Basilica, Cathedral of Saints Mitchel and Gudule, Holy Trinity, Church of our lady of Laeken, St Andrew's Church, St Joseph's Church
Shopping streets : Rue Neuve, Chaussée d'Ixelles, Rue Antoine Dansaert, Avenue Louise, Rue Bailli
Shopping Malls : City2, The W Shopping, Westland Shopping Center, Docks Bruxsel, Marche Dumudi, Vieux Marche, Place du Grand Sablon, Claude Noelle, Christa Reneirs
2012 World Health Organization Report:
According to W.H.O Report, 14 million new cancer cases, 32 million cancer 5 year survivals and 8.2 million cancer deaths are estimated in 2012 globally. Among them, More Developed regions account for 6 million new cases, 16.8 million cancers 5 year survivals and 2.8 million cancer deaths. Around 8 million new cancer cases, 15.6 million cancer 5 year survivals and 5.3 million cancer deaths are reported in Less Developed regions.
Fig 1: W.H.O Cancer Report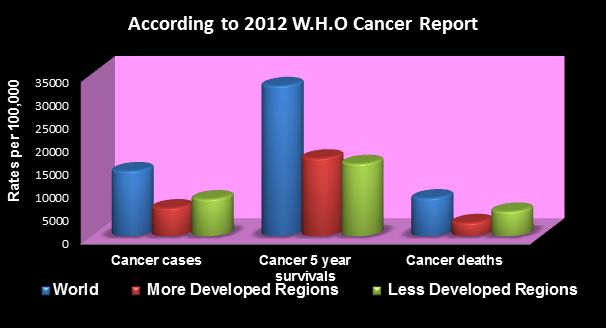 Types of Cancer:
Cancer is the second major reason for global deaths next to Heart diseases. Cancer types include Organ Specific Cancers, Head and Neck cancers, Thoracic Cancers, Endocrine Cancers, Gastrointestinal Cancers, Gynecological Cancers, Genital cancers, Blood Cancers and many more. With the increasing cancer cases yearly, there is an urge to analyse the global cancer market. Based on Geographical location, the Global market can be divided into North America (USA, Canada and Mexico), Europe (France, UK, Germany, Spain, Portugal, Russia and Italy), Asia-Pacific (India, China, Japan, South Korea, Australia, New Zealand), Middle East and Africa (GCC, Egypt) and Latin America (Brazil and Argentina). Among all types of cancers, lung and bronchus is the first prevalent cancer in both the sexes. Next comes Prostate cancer in men and Breast cancer in women.
Fig 2: Types of Cancers in Men
Fig 3: Types of Cancers in Women
Cancer Radiotherapy Market:
The Radiotherapy market was valued at $4.4 billion in 2011 and is expected to reach $5.8 billion by 2016, at a CAGR of 5.3% from 2011 to 2016. In 2013, the market value was $5,028 million and estimated to be $5,880 million by 2018, at a CAGR of 3.20%. In 2015, the radiotherapy market is found to be USD 5,585.0 Million and is expected to reach USD 7,544.8 Million by 2020 at a CAGR of 6.2% .
The global radiotherapy market is divided into External beam Radiotherapy, Internal Radiotherpy/ Brachytherapy and Systemic Radiation therapy. By product, the external beam radiotherapy is further classified into compact advanced radiotherapy devices (Cyberknife, Gammaknife, and Tomotherapy), proton therapy systems (cyclotrons and synchrotrons), and electron emitting high energy linear accelerators. The internal radiotherapy market, by product is further segmented into seeds, applicators & after loaders, and electronic brachytherapy.
The external beam radiotherapy market is the largest segment of $4,108 million radiotherapy device market. With a market value of $4,108 million and $471 million, external beam radiotherapy and internal beam radiotherapy segments have been contributing with a market share of 81.7% and 9.4%, respectively in terms of total radiotherapy devices market. Internal Beam Radiotherapy Market is the Second Largest segment. In 2016, the image-guided radiotherapy technology is expected to account for the largest share of the global radiotherapy market, by technology
The global radiotherapy market is driven by a number of factors like an increase in the number of cancer patients across the globe, reduction in the cost of treatment in many developed countries, huge government and non government investments in Research and Development of cancer treatment, preference for non invasive procedures of treatment, Technological advancements in radiotherapy products, rise in number of geriatric population, increasing symposiums driving investments in radiotherapy. Prominent manufacturers operating in the radiation therapy equipment market are Varian Medical Systems Inc., Elektra AB, GE Healthcare Ltd., and Ray Search Laboratories AB.
Fig 4: Radiation Oncology Market
Cancer Diagnostics Market:
In 2013, the global cancer diagnostics market was valued at US$100,994.5 million and is expected to be worth US$168,649.3 million by 2020. According to the report, the global cancer diagnostics market is expected to grow at a CAGR of 7.6% during the forecast period of 2014 to 2020.It is expected to reach $13.1 Billion by 2020 from $7.1 Billion in 2015 at a CAGR of 12.9%.
The global cancer diagnostics market is led by players such as Abbott Laboratories, Ambry Genetics, AstraZeneca, bioMerieux, Eli Lilly and Co., Roche, GlaxoSmithKline plc, Novartis, and Pfizer; Agilent Technologies, Inc., Thermo Fisher Scientific, Inc., Illumina, Inc., Becton, Dickinson and Company, GE Healthcare, QIAGEN N.V. , Abbott Laboratories, Inc., Roche Diagnostics, Siemens Healthcare, Philips Healthcare and C.R. Bard, Inc. North America is expected to account for the largest share in the cancer diagnostics mark et, followed by Europe and Asia.
Cancer Drugs Market:
Global Oncology/Cancer Drugs Market is expected to garner $111.9 billion by 2020, registering a CAGR of 7.1% during the forecast period 2014 to 2020. In 2015, Global cancer drugs market accounted for $78,238.9 million.
Immunotherapy dominates the global market for cancer drugs due to its high efficacy and less side effects. Monoclonal antibodies such as trastuzumab, bevacizumab and rituximab are potential immunotherapeutic agents that have achieved magnanimous sales. Some of the most prominent players in the global anti-cancer drugs market are Celgene Corporation, Eli Lilly and Company, Roche Diagnostics, Novartis AG, Pfizer, Sanofi, Amgen Inc., GlaxoSmithKline PLC, Merck & Company, and Johnson and Johnson.
Major Associations Worldwide:
American Academy of Oral and Maxillofacial Radiology (AAOMR)
American Association of Physicists in Medicine (AAPM)
American Association for Women Radiologists (AAWR)
American Board of Nuclear Medicine (ABNM)
American Board of Radiology (ABR)
American College of Medical Physics (ACMP)
American College of Nuclear Physicians (ACNP)
American College of Radiology (ACR)
American College of Radiation Oncology (ACRO)
American Healthcare Radiology Administrators (AHRA)
American Institute of Ultrasound in Medicine (AIUM)
American Medical Association (AMA)
American Nuclear Society (ANS)
American Osteopathic College of Radiology (AOCR)
American Radium Society (ARS)
American Registry of Diagnostic Medical Sonographers (ARDMS)
American Registry of Radiologic Technologists (ARRT)
American Roentgen Ray Society (ARRS)
American Society for Gastrointestinal Endoscopy (ASGE)
American Society for Therapeutic Radiology and Oncology (ASTRO)
Top Cancer Hospitals Worldwide:
University of Texas MD Anderson Cancer Center, Houston, TX
Memorial Sloan Kettering Cancer Center, New York, NY
Dana-Farber/Brigham and Women's Cancer Center, Boston, MA
UCLA Medical Center, Los Angeles, CA
Moffitt Cancer Center and Research Institute, Tampa, FL
Seattle Cancer Care Alliance/University of Washington Medical Center, Seattle, WA
Cleveland Clinic Cleveland, OH
Johns Hopkins Hospital Baltimore, MD
UCSF Medical Center San Francisco, CA
Massachusetts General HospitalBoston, MA
Top Universities Worldwide:
Harvard University
University of Oxford
University of Cambridge
Stanford University
Cambridge University
Yale University
Emory University
Karolina University
John Hopkins University
University Of Wisconsin
Kings College London
Top Universities in Belgium:
Antwerpen University
Vrije University Brussel
University of Hasselt
University of Ghent
Catholic University of Brussels, KU university
University of Leuven
University de Namur
University Saint-Louis Bruxelles
University catholique de Louvain
University of Liege
University of Mons
University Libre de Bruxelles
Statistical Analysis of Universities and Cancer Associations in Brussels, Belgium, Europe, Worldwide:
Fig 5: List of Universities
Fig 6: List of Cancer Associations
Statistical Analysis of Radiopharma Companies and Revenue generated by the Companies in Brussels, Belgium, Europe, Worldwide:
Fig 7: List of Biotech Companies
Fig 8: Revenue Generated by Top 10 Companies
Future prospects of Cancer:
According to the World Cancer Research Fund International, There were an estimated 14.1 million cancer cases with 8.2 million deaths around the world in 2012. Of which, men accounted for 7.4 million cases and women accounted for 6.7 million cases; with a male and female ratio of 10:9.
In 2030, around 21.7 million cancer cases and 13 million cancer deaths are anticipated to report. By 2050, the global burden is expected to grow to 27 million new cancer cases and 17.5 million cancer deaths simply due to the growth and aging of the population.
Fig 9: Future Prospects of Cancer
Conference name: 20th Euro-Global Summit on Cancer Therapy & Radiation Oncology
Short Name: EuroCancer 2017
Venue: Brussels, Belgium
Date: August 28-29, 2017
Target Audience:
Radiologists
Oncologists
Chemotherapists
Doctors
Oncology Institutes
Medical Colleges
Research faculty
Academic Scientists
Students
Cancer Diagnostics Associations and Societies
Diagnostic laboratory professionals
Business Entrepreneurs
Industry professionals
Directors/Managers/CEO's
Presidents & Vice Presidents
Brand Manufacturers/ Marketers of Consumer Products
Marketing, Advertising and Promotion Agency Executives.