Applied Physics Market Analysis and Reports | France Conference Series
Market Analysis - Applied Physics 2020
MARKET ANALYSIS
Applied Physics is intended for technical and practical use. Applied Physics is established in the basic certainties and essential ideas of the Physical sciences and it utilizes the scientific principles in practical devices and in other related areas such as Lasers, Optics, Semiconductor devices and Nano photonics. Demand for Physics is always there in the market because of its applications.
In the past market analysis, it was suggested that the worldwide market for Physics was expected to reach around£3.4 billion by2015. As indicated by later gauges by market forecasters BCC research, the global market for Physics based industries was worth significantly more, about £4.3 billion more in 2010 and is expected to increase around£6.2 billion by2015, proportionate to the annual growth of 7.7%.Extending applications in the Cardiac, Breast MRI and Neurologic areas are expected to drive the world market which was anticipated to increase from£770 million in 2010 to reach around £1.2 billion by 2015 which is equivalent to yearly development 9.3% a year.
Quantum Dots
The Quantum Dots Market is estimated to grow from USD 2.0 billion in 2017 to USD 8.5 billion by 2023, growing at a CAGR of 27.0% during the forecast period. The factors that will drive the QD market are the increasing demand for quantum dots in high quality display devices, rising adoption of energy efficient and less toxic quantum dots in solar cell and photovoltaics, and the growing application of quantum dots in numerous application due to miniature size.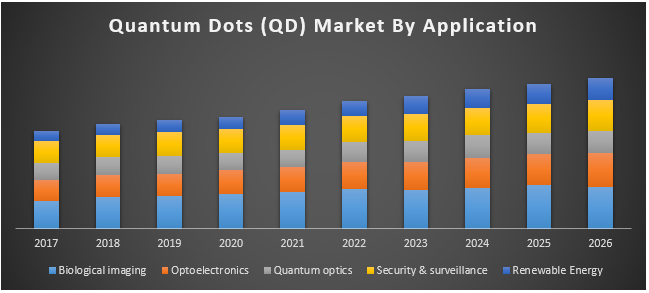 Nanotechnology
BCC research review report which was published in 2014 covers advanced topics like quantum dots, nanotechnology, ceramics, nanocomposites and nanofiltration.
The global market for nanophotonic devices s projected to grow from more than $1.8 billion in 2010 and around $2.5 billion in 2011 to $10.9 billion in 2016 with a CAGR of 34.8% during 2011 to 2016.
Global market for thermostatic nanomaterial market was estimated to nearly $106 billion in 2011 and $112 billion in 2012. By 2017, it was around $188 billion with 10.8% CAGR. In 2010, the total market for nanobiotechnology products is $19.3 billion and has grown at a CAGR of 9%.
Photonics
The global market for Photonic sensors and detectors was $6.3 billion in 2013. This market is projected to grow from nearly $7.3 billion in 2014 to about $15.2 billion in 2019, by registering a CAGR of 15.9% during a period from 2014-2019.
Photonic integrated Circuit (IC) technology global market has reached $165.3 million in 2012. This market is projected to increase to $206.5 million in 2013 and $866.4 million in 2018 with a CAGR of 33.2% from 2013 to 2018.
Semiconductor Manufacturing
The GaN RF semiconductor devices market was valued at USD 460.93 million in 2018 and is expected to reach a value of USD 1597.36 million by 2024, at a CAGR of 23.20%, during the forecast period 2019-2024.
Applied physics is focused on technology which commonly considered as a connection in physics. Applied physics based on basic concepts of the physical sciences, but the utilization of scientific principles in practical devices and systems are really concerned.
Physics intersects with numerous interdisciplinary territories of research such as Astrophysics, Semiconductors Device, Spintronics, Condensed Matter Physics and others. New thoughts in Physics frequently clarify the essential components of other sciences while opening new avenues of research. It aims to support global research communities, by empowering clusters of scientists to regularly meet and discuss topics with front runners in the field.
Applied physics solves engineering and medicine problems through exploratory standards. To advance, promote, and serve the physical sciences for the benefit of humanity and real-world impact in an atmosphere of true international co-operation between scientists, engineers and industry by bringing together the world class renowned personalities to discuss the latest developments and innovations at one common platform.
Physics is the theoretical and experimental study of matter and energy and their interactions, extending from the area of elementary particles, through atomic and nuclear physics, to the physics of solids and ultimately to the origins of the universe itself. Theoretical encompasses particle physics, cosmology, space physics and material and computational physics.