Biopolymers Market Analysis and Reports | Switzerland Conference Series
Market Analysis - Biopolymers 2020
Theme: Biopolymers: A path towards sustainable future
Summary:
Biopolymers simply are polymers that are obtained from living organisms and are completely biodegradable. Since these are composed out of living beings, they are completely neutral towards carbon and can be easily recycled or renewed. Biopolymers do not create any carbon dioxide pollution because crops absorb the CO2 emitted by them instead of getting released in the atmosphere. There are four different kinds of biopolymers- sugar based biopolymers, cellulose based biopolymers, synthetic based biopolymers, and natural polymers. Market is changing rapidly with the ongoing expansion of the industry. Advancement in the technology has provided today's businesses with multifaceted advantages resulting in daily economic shifts. Thus, it is very important for a company to comprehend the patterns of the market movements in order to strategize better. An efficient strategy offers the companies with a head start in planning and an edge over the competitors.
The organizing committee is gearing up for an informative conference program including plenary lectures, symposia, workshops on a variety of topics, poster presentations and various programs for participants from all over the world. We invite you to join us at the Biopolymers-2020, where you will be sure to have a meaningful experience with scholars from around the world. All members of the Biopolymers-2020 organizing committee look forward to meeting you in Zurich, Switzerland.
Importance & Scope:
Polymers are primarily used for their advantages being chemically inert, lightweight, durable, comfortable and hygienic, and submit versatility of shape and size. It is undeniable that the introduction and advancement in the technology of synthetic polymer‐based petroleum have brought many benefits to humanity.But nevertheless, to be synthetic compounds, nonbiodegradable and based on petroleum, use poses serious ecological problems, mainly due to the environmental pollution they cause, by manufacturing and incineration as its contribution to the generation and accumulation of waste. The effects of pollution from nonbiodegradable plastics have been found in both terrestrial ecosystems and water, which has changed behavior, morphology and physiology of individuals, the distribution and abundance of populations, the structure of communities and dynamics of ecosystems. The increasing incorporation of these materials and its impact on the environment are due largely to having resistance to corrosion, weathering, and degradation by microorganisms.
Why Zurich :
Zurich is the largest city in Switzerland and the capital of the canton of Zürich. It is located in north-central Switzerland at the north-western tip of Lake Zürich. Zürich is a leading global city and among the world's largest financial centres despite having a relatively small population. Zürich is at the core of a constantly expanding metropolitan area parts of central, northern, and eastern Switzerland. Zurich city centre and other cities looking like historical monuments and place where to develop eco-friendly to protect from the global warming. The city is home to many financial institutions and banking companies. Many of Switzerland's research and development centres are concentrated in the Greater Zürich area and the low tax rates and canton funding subsidies attract overseas companies to set up their headquarters or finance treasury services in the city.The Zurich people and the government both are planned to control the pollution for future generation so they planned to use different methods to control the pollution.
According to the survey Zurich is the "Best quality of life"in the world as well as in European countries. Some examples are the new disinfection section of the public city hospital in Trieml, the continued optimisation and creation of public transportation, enlargement of the bicycle-only network, research and projects for renewable energy and enclosure of speed-ways.
Why to attend???
The greatest benefits of attending an International or professional conference are the opportunities to build your network and increase your awareness of new trends happening in your area of interest. I had the pleasure of attending some great presentations during the conference. Some of these presenters shared cutting-edge research on entrepreneurship, marketing, organizational development, technology, commerce and leadership. These research topics were often focused on a particular population, ethnic group or business culture that represented multiple countries. This allowed me to learn about all of the new things that are developing in other countries while expanding my current knowledge within my area of expertise.
Major Biopolymer Companies around the Globe:
Braskem
Ecovative Design
Algiknit
Mango materials
Chinova biworks
Cellspring AG
Groasis
Target audience:
Bioproduct companies
Biopolymer Associations
Biopolymer Researchers
Biopolymer Industry
Biopolymer Scientists
Biopolymer technology Engineers
In total, percentage of attendees from various sectors as follows:
Industry 50%
Academia 40%
Others 10%
Market Analysis:
A simple means of forecasting the market growth rate is to extrapolate historical data into the future. While this method may provide a first-order estimate, it does not predict important turning points. A better method is to study market trends and sales growth in complementary products. Such drivers serve as leading indicators that are more accurate than simply extrapolating historical data. Important inflection points in the market growth rate sometimes can be predicted by constructing a product diffusion curve. The shape of the curve can be estimated by studying the characteristics of the adoption rate of a similar product in the past. Ultimately, many markets mature and decline. Some leading indicators of a market's decline include market saturation, the emergence of substitute products, and/or the absence of growth drivers.
According to this latest research, the global food & beverage industry is likely to exhibit growth rates of close to 8% CAGR over the estimated timeframe. The overall food & beverage business in 2005 was roughly around USD 8 trillion and reached approximately USD 15 trillion in 2015 – a trend driven by, among other things, a growing middle class population with increased consumer spending power in Asia Pacific and Latin America.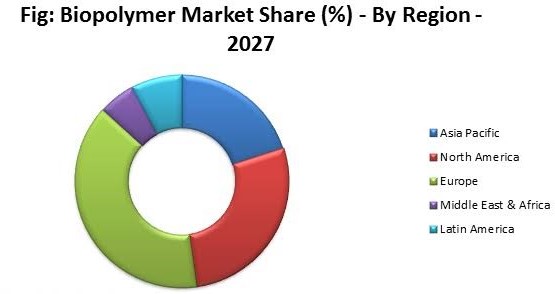 The biopolymer film industry is also positively influenced by heightened consumer awareness of options such as food packaging films derived from bio-based sources such as polysaccharides (starch, cellulose) and proteins (soy, whey & gelatine). Also, the introduction of edible biopolymer films for the food industry provide added growth over the estimated timeframe.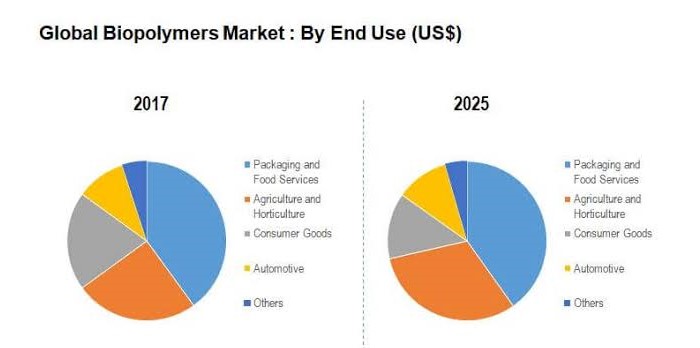 The global biopolymers market is expected to reach USD 10,447.2 million by 2021, growing at a CAGR of almost 17% through the forecast period. Western Europe comprises the largest market segment, occupying 41.5% of the market, with the maximum incremental growth expected to originate from the region.