Biofuels Conference Market Analysis and Reports | UAE Conference Series
Market Analysis - Biofuels Conference 2020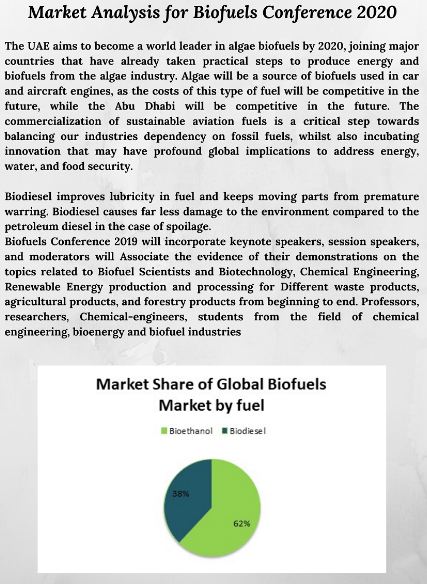 About Conference
We cordially invite all the participants from all part of the world to attend the Biofuels Conference 2019 entitled "11th Annual Congress on Bioenergy and Biofuels" scheduled during November 18-19, 2019 in Abu Dhabi, UAE.
11th Annual Congress on Bioenergy and Biofuels is the leading conference dedicated to Bioenergy, Renewable Energy and Biofuels researchers with the theme "Devising a Sustainable Bioeconomy"
The goal of Biofuels Conference 2019 is to deliver an outstanding program for exchange of ideas and authoritative views by leading scientists which covers the entire spectrum of research in Biofuels and Bioenergy and share the cross-cultural experiences of various production procedures.
Why attend?
We strive to make Biofuels Conference 2020 a success, with your support and high-quality talks from both Bioenergy as well as Biofuels committees and professionals. During the conference, we assure you that you will experience world class facilities and hospitality at the conference.
Fuel for transport makes up almost a third of the current world energy consumption. Biofuels – has emerged as one of many possible alternatives to fossil fuels. Bioenergy is one of the many diverse resources available to help meet our demand for energy. Bioenergy use falls into 2 main categories: "traditional" and "modern". Traditional use refers to the combustion of biomass in such forms as wood, animal waste, and charcoal. Modern bioenergy technologies embody liquid biofuels made from pulp and different plants; bio-refineries; biogas made through anaerobic digestion of residues; wood pellet heating systems. By 2030, 1 billion tons of biomass could produce up to 50 billion gallons of biofuels; produce 50 billion pounds of biobased chemicals and bioproducts; generate 85 billion kilowatt-hours of electricity to power 7 million households; contribute 1.1 million jobs to the economy, and keep $260 billion in the United States
Target Audience
Biofuels Conference 2019 is expecting the participants from all over the globe in various fields. This combination of the audience will give an ideal blend to justify our theme "Devising a Sustainable Bioeconomy"
Biofuels Conference 2019 is expecting attendees from
Fuel Engineers
Chemical Engineers
Professors, Researchers, Students and Technical Staff from the field of Chemical Engineering
Engineers and Delegates from Aviation and Automobile companies
Directors/Co-Directors of Research-based companies across Europe and the US who are investing in Biofuels and Bioenergy