Biofuels Conference Market Analysis and Reports | UAE Conference Series
Market Analysis - Biofuels Conference 2018
Scope and Importance: -
Fuel for transport makes up almost a third of the current world energy consumption. Biofuels – have emerged as one of many possible alternatives to fossil fuels that might help meet our energy needs in an environmentally sustainable way. A biofuel is a fuel that is produced through contemporary biological processes, such as agriculture and anaerobic digestion, rather than a fuel produced by geological processes such as those involved in the formation of fossil fuels, such as coal and petroleum, from prehistoric biological matter. Now, biofuels make up only a small proportion of world energy use, but this is expected to increase, due in part to targets and policies that are encouraging uptake of biofuels for transport. It has been estimated that biofuels will provide almost 9 per cent of transport fuel in Europe by 2020.The main reason for biofuel over fossil fuel is Energy security- Energy security is the constant availability and supply of affordable energy for consumers and industry. Risks to energy security include, for example, disruptions to the supply of imported fossil fuels, limited availability of fuel, and energy price spikes. The possibility of deriving biofuels from locally grown sources and using them as alternatives to petrol products is attractive for many countries, including the UK, that currently depend largely on fossil fuels.
The development of new biofuels technology is a rapidly growing field of research. The aim is to produce economically viable biofuels that generate fewer greenhouse gases and use fewer natural resources than current production methods. Two of the main approaches in development are biofuels made from non-edible parts of crops (known as lignocellulosic biofuels) and biofuels made from algae.
About Venue:
"A Central Hub in the Universal Economy"
Dubai has evolved into a key player in the global economy and it aspires to boost its position by embellishing its standing as a universal business center to be amidst the top 5 centers for trade, finance, logistics and tourism. Dubai's proclamation as the Capital of Islamic Economy is a substantial step in identifying Dubai as one of the leading economic centers. This theme targets on inspiring Dubai to a sustainable economic model herded by modernization, and productivity in capital and labour, and backed by the greatest business friendly environment. In addition, the theme features the importance of a varied set of value-added economic actions that would improve Dubai's economic flexibility and allow it to ingest internal and external impacts.
A City that Relishes Sustainable Economic Growth: Economic growth that is flexible to disruptive shocks because it is established by a diverse base of economic activity, modernization in business models and growing productivity of labour and capital.
One of the World's Leading Business Centers: Normally ranked as one of the top 5 global centers for finance, trade, tourism and logistics as well as internationally acknowledged as the chief financial and trading center at the heart of the Islamic economy.
The Greatest Business Friendly City and a Favorite Investment Destination: Dubai is the chosen investment destination for foreign capital, and catches its position as the most business-friendly destination in the world.
Why to Attend???
Biofuel 2018 provides a podium to globalize the research by establishing a dialogue amidst industries and academic organizations and knowledge transmission from research to industry. The field of Biofuels have not only helped the development in different fields in science and technology but also contributed towards the improvement of the quality of human life. All this has become possible with the different discoveries and inventions leading to the development of various applications. Biofuel 2017 aspires in proclaim awareness and part new ideas amidst the professionals, industrialists and students from research fields of Biofuel and Bioenergy to interact their research experiences and indulge themselves in interactive discussions and special sessions at the event.
Target Audience:
Fuel Engineers
Chemical Scientists/Research Professors
Junior/Senior research fellows of Chemical Engineering /Petroleum Engineering / Bio engineering
Petroleum Companies / Biofuel / Chemical Companies
Petroleum engineering / Chemical Engineering Associations
Petroleum and Chemical Engineers
Engineers and Delegates from Aviation and Automobile companies
Directors/Co-Directors of Research based companies across Europe and US who are investing in Biofuels and Bioenergy
Major Biomass Research Associations around the Globe:
American Biofuels Council
Biomass Energy Research Association
Canadian Renewable Fuels Association
The International Biochar Initiative
Vermont Biofuels Association
Algae Biomass Association
World Bioenergy Association
Biomass Thermal Energy Council
World council for Renewable Energy
European Biomass Association
Bioenergy West Midlands
Biomass Energy Centre
Renewable Energy Association
UK Energy Research Centre
European Bioenergy Research Institute
Back Biomass Industry
Marches Wood Energy Network Ltd
Top Universities in Dubai:
Al Ghurair University
University of Dubai
Zayed University
Biotechnology University College Dubai
The Higher Colleges of Technology
Al Ghurair University
Al Falah University
Jumeirah College
Market Value on Biofuels Production and Consumption:
Production:
Biofuel production is expected to consume 10.4% and 12% of global coarse grains and vegetable oil production respectively in 2025. By 2025, 22% of global sugarcane production should be used to produce ethanol. Global ethanol production is projected to increase modestly during the outlook period from about 115.6 Bln L in 2015 to nearly 128.4 Bln L by 2025. More than half of this increase is expected to originate from Brazil mostly to fill domestic demand. The second largest contributor to the expansion in ethanol production is Thailand. In the United States, ethanol production will increase in 2016 and 2017 to meet the stronger demand induced by low crude oil prices and implied higher gasoline use and then decrease slightly because of lower transportation fuels demand.
Figure1: World Ethanol Production by 2025
Consumption:
Global ethanol use is projected to increase by 12.4 Bln L during the outlook period. Ethanol use in the United States is limited by the blend wall and declining petrol use prospects from 2018 to the end of the projection period. A limited development of the flex-fuel car sector is assumed. In this context, ethanol use is expected to decrease from 56 Bln L in 2016 to 54.9 Bln L by 2025 leaving the United States in a net export position throughout the projection period. Global biodiesel use is expected to increase by 10 Bln L over the projection period. In the European Union, biodiesel use is projected to increase from 12 Bln L in 2015 to 13 Bln L in 2020 when the RED target is met. By 2025, European biodiesel use is expected to decrease to 11.6 Bln L. The lower volume represents an average share of biodiesel in diesel type fuels of 5.7% in volume terms.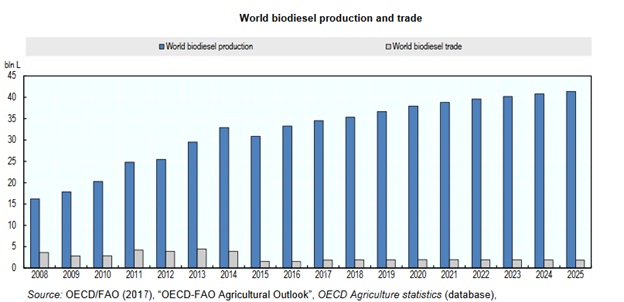 Figure 2: World Biodiesel Production by 2025
Projected value of the global biofuels market from 2020 to 2023:
This statistic represents the value of the global biofuels market from 2020 to 2013. It is projected that the global market for biofuels will be sized at approximately 140 billion U.S. dollars in 2021.
Figure 3: Industry value in Billions USD Dollars
Biorefinery Technologies: Global Markets: -
The global market for biorefinery technologies will grow from $466.6 billion in 2016 to $714.6 billion by 2021, with a compound annual growth rate (CAGR) of 8.9% for the period of 2016-2021.
The biological market will grow from $245.3 billion in 2016 to $376.4 billion by 2021, rising at a CAGR of 8.9%.
The physicochemical market is expected to increase from $182.3 billion in 2016 to $274.7 billion by 2021 with a CAGR of 8.5%.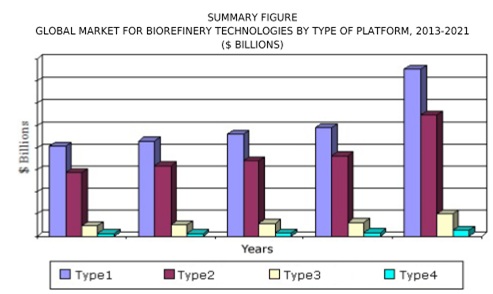 Figure 4: Global Market for Bio Refinery
Global Markets and Technologies for Biofuel Enzymes: -
Global revenue for biofuel enzymes totaled $623.0 million in 2014 and should total $652.1 million in 2015 and $1.0 billion by 2020, registering a compound annual growth rate (CAGR) of 10.4%.
The U.S. market for biofuel enzymes should total $208.5 million in 2015 and $355.7 million by 2020, increasing at a five-year CAGR of 11.3% through 2020.
The European market for biofuel enzymes is estimated to grow from $198.6 million in 2015 to $325.2 million by 2020, with a CAGR of 10.4%.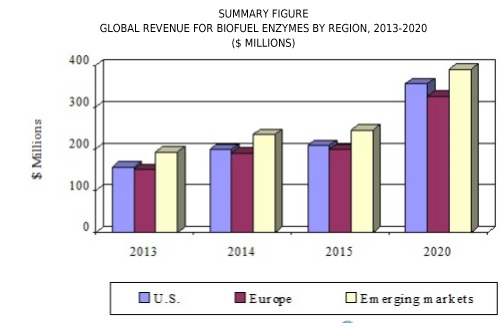 Figure 5: Global Revenue for Biofuels
*Source: BCC Research, Transparency Market Research & Markets and Market
http://www.reportsnreports.com/