Biomarkers Conference Market Analysis and Reports | Italy Conference Series
Market Analysis - Biomarkers Conference 2020
Overview on biomarkers market:
The global biomarkers market has increased demand in recent years due to the rapid growth of population, rapid growth in IT industry which leads to increasing efforts towards the drug discovery. The entry of new entrepuners is expected to further boost the growth of the market. The advancements and innovations of biomarkers in medical arena such as research and cancer treatment will propel the future growth of the global biomarkers market. Biomarkers are broadly used to detect diseases such as immunological disorders, neurological disorders, cancer, cardiovascular disorders, and others. In the arena of oncology, recently three biological markers have been added to conventional breast cancer risk models to identify women at a higher risk of breast cancer
Global Vocal Biomarkers Market:
Sound vibrations are used as part of therapeutic healing for various mental health conditions such as anxiety and depression. Recent research studies, however, have greatly widen its applications into diagnosis of various diseases. On successful completion of clinical trials, HIPAA compliant vocal biomarker system would serve as much more alternative methods to current diagnostic techniques such as MRI, X-Ray, and CT scan. Research is also ongoing for identifying vocal biomarkers in diagnosis of Parkinson's disease, traumatic brain injury, cognitive impairment, and respiratory disorders, which would open up a highly profitable avenue for growth for players in this industry. Since last 22 years companies dealing with vocal biomarkers is on researching by sampling data to provide accurate results and it has collected over 2.5 million voice samples in over 40 different languages.
Global Biomarkers Market is expected to USD 78.9 billion by 2024, from USD 31.4 billion in 2016 growing at a CAGR of 12.2% during the forecast period of 2017 to 2024. The new market report contains data for historic years 2014 & 2015, the base year of calculation is 2016 and the forecast period is 2017 to 2024.
Regional analysis includes
North America (U.S., Canada)
Latin America (Mexico, Brazil)
Western Europe (Germany, Italy, U.K, Spain, France, Rest of Western Europe)
Eastern Europe (Russia)
Asia Pacific (China, India, ASEAN, Australia & New Zealand)
Japan
Middle East and Africa (GCC, S. Africa)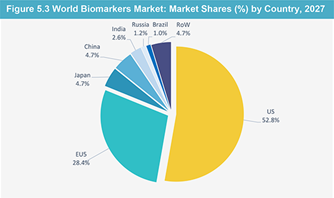 Summary (Overall Market of Biomarkers & Clinical Research with Statistics):
The global biomarkers market is expected to reach $45.55 Billion by 2020 from $24.10 Billion in 2015, at a CAGR of 13.58% between 2015 and 2020. Increasing healthcare expenditure & R&D spending and the increasing utility of biomarkers for diagnostics are expected to drive the market. Market growth will also be aided by the low cost of clinical trials in developing countries and new initiatives undertaken for biomarker research. On the other hand, the need for high capital investment, low benefit-cost ratio, poorly suited regulatory & reimbursement systems, and the high cost of tests and sample collection & storage are the major factors restraining the growth of this market.
The applications included in this report are diagnostics development, drug discovery & development, personalized medicine, disease risk assessment and other applications. The disease indication segments included in this report are cancer, cardiovascular disorders, neurological disorders, immunological disorders, and other diseases.
Major players in this market include QIAGEN N.V. (Netherlands), PerkinElmer, Inc. (U.S.), Merck & Co, Inc. (U.S.), Bio-Rad Laboratories (U.S.), Enzo Biochem (U.S.), EKF Diagnostics Holdings plc (U.S.), Meso Scale Diagnostics, LLC (U.S.), Singulex, Inc. (U.S.), BioSims Technologies (France), Cisbio Bioassays (France), and Signosis, Inc. (U.S.).
Conference Series LLC Ltd
welcomes you all to its new event 13th International Conference on Biomarkers and clinical research conference is going to held in the city of Rome, Italy on November 25-26, 2020
Biomarkers Conference 2020
is 2-day scientific event, business meeting, trade fair and exhibition in the alluring city of Rome, Italy. Advancements in
Biomarkers Conference 2020
brings an opportunity to discuss and learn about the advancements in biomarker studies that access together a unique and international experts, scientists and decision makers both from academia and industry across the world to exchange their knowledge, research innovations & expertise in the arena of cancer treatment. It includes Keynote presentations, Poster presentations, Oral presentations (Speaker forum and Young research forum), and Exhibitions. This pinnacle brings together the senior level experts with a perfect union for multidisciplinary concert between scientists, innovators, academicians from all over the world working in the different fields of Cancer &
Oncology Research
.