Biomass Market Analysis and Reports | Italy Conference Series
Market Analysis - Biomass 2020
15th Global Summit and Expo on Biomass and Bioenergy
Summary: Biomass-2020 is the platform to gain or share the knowledge in the new technological developments in the field of chemical engineering. This conference brings together professors, researchers, and practitioners in all the areas of biomass and provides an international forum for the spreading of approved research results, new ideas and practical developments. We are honoured to invite you all to attend and register for the "15th Global Summit and Expo on Biomass and Bioenergy (Biomass-2020)" which is going to be held during September 21-22, 2020 in Rome, Italy.
The organizing committee is gearing up for an exciting and informative conference program including plenary lectures, symposia, workshops on a variety of topics, poster presentations and various programs for participants from all over the world. We invite you to join us at the Biomass-2020, where you will be sure to have a meaningful experience with scholars from around the world. All members of the Biomass-2020 organizing committee look forward to meeting you in Vienna, Austria.
Importance & Scope: Biomass is regarded as a most important renewable source of energy because it can be used as an alternative source for energy production. Natural sources for energy production are becoming extinct day by day. The main reason behind biomass energy production is that it can be produced from wood, plant and animal wastes, forestry wastes which indicate that biomass can be produced from those materials that are regarded as wasted materials which are again re-used and energy is produced. Biomass does not emit any harmful gases, produces clean energy, abundant and renewable, and reduces the usage of fossil fuels for energy production and also it can be used to create different products. The main reason behind biomass usage is it reduces emission of greenhouse gases.
Usage of biomass will grow within the coming years. The clean electricity generation will be enough for more than 17,000 UK householders a year and the usage of renewables for electricity generation in UK is increased by 60 per cent and the share of electricity is around 9.7 per cent in 2012 and 15.5 per cent in 2013. Around 3.9 million tonnes of biomass, mostly in the form of woodchips and pellets, were burnt to generate electricity during those 12 months. One tonne of pellets translates into two tonnes of greenwood. Usage of biomass will grow exponentially within coming years. The market value of electricity generated from biomass in the United States was over $45 billion in 2011. About 70% of all biomass in the world is used in the residential sector. 14% is used in industry and 11% is transformed into electricity, heat, or energy such as liquid fuel or biogas.
Conference Highlights
Biomass Conversion Methods

Biomass Applications

Biomass Energy Resources

Supply Chain Management

Renewable Energy

Environmental Impact of Biomass

Advanced Biofuels

Biomass Market Analysis

Waste Biomass

Production of Biofuels

Landfill Gas as a Renewable Energy Resource

Biomass from Microbial Sources
Major Biomass Research Associations around the Globe:
American Biofuels Council

Biomass Energy Research Association

Canadian Renewable Fuels Association

The International Biochar Initiative

Vermont Biofuels Association

Algae Biomass Association

World Bioenergy Association

World council for Renewable Energy
Major Biomass Research Associations
European Biomass Association

Bioenergy West Midlands

Biomass Energy Centre

Renewable Energy Association

UK Energy Research Centre

European Bioenergy Research Institute

Marches Wood Energy Network Ltd
Target Audience
Bioenergy Research professors

Renewable Energy Directors

Biomass for Energy Presidents

Bio Resources Engineering Professors

Rural Development and Technology Managers

Biomass and Bioenergy Scientists

PhD and Post-Doctoral Fellows

Chemical Engineering Associations
In total, percentage of attendees from various sectors as follows
Industry 50%
Academia 40%
Others 10%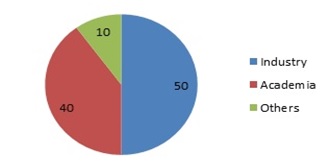 Market Analysis
Biomass power market is anticipated to witness a significant growth owing to technological advancements and increasing focus on research and development to provide biomass for power generation. Increasing use of biomass such as plant and manure materials to produce electricity and generate biomass fuels for transportation is expected to contribute to the industry growth over the forecast period.
By feedstock, the biomass power market is segmented into urban residue, biogas, agriculture & forest residues, energy crop, and woody biomass and landfill gas feedstock. By technology, the biomass power generation is categorized into landfill gas, co-firing, combustion, CHP, anaerobic digestion, and gasification.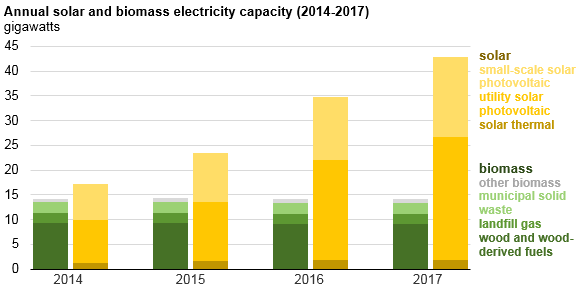 The global biomass power generation market is poised to grow by 43.37 GW, progressing at a CAGR of over 6% during 2019-2023.
Overall, the average annual biomass produced in the land-based sectors (agriculture and forestry) of the EU is 1466 Mt in dry matter (956 Mt agriculture, 510 Mt forestry). Not all the biomass produced is harvested and used, part of it remains in the field to maintain the carbon sink and the other ecosystem services. The biomass harvested and used in 2013 from the EU agricultural and forestry sectors was estimated as 805 Mt dry matter (578 Mt from
agriculture
, 227 Mt from forestry). In addition, 119 Mt were grazed in pastures. Production from fisheries and aquaculture by the EU-28 Member States equalled 6.05 Mt wet mass (roughly corresponding to 1.5 Mt dry weight) in 2013, representing 3.17% of total global production. Total production of both macro- and micro algae was 0.23 Mt wet mass in 2015 (roughly corresponding to 0.027 Mt dry weight).
For more information Click Here