Biopolymer Congress Market Analysis and Reports | Germany Conference Series
Market Analysis - Biopolymer Congress 2018
Biopolymer Congress 2018
Theme: Biopolymers- A drug to heal the nature
Summary:
Biopolymer Congress 2018 is the platform to gain or share the knowledge in the new technological developments in the field of polymers, Bioplastics, Bio materials, Polymer Science and tissue engineering. This conference brings together professors, researchers, scientists, students in all the areas of Bio materials, Polymer Science and provides an international forum for the spreading of approved research. We are honored to invite you all to attend and register for the "8th World Congress on Biopolymers (Biopolymer Congress 2018)" which is scheduled for June 28- 30, 2018, Berlin, Germany.
The organizing committee is gearing up for an exciting and informative conference program this year also which includes plenary lectures, symposia, workshops on a variety of topics, poster presentations and various programs for participants from all over the world. We invite you to join us at the Biopolymer Congress 2018, where you will be sure to have a meaningful experience with scholars from around the world. All members of the Biopolymer Congress organizing committee look forward to meeting you in Berlin, Germany.
For more details please visit: http://biopolymers.conferenceseries.com/
Importance & Scope:
Over the past few years, global economic activities have increased a lot. This tremendous growth has raised serious problems about current important patterns of production and consumption. As the current society has increased its attention in understanding of the environmental aspects and its industrial practices, greater attention has been given to the concept of sustainable economic systems that rely on energy from undepletable source and materials. The use of biologically derived Polymers become as an important component of this global world.
The history of Biopolymer is not a long one. Various reasons are associated with the research and development of Biopolymers. Use of Bioplastics will make a tremendous change and will help rid of the conventional plastics, which is a welcome change.
Why Germany?

Berlin is the capital and the largest city of Germany as well as one of its 16 constituent states. It has a population of 3.7 million. In the terms of population, Berlin is the Second most populous city in the European Union and the seventh most populous urban area in the European Union.
Berlin is rich in history, Culture and Science. Berlin is a worldwide city of culture, governmental issues, media and science. Its economy depends on cutting edge firms and the administration part, including a different scope of inventive enterprises; investigate offices, media companies and tradition scenes. Berlin fills in as a mainland center point for air and rail activity and has a very mind boggling open transportation arrange. The city is a mainstream traveler destination. Significant businesses likewise incorporate IT, pharmaceuticals, biomedical designing, clean tech, biotechnology, development and hardware.
Modern Berlin is the home for many universities, orchestras, museums, entertainment venues and is host to many sporting events. The city is well known for its festivals, diverse architecture, nightlife, contemporary arts and a high quality of living.
Moreover the market of Biopolymers is very rich in Germany for Europe followed by Italy and France.
Why to attend?
Biopolymer Congress 2018 offers a fantastic opportunity to meet and make new contacts in the field of Bio materials, Polymer Science, Tisse engineering, Bioplastic and materials science. By providing collaboration spaces and break-out rooms with tea and lunch for delegates between sessions with invaluable networking time for you. It allows delegates to have issues addressed on Bio materials by recognized global experts who are up to date with the latest developments in the Bio materials field and provide information on new techniques and technologies. This International Biopolymer Materials conference will feature renowned keynote speakers, plenary speeches, young research forum, poster presentations, technical workshops and career guidance sessions.
Top Universities in Germany
Free University of Berlin
Technical University of Munich
University of Munich
Rheinisch-Westfälische Technical University of Aachen
University of Heidelberg
Technical University Berlin
Karlsruher Institute for Technology
Humboldt University of Berlin
University of Hamburg
University of Bonn
Major Biopolymer Associations around the Globe:
British Plastics Federation
European Council for Plasticizers and Intermediates
American Coatings Association
American Chemical Society (Division of Polymer Chemistry)
American Physical Society Division of Polymer Physics (APS DPOLY)
Polymer Division of the Royal Australian Chemical Institute (RACI Polymer Division)
Belgian Polymer Group (BPG)
Brazilian Polymer Association
European Polymer Federation
Bioenvironmental Polymer Society
Major Biomaterials Associations in Germany
Institute of Biomaterial Science – HZG
German Society for Biomaterials
Berlin-Brandenburg Center for Regenerative Therapies
BIOMAT association
Institute of Biomaterials (WW7)
European materials, minerals & mining organizations
Target Audience
Eminent Scientists of Polymer Science & Chemical Engineering, Green Chemistry
Polymer Research Professors and research fellows
Students from Material science, Polymer Science and Technology & Chemical Engineering
Directors of Polymer Manufacturing companies, Green Chemicals Companies
Biopolymer Engineers, Polymer Science Engineers & Chemical Engineers
Members of different Biopolymer, Waste Management, Chemistry, Chemical Engineering associations
Industry 40%
Academia 50%
Others 10%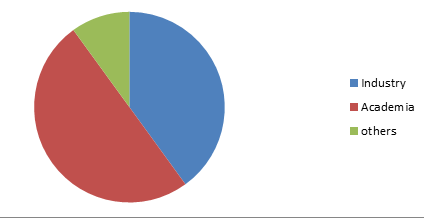 Glance at Market of Biopolymers and Biomaterials
As there is need for eradication of polymers, there is increase in growth of industries for Biopolymers. Biopolymers have found wide acceptance in various industries, on account of its distinguished environment friendly properties. Biopolymers are now an important part of every sector Food tech, nanotech, chemistry, medical, agriculture etc.­
There is an increase of 20% (approx.) in the production of biopolymers products and Bioplastics per year. The biomaterials market is poised to reach USD 130.57 Billion by 2020, growing at a CAGR of 16% during the forecast period of 2015 to 2020. The biomaterials market is expected to witness the highest growth rate in the Asia-Pacific region, with emphasis on India, China, and Japan. The high growth in India and China can be attributed to rising cosmetic and plastic surgeries in India, lucrative medical device industry and new tax policy in China, growing number of cardiovascular diseases and increasing aging population in China.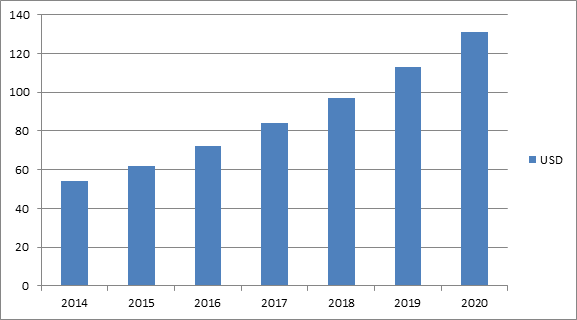 Major Biopolymer Industries and their revenue (in millions) per year:
BASF
Dow Chemical
Sinopec
SABIC
Formosa Plastics
Ineos Group holdings
ExxonMobil
LyondellBassell industries
Mitsubishi Chemical
Dupont
LG chem
Stakeholders of the Biomaterials Market
Biomaterials manufacturing companies
Original equipment manufacturing companies
Suppliers and distributors of biomaterials
Healthcare service providers
Teaching hospitals and academic medical centers (AMCs)
Health insurance players
Research and consulting firms
Medical research institutes
Venture capitalists
Community centers
Regulatory bodies