Biopolymers summit Market Analysis and Reports | Japan Conference Series
Market Analysis - Biopolymers Summit 2018
ConferenceSeries Ltd invites you to attend the 7th World congress on Biopolymers and Polymer Chemistry going to be held on June 04-06, 2018 at Osaka, Japan. The main theme of the conference is "Present situation and future perspective of Bio-polymers and polymer chemistry".
Biopolymers and polymer chemistry 2018 World congress is an attempt to explore the various ways to utilize natural resources for betterment of the future, promising a better tomorrow for the progeny and a better vision for the springing research. Polymer chemistry and Biopolymers conferences is anticipated to be one of the best scientific conferences in Asia. The scientific sessions of this International Conference on polymer chemistry and Biopolymers conferences has been designed on vivacious topics such as Biomaterials and Biopolymers, Green Chemicals, Industrial Biotechnology, Micro and Nano blends based on natural polymers. Biopolymers conferences is consisting of well-organized scientific program and effervescent speeches by the expertise. ConferenceSeries Ltd Organizes 300+ Conferences, 500+ Workshops and 200+ Symposiums Every Year on Pharma, Medicine, Science and Technology across USA, Europe & Asia (conference series) with support from 1000 more scientific societies and Publishes 400+ Open access journals which contains over 30000 eminent personalities, reputed scientists as editorial board members. ConferenceSeries Ltd conferences always encourage the young researchers and students to share their excitement and enthusiasm with world class expertise.
Scope and Importance:-
basic disciplines and is also contributing to meet all Grand Societal Challenges. This contribution is such that numerous reports have been produced in recent years in Asia and world - wide, with the aim of drawing a comprehensive picture and proposing coordinated actions towards the establishment of coherent strategies in the field. The present report subscribes to this perspective, with a particular goal which is to contribute to the establishment of a comprehensive view of the role in efficient development of key enabling technologies.
Biopolymer Technology Includes:
Molecular Principles of Biomaterials
Biopolymers, Processing, and Biodegradation
HEML software for Biopolymer
Modeling and informatics tools for biomaterials
Molecular Biodynamers
Reductively Degradable Biopolymers
Polymeric Nanoparticles and Polymeric Nanogels
Bioplastics, Biocomposites, and Biocoating
Molecular Dynamics and Charge Transport in polymeric materials
biopolymers business
Recent Advances in Multifunctional Polymers.
About Venue:
Osaka is the second biggest metropolitan range in Japan and serves a noteworthy monetary center point. Verifiably a dealer city, Osaka has additionally been known as the "Country's Kitchen". With a populace of 2.5 million, Osaka is Japan's third biggest and second most imperative city. It has been the financial powerhouse of the Kansai district for a long time. The city's west side has the principle port and in addition vacationer goals with attractions, for example, Kyocera Dome, Universal Studios Japan, Osaka aquarium, Minami, Osaka château, Umeda sky building and the Tempozan Harbor Village. Osaka is known for its sustenance, both in Japan and abroad. Creator Michael Booth and sustenance pundit François Simon of Le Figaro have both recommended that Osaka is the nourishment capital of the world. Osaka's culinary predominance is the aftereffect of an area that has given access to excellent fixings, a high populace of vendors, and nearness to the sea and conduit exchange. Lately, Osaka has begun to gather more consideration from outsiders with the expanded prevalence of cooking and eating in mainstream culture. The National Museum of Art (NMAO) is an underground Japanese and global craftsmanship historical center, lodging principally accumulations from the post-war period and consistently inviting impermanent displays. Osaka Science Museum is in a five storied working by the National Museum of Art, with a planetarium and an OMNIMAX theater. The Museum of Oriental Ceramics holds more than 2,000 bits of pottery, from China, Korea, Japan and Vietnam, highlighting presentations of some of their Korean celadon under normal light.
Why to Attend???
Universal Conference on Biopolymers and Polymer chemistry - 2018 which will be the greatest gathering devoted to Biopolymer and Polymer chemistry.
• Professionals giving a chief specialized gathering to detailing and finding out about the most recent new era advancements created over the span of time alongside examining their applications.
• Events incorporate intriguing issues introductions from everywhere throughout the world and expert systems administration with enterprises, driving working gatherings and boards.
• Meet Your Objective Business area with people from and around the world focused on getting some answers concerning Polymer science and Engineering; this is the most obvious opportunity to accomplish the greatest accumulation of individuals from wherever all through the World.
• Conduct appears, scatter information, meet with current, make a sprinkle with another item offering, and get name affirmation at this event. Generally acclaimed speakers, the most recent techniques, methodologies, and the most breakthrough updates in Polymer science and Engineering are indications of this meeting.
Target Audience:
Materials Scientists/Research Professors
Junior/Senior research fellows of Biomaterial / Polymer Science /Materials Science/ Nanotechnology
Polymer science / Nanotechnology / Biomaterial /Chemical Companies
Polymer science / Nanotechnology / Biomaterial Associations
Advanced Polymers and Nanotechnology Engineers
Physicists/Chemists
Biotechnology
Societies/Industries/Universities Associated with Advanced Materials and Nanotechnology:-
Royal Society of Chemistry
Royal Netherlands Chemical Society
Norwegian Chemical Society
Royal Netherlands Chemical Society
Hungarian Chemical Society
Italian Chemical Society
American Chemical Society
Society of Chemical Industry
Society of Chemical Manufacturers and Affiliates
Chemical Society of Peru
Society for Biomaterials
Society of Nanotechnology
Society of Materials Science
Federation of Materials Societies
Society for Advancement of Material and process Engineering
European Society for Biomaterials
The Korean Chemical Society
Royal Australian Chemical Institute
Major Advanced Materials Science Associations Around The Globe
Federation of Materials Societies
Australasian Society for Biomaterials and Tissue Engineering
Canadian Biomaterials Society
Brazilian Composites Materials Association
Federation of European Materials Societies
Major Material's science Associations in Japan
Japanese Society for Biomaterials,
Journal of the Society of Materials Science, Japan - J-Stage
Japan Society for Materials
The Society of Polymer Science
Target Audience:
Industry 50%
Academia 40%
Others 10%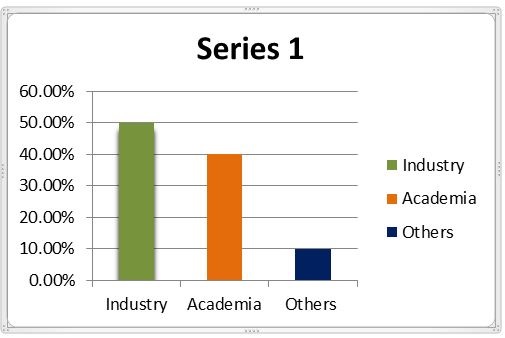 Figure 1: Target Audience
Top Universities in Japan:
Tohoku University
University of Tokyo
Kyoto University
Osaka University
Tokyo Institute of Technology
Kyushu University
Hokkaido University
Waseda University
Nagoya University
University of Tsukuba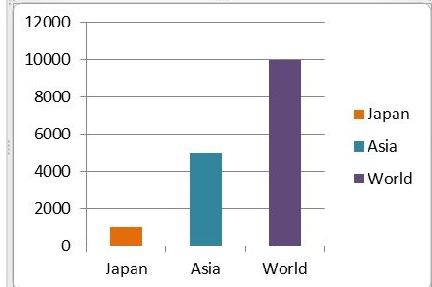 Figure 2: Statistical Analysis of Universities
Market Value on Biopolymer Research:-
Polymers and plastics are generally used in coating and packaging applications. Around 80% polymeric materials are produced from the petroleum industry, while processing fossil fuels. The burgeoning use of plastics is burdening the environment with its increasing carbon footprint due to greenhouse gas emissions, along with other factors such as soil and ground water pollution. Thus arising a need for environment-friendly alternatives. The growing focus towards sustainable development is expected to create an opportunity for bio-based plastics and polymers in the coming years. Biopolymers are polymers that are degradable when subjected to moisture and heat, under the action of micro-organisms. They are made from waste starch, biomass and other renewable feed stock. There are some commercially available polymers (such as polylactic acid, bio-nano composites and polyhydroxyalkanoate, etc.) which are used in the electronics and automotive industries. Governments are encouraging the use of biodegradable polymers over conventional polymers so as to reduce carbon footprint. Some major automotive companies are now opting for biopolymers in their vehicles; for instance, the Ford Motor Company is using biopolymers for interior applications.
Market Growth of Biopolymer Research in the last and upcoming ten years:
The global market size of bioplastics & biopolymers was USD 2.66 Billion in 2015 and is projected to reach USD 5.08 Billion by 2021. Developing at a CAGR of 12% in turm of value the market size is projected for the period between 2016 and 2021. The main objective of the study is to define, describe, and forecast the bioplastics market & biopolymers market on the basis of type, end-use industry, and application. The report includes detailed information about the major factors influencing the growth of the market (drivers, restraints, opportunities, industry-specific challenges, and winning imperatives). The report strategically analyzes the market segments with respect to individual growth trends, growth prospects, and contribution to the total market. In the report, the market size is projected for the segments, in terms of value, with respect to five major regions (along with countries), namely, North America, Europe, Asia-Pacific, Central & South America, and the Middle East & Africa.
Far reaching focused investigation and profiles of real market players, for example, Carolina Color Corporation, TradePro Inc, Toray Industries, Fine Polymers Corporation, Algix LLC, and Teijin Limit.
Funds allotted to Biopolymer :-
MSE staffs are driving various research ventures, which are bolstered by a normal of $4-5 million every year.
A noteworthy segment of this subsidizing originates from government stipends: U.S. Division of Defense and all branches of the military, U.S. Bureau of Energy, National Science Foundation, and Center for Disease Control and Prevention. Another part originates from State or private establishments.
At long last, industry (from little new businesses to vast universal partnerships) gives a significant part of the rest of, which give both to graduate research assistantships and support for students leading exploration on a venture.
Apart from the industrial personnel where most of the research work is done, other research communities include:-
Academicians include Student community.
Researchers include Post docs, Research Associates.
Scientists include Professors, Associate professors, and Assistant professor.
Industries include Presidents, CEO's, and R&D Managers.
Market Report of polymer :
The global Bioresorbable Polymers market was estimated at USD$ 694.3 million in 2016, and is anticipated to reach USD$ 1303.2 million by 2021, expanding at a CAGR of 13.42% between 2017 and 2021. The increasing health awareness, improving healthcare facilities worldwide and growing surgery procedures across the globe will have a positive impact on the bioresorbable polymers industry growth in the overcoming years
Global biopolymers market is projected to reach $ 7.32 Billion by 2019, with a GAGR of 6.4% from 2015, and Asia will have a big dynamic momentum on the market growth. The major players in the global biopolymers market are Braskem, Trellis Earth Products, Natureworks, Metabolix, Indorama Ventures Public, Novamont, Bio-On etc.
· The increasing product demand for drug delivery application is another key factor for market development over the forecast period. The harmless decomposition and its chemically neutral nature in the body make them suitable for drug delivery segment.
· Asia-Pacific is anticipated to be the fastest growing market, in terms of both value and volume. The rising product demand in the orthopedics and drug delivery applications and the raising healthcare spending is projected to promote the bioresorbable polymers market growth in the region.
Polymers are high molecular mass compounds formed by polymerization of monomers. The simple reactive molecule from which the repeating structural units of a polymer are derived is called a monomer. A polymer is chemically described by its degree of polymerization, molar mass distribution, tacticity, copolymer distribution, the degree of branching, by its end-groups, crosslinks, crystallinity and thermal properties such as its glass transition temperature and melting temperature. Polymers in solution have special characteristics with respect to solubility, viscosity and gelation.
Schematically polymers are subdivided into biopolymers and synthetic polymers according to their origin. Each one of these classes of compounds can be subdivided into more specific categories in relationship to their use, properties and physicochemical characteristics.
Polymer Industry:
Global Forecast to 2024 is a professional and in-depth research report on the world's major regional market conditions, focusing on the main regions (North America, Europe and Asia-Pacific) and the main countries (United States, Germany, united Kingdom, Japan, South Korea and China)
The global polymer industry is expected to grow with a CAGR of 3.9% over 2015-2020. The demand for polymer is driven by growth in end use markets, such as packaging, infrastructure, automotive, transport rails, and telecommunication mainly from emerging economies. Polymer is continuously substituting metals, glass, paper, and other traditional materials in various applications due to its strength and lightweight and the design flexibility they offer brand owners along with low-cost. Thermoplastics segment is expected to witness the highest growth over the next five years. Increasing applications of engineered plastics in various fields, such as construction, automotive, and industrial manufacturing equipment to mechanical engineering is expected to drive this market.
Figure 3: Growth forecast of polymer
Global Advanced Biomaterial Market:
Advanced Biomaterials are known to have superior qualities as compared to traditional materials. Thus, they are used in varied applications. These materials are known to deliver excellent performance due to their exceptional strength and high endurance to tolerate fatigue. The research report states that the global advanced materials market is expected to be worth US$102.48 bn by 2024 as against US$42.76 bn in 2015. Between the years of 2017 and 2024, the global market is expected to surge at a CAGR of 10.4%.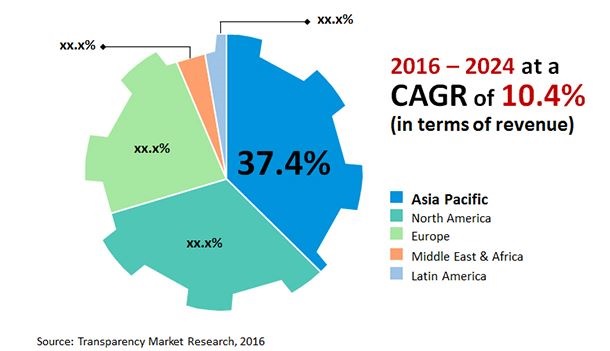 Figure 4:Global forecasting of advanced materials
Advanced Materials for 3-D Printing:
The global market for 3-D printing materials reached $576..6 million in 2016. This market is expected to reach $676.6 million in 2017 and over $1.5 billion in 2021, registering a compound annual growth (CAGR) of 21.5% over the next five years.
Photopolymers, the largest segment of the global market for 3D printing materials, should reach $334.6 million in 2016 and $711.8 million by 2021, increasing at a CAGR of 16.3% through 2021.
Extruded Plastics:
The extruded plastics market is projected to grow from USD 184.34 Billion in 2016 to USD 291.74 Billion by 2026, at a CAGR of 4.7% between 2016 and 2026.
The growing demand for extrudates from the construction industry is expected to drive the extruded plastics market. Increasing demand from Asia-Pacific region from end-use industries such as packaging is also expected to fuel the demand for extruded plastics.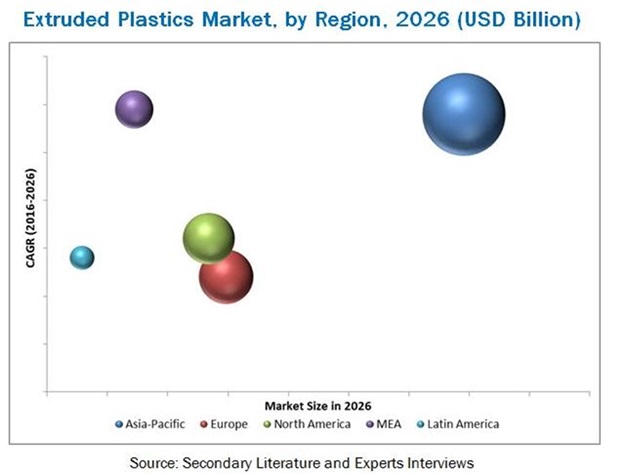 Medical plastic:-
The global market for medical plastics reached nearly 12.0 billion pounds in 2015. This market is expected to increase from nearly 12.7 billion pounds in 2016 to nearly 17.2 billion pounds in 2021 at a compound annual growth rate (CAGR) of 6.2% for 2016-2021.

Figure 5: Global Medical Plastic Market, by Resin , 2015-2021 (Million Pounds)
*Source: BCC Research, Transparency Market Research & Markets and Market