Biosensors & Bioelectronics Market Analysis and Reports | USA Conference Series
Market Analysis - Biosensors & Bioelectronics 2018
Biosensors Market analysis
Biosensors Market Growing Exponentially, Will Reach $21.17 Billion By 2020: Latest Report By Grand View Research, Inc.
Global biosensors market is expected to reach USD 21.17 billion by 2020, according to a new study published by Grand View Research, Inc. Biosensors, owing to their capability to resolve various analytical issues in diverse areas such as medicine, pharmacology, food & agriculture safety and defense, are expected to witness a rapid growth in demand over the next six years. Increasing demand for specific detection techniques for early diagnosis in the healthcare sector is expected to drive the overall biosensors market during the forecast period. Furthermore, the expanding role of biosensors in the real world environment has led to a hike in R&D efforts globally.
Further key findings from the study suggest:
Optical biosensors are identified as the most lucrative technology segment of this market and are expected to grow at a CAGR of over 7.0% during the forecast period. Growing use of these sensors in the field of environmental scanning is one of the key drivers of this market. The recent progress in optical biosensors has made them apt for environmental scanning wherein they are used for quantifying and characterizing environmental pollutants. Biosensors are mostly used in devices enabled with point of care testing. The biosensors based point of care testing segment accounted for over 40% of the end-use market in 2013. Moreover, rising demand for portable and integrated technologies that can be operated by untrained personnel outside conventional laboratories is expected to improve usage rates. North America accounted for more than 35% of the market in 2013. Biosensors witness the highest market penetration rates in this region owing to the presence of high procedure volumes supported by favourable government initiatives. Moreover, rapidly growing demand for point of care and home healthcare markets in the U.S. is expected to drive regional market growth during the forecast period. Asia Pacific has high future growth potential owing to the presence of large untapped opportunities in the emerging markets of India and China. Presence of favourable government initiatives aimed at improving environmental conditions and enhancing healthcare infrastructure in Japan and Australia are also expected to serve as a high impact rendering driver for this market.
Key players of this market include Abbott Point of Care Inc., Roche, Life scan Inc., Bayer AG, Medtronic Inc., Universal Biosensors, Siemens Healthcare and Nova Biomedical Corporation.
For the purpose of this study, Grand View Research has segmented the global biosensors market on the basis of application, technology and end-use:
Global Biosensors Application Outlook (Market Revenue in USD Million, 2012 – 2020)
Medical Applications, Cholesterol Testing, Blood Glucose Monitoring, Blood Gas Analyzer, Pregnancy Testing, Drug Discovery, Infectious Diseases, Food Toxicity Detection, Industrial Process Control (Bioreactor), Agriculture, Environment and Others.
Members Associated with Biosensors Research
Scientists, Experts, Academic Professors, Practitioners, Software Professionals, Business delegates, scholars, Young researchers, Talented student community and researchers in the field of Biosensors, Biomedical engineering, Nanotechnology, Point of Care, Home Diagnostics, Biodefense, Food Industry and so on
Academia: 50%
Industry: 40%
Others: 10%
Target Audience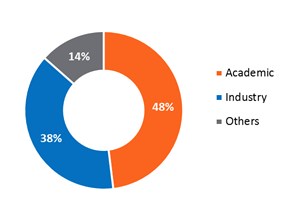 Some of the major associations/companies operating in the biosensors market are Abbott Point of Care Inc. (US), LifeSensors Inc. (US), Nova Biomedical Corp. (US), Acon Laboratories Inc. (US), Biacore (UK), Biosensors International Ltd. (Singapore), Sysmex Corporation (Japan), Siemens AG (Germany), DuPont (US), Bio-Rad Laboratories Inc. (US), Pharmaco-Kinesis Corporation (PKC), Universal Biosensors (Australia), LifeScan, Inc. (US), F. Hoffman-La Roche Ltd. (Switzerland), Medtronic, Inc. (US)
Biosensors & Bioelectronics Companies/ Laboratories in London
Orla Protein Technologies Ltd
MicroLab Devices Ltd
Gwent Biotechnology Systems Ltd
Sarissa Biomedical Limited
Major Biosensors & Bioelectronics Companies/ labs in Europe
Biocrates
Anagnostics
Aposcience
ViennaLab Diagnostics
Immunodiagnostic Systems
Janssen Diagnostics (J&J)
Biocartis
Janssen Diagnostics (J&J)
Dako (Agilent)
Orion
Novartis Diagnostics
Genclis
Abbott
Trinity Biotech
Epigenomics.
Roche
Seegene
Immunodiagnostic Systems
Altona Diagnostics
Qiagen
Curetis
DiaSys Diagnostic Systems
EKF Diagnostics
Major Biosensors & Bioelectronics Laboratories world wide
US Diagnostics
Atomo Diagnostics
Universal Biosensors
Sienna Cancer Diagnostics
Avant Diagnostics
Celera (Quest Diagnostics)
Oncocyte (BioTime)
Teco Diagnostics
Exogen Biotechnology
Nodexus
GenMark Diagnostics
Genoptix (Novartis)
BioGenex
Hycor Biomedical
Biomerica
Vortex Biosciences
Target Discovery
ImmunoScience
Statistical report of Biosensors and Bioelectronics associatioed with research labs/companies
Key findings of Biosensors Market Research:
Biosensor refers to investigatory devices composed of electrical device and biological component for providing analytical info. The biosensors work on numerous technologies, together with electrochemical biosensors, optical biosensors, thermal biosensors and piezoelectric biosensors. Increasing prevalence of polygenic disease and manner iatrogenic diseases, increasing demand for POCT and rise in geriatric population square measure major factors driving the expansion of biosensors market Strict regulatory requirements for biosensors inhibits the growth of biosensors market
Geographically, North America has the most important share in international biosensors market, whereas Europe & Asia-Pacific has emerged as the fastest growing region in the market. Based on the technology, electrochemical biosensors have the largest share in the biosensors market.
In this report, the biosensors market has been segmented on the basis of application, technology, product, and geography. In 2016, POC applications accounted for the largest share of the overall biosensors market. The development of accurate testing kits is contributory to the expansion of the biosensors marketplace for POC applications. Among wearable biosensors, wristwear biosensors accounted for the largest size of the biosensors market in 2016. The market scope for optical biosensors is predicted to grow at a rate between 2017 and 2022. Optical biosensors are commonly used to analyze biomolecular interactions as these sensors can determine affinity and kinetics of a wide variety of molecular interactions in real time, without requiring a molecular tag or label. New applications are being discovered for optical sensors such as drug discovery, including target identification, ligand fishing, assay development, and manufacturing quality control. All the above discussed are responsible for highest growth rate of market for optical sensors between 2017 and 2022.
Biosensors Market, By Technology
Electrochemical merchandise dominate the trade conducive to seventy one-Per cent of revenue share in 2015, and anticipated to exceed USD twenty one-billion by 2024.. However, optical biosensor market size is expected to grow at the fastest CAGR of 8.7% throughout the forecast period.
Biosensors Market, By Application
Medical applications hold sixty six-Per cent of biosensor market revenue shares. The biggest share may be attributed to the intensive use of biosensors during this field. Medical sensors are considered as an essential tool in the detection and monitoring of a wide range of medical conditions ranging from diabetes to cancer.
Biosensors Market, By Region
U.S. biosensors market size holds 81% of regional revenue share in 2015, attributed to increasing prevalence of diseases such as diabetes and cardiac disorders and early adoption of technologically advanced products by the clinicians, scientists, and patients.
Asia Pacific, on account of its constantly improving healthcare facilities, growing access to healthcare, and rising patient awareness is expected to witness the highest CAGR of 11.1% during the forecast period.