Breast Pathology Market Analysis and Reports | Austria Conference Series
Market Analysis - Breast Pathology 2020
Summary: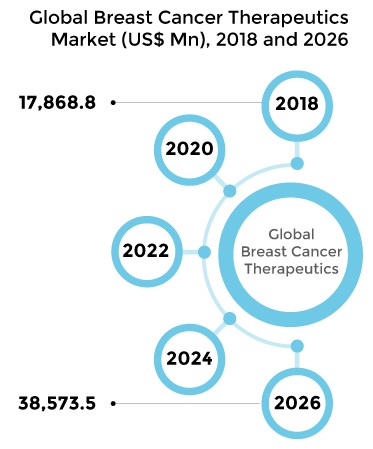 Breast cancer can develop due to reasons such as reduced breastfeeding, rise in the age of childbearing, undergoing estrogen modifying drug treatments and high intake of oral contraceptive pills. The increase in the number of women complaining of such problems and the successive rise in the number of breast cancer cases are factors boosting the global market for breast cancer therapeutics during the forecast period.
Another factor in creating lucrative growth opportunities for breast cancer therapies is the increasing number of obese women. With a change in lifestyle and unhealthy food habits, the rate of obesity is increasing by the day. Obesity further causes various health problems such as cardiovascular disorders, gall bladder diseases, diabetes, breathing problems, and breast cancer among others.
Currently, there are about REDACTED a million women living with cancer, globally, and the incidence is gradually increasing. In women, breast cancer is the second leading cause of cancer death. Per the World Health Organization (WHO) statistics, about one-third of these cancer fatalities can be decreased through earlier detection and treatment. Early breast cancer treatment and detection have improved the five-year survival rate for women diagnosed with cancer to nearly 80%. The breast cancer diagnostic and drug technology markets include a variety of products approved for breast cancer treatment, including hormonal therapies, chemotherapeutic drugs, combinations, and targeted therapies. Many side effects, adverse reactions, and safety concerns have come up associated with newer, innovative drugs. Therefore, drugs with improved safety and efficacy are needed to treat breast cancer effectively.
In countries such as the United States, the chance of a woman developing breast cancer during her lifetime has increased. An estimated 522,000 women died from breast cancer globally in the year 2012. WHO estimates that more than REDACTED million new cancer cases will be diagnosed by 2030. Rising healthcare costs associated with breast cancer treatment, have left several patients either uninsured or with less meaningful coverage than they need and deserve.
North America to Remain Dominant on Account of Presence of Skilled Professionals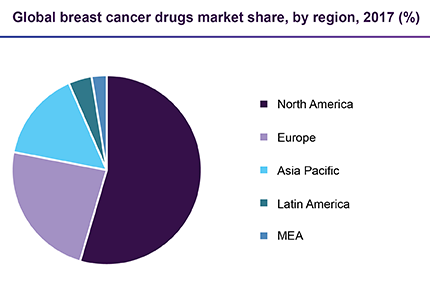 The breast cancer treatment market in North America is currently leading the global landscape, supported by the presence of well-established healthcare infrastructure and rising uptake of advanced facilities in the region. In 2018, North America generated revenue of US$ 8,033.8 Mn, because of the increasing prevalence of breast cancer in the region. In addition to this, the region boasts the presence of several leading market players and skilled professionals. Besides this, governments of developed nations such as Canada and the U.S. are providing health insurance for cancer diagnostics. Spurred by these factors the Breast Cancer Therapeutics Market is likely to flourish in North America to emerge dominant.
Breast Cancer Drug Market worth $38.4 Billion by 2025 | CAGR: 10.7%
The global breast cancer drug market size is expected to reach USD 38.4 billion by 2025, according to a new report by Grand View Research, Inc. It is projected to expand at a CAGR of 10.7% during the forecast period. Early detection, increase in awareness, and incidence of breast cancer are some of the key trends in stoking market growth.
The global breast cancer drug market is expected to grow lucratively as many players focus majorly on R&D of innovative treatments. They engage in extensive research to develop novel drugs for the treatment of the disease to gain a higher market share. There exist a growing pressure and need for novel therapies and treatment due to the rapidly accelerating prevalence of diseases. The strong pipeline is expected to provide new and effective treatment options and improved outcomes than existing therapies.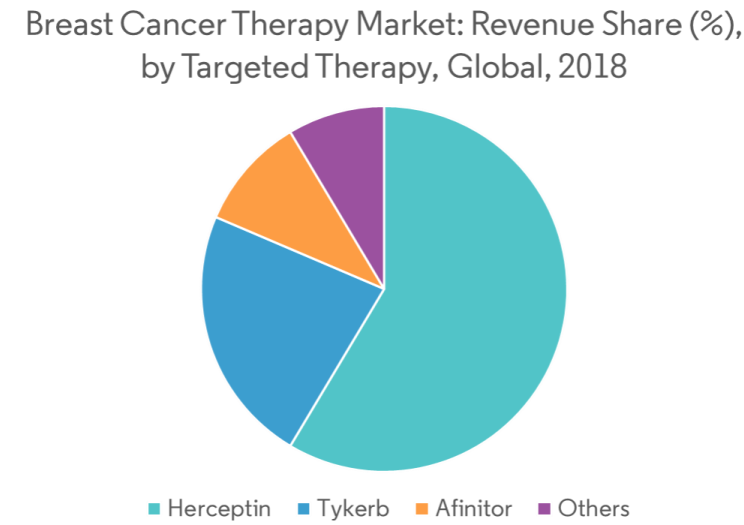 With advancements in drug delivery systems, various target-specific therapies have been customized and designed as a carrier to infuse the therapeutic agent to the target site. Carriers for inducing target therapy include modified anticancer agents specific to molecular-recognition-element, anticancer peptides, and nanoparticle-based anticancer drugs. For instance, HER2/neu protein is usually given in combination with other anti-cancer drugs in targeted therapy.
Key Outcomes:
HER2 inhibitors are expected to be the most preferred drug class segment over the forecast period, owing to their high specificity as they are a subclass of target therapy
CDK 4/6 inhibitor is expected to be the fastest-growing segment over the forecast period. There are currently more than 45 CDK 4/6 inhibitor drug candidates in the pipeline
North America held the largest market share in 2017 owing to the factors such as the presence of key manufacturers in the country, high awareness and adoption, and well-established healthcare infrastructure among others
Europe was estimated to be the second-largest regional segment in 2017 due to the increasing incidence of breast cancer and growing R&D investments
The Asia Pacific is anticipated to witness healthy growth over the next decade due to increasing incidence of breast cancer, rise in awareness about early diagnosis in emerging countries such as China and India.
Companies such as F. Hoffmann-La Roche Ltd; Pfizer Inc.; AstraZeneca; Novartis AG; Astellas Pharma Inc.; and Eli Lilly and Company dominated the breast cancer drugs market
The market is lucrative and competitive in nature as manufacturers engage in new product development to increase their product penetration. Moreover, they are entering into collaborations and partnerships to enhance their product portfolio.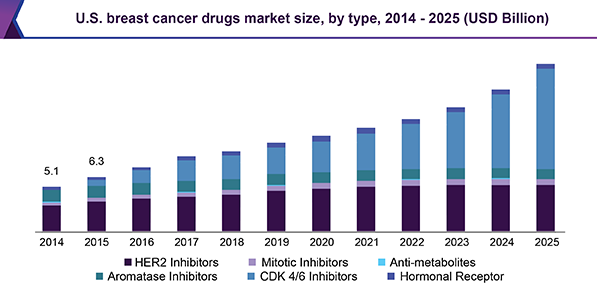 Companies involved with Therapeutics
Genentech (F. Hoffmann-La Roche Ltd)
F. Hoffman-La Roche Ltd leads the breast cancer drugs market with Herceptin, Perjeta, and Kadcyla. However, rapid advancements in biosimilars with a goal to offer cost-effective alternatives to patients is anticipated to put pressure on this space.
Eli Lilly and Company
Celgene Corporation
AstraZeneca
Pfizer Inc.
Sanofi
Eisai Co. Ltd.
Kyowa Kirin
Bristol Myers Squibb
Mayne Pharma Group Limited
Valeant Pharmaceuticals
Breast Pathology 2020 along with the support of Editorial Members and Organizing Committee extends its welcome to you during September 17-18, 2020 at Vienna, Austria with the theme "Unveiling the potential for faster breast cancer diagnosis''. Breast Pathology Conference aims to bring together the Professors, Researchers and Scientists, business giants, technocrats and students to provide an international forum for the dissemination of original research results, new ideas and practical development and discover advances in health practice, management and education in relation to health disparities as well as a breadth of other topics. You can refresh your insights about the current circumstances of Breast Cancer and its technological diagnostic advancements and get name and acknowledgment at this 2-day occasion. This meeting will give the stage to share thoughts, collaborate and enjoy different places in Vienna. Incredibly famous speakers with their definitive chats on the latest methods, strategies in therapeutics of Breast Pathology are the signs of this meeting.