Cancer Therapy Market Analysis and Reports | USA Conference Series
Market Analysis - Cancer Therapy 2017
The global Cancer therapy market is estimated to grow at 17.6% CAGR to reach $52.2 billion by 2021. Breast cancer therapy is the largest market expected to reach $30.8 billion by 2016 at an estimated CAGR of 15%.
Rise in cancer incidences and access to modern therapeutics, population of aged people, increase in innovations, improvements and approvals promote growth of the market. Furthermore, efficiency and High process magnetize manufactures also contribute to the growth of the market. Major restraints are high price of therapies, change in reimbursement policies, and challenges faced in clinical trials.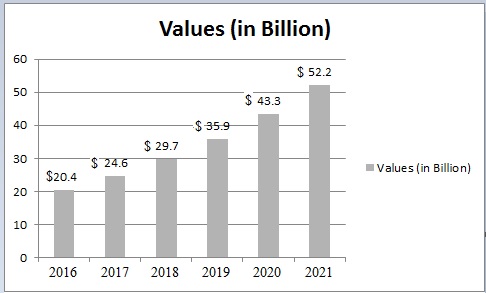 Market is segmented based on therapies i.e. Targeted cancer therapies (Hormone therapy, Signal transduction inhibitors, gene expression modulators, Apoptosis inducers etc.), Hormone therapies (Forms of hormone therapy), Immunotherapy (Monoclonal antibodies, Cancer vaccines, Non-specific immunotherapies), Chemotherapy.
Based on geography, market is segmented into North America (US, Canada), Europe, Asia and Rest of the world. Major players are focusing on marketing their products in emerging markets such as India, Japan, Brazil, and China. Oncology spending remains concentrated to America and Europe which totally accounts for 65% of the total market. Targeted therapies have increased their share of global oncology from 11 percent to 46 percent last year.
Major companies in the market include Dendreon, Galena Biopharma, Newlink genetics, Peregrine pharmaceuticals, Inovio pharmaceuticals.
Players are implementing new innovations, strategies, new product launches to gain a competitive edge.
Conference Series LLC is overwhelmed to announce the commencement of 25th World Congress on Cancer Therapy.
Date: October 18-20, 2017
Venue: Baltimore, USA
Theme: "Characterizing Novel Approaches in Diagnosis and Cancer Therapies".
Sprawling the achievement of past cancer meetings, it is with colossal delight and pride that Conference Series LLC extends its heartfelt welcome to "25th World Congress on Cancer Therapy" that will be held in Baltimore, USA during October 18-20, 2017. The conference will be organized around the theme 'Characterizing Novel Approaches in Diagnosis and Cancer Therapies.
Cancer Therapy 2017 will provide an unparalleled prospect to get associated with leading oncologists, doctors, scientists, academicians, specialists & business associates coming from all over the world. As the theme of the conference relates, it serves as a global platform to converses concerning the current developments, recent advances, new approaches and future approaches in the field of cancer & therapy.
Cancer Therapy 2017 will be organized by Conference Series LLC which is comprised of 3000+ Global Events with over 600+ Conferences, 1200+ Symposiums and 1200+Workshops on diverse fields of Medical, Pharmaceutical, Clinical, Engineering, Science, Technology and Business. Cancer Therapy deals with study of basic researches in the field of cancer & oncology. It involves identifying causes and to develop strategies for diagnosis, prevention, treatment and cure for this dreadful disease.