Cardio Market Analysis and Reports | Japan Conference Series
Market Analysis - Cardio 2019
Importance and Scope | Cardiology and Cardiovascular Medicine | July 26-27, 2019 | Kyoto, Japan
Heart disease describes a range of conditions that affect your heart. Diseases under the heart disease umbrella include blood vessel diseases, such as coronary artery disease; heart rhythm problems (arrhythmias); and heart defects you're born with i.e. congenital heart defects, Rheumatic heart disease, Hypertensive heart disease, Ischemic heart disease, Hypertension and many more…
Cardio 2019 aims to discover advances in health practice, management and education in relation to health disparities as well as Cardiology. Heart disease describes a range of conditions that affect your heart. Diseases under the heart disease umbrella include blood vessel diseases, such as coronary artery disease; heart rhythm problems (arrhythmias); and heart defects you're born with i.e. congenital heart defects, Rheumatic heart disease, Hypertensive heart disease, Ischemic heart disease, Hypertension and many more. According to the reports, the healthcare services market in the GCC is expected to grow from AED 66 billion (US $18 billion) in 2008 to AED 175-202 billion (US $47-55 billion) by 2020.
Cardiovascular diseases (CVDs) are the number 1 cause of death globally: more people die annually from CVDs than from any other cause. An estimated 21.7 million people died from CVDs in 2018, representing 35% of all global deaths. Of these deaths, an estimated 8.4 million were due to coronary heart disease and 7.8 million were due to stroke .Over three quarters of CVD deaths take place in low- and middle-income countries. Out of the 17 million premature deaths (under the age of 60) due to non-communicable diseases in 2018, 82% are in low- and middle-income countries, and 37% are caused by CVDs.
According to WHO (World Health Organization) and the CDC, heart disease is the leading cause of death in the UK, USA, Japan, Canada and Australia. The number of US adults diagnosed with heart disease stands at 26.6 million (11.3% of adult population), 23.5% of all deaths in the USA today are caused by heart disease. According to the latest WHO data published in May 2018 Coronary heart Disease Deaths in Japan reached 67,881or 16.86% of total deaths. The age adjusted Death Rate is 141.43 per 100,000 of population ranks Japan 27 in the world.
Cardiology Conference intents to pioneer advances in health practice, management and education according to health incongruity as well as a broadness of other topics. The conference will facilitate a series of controversy about leading edge processes, organizational transitions, analytics, and technology innovation within the health sector and academia, regarding metamorphic care delivery and health management models.
Related Conferences: 4th World Heart Congress, April 29 - May 01, 2019 Kyoto, Japan, World Heart and Brain Congress, April 19-20, 2019 Chicago, USA, 28th International Conference on Clinical & Experimental Cardiology Research, April 19-20, 2019 Montreal, Canada, 5th World Heart Congress, April 15 -16, 2019 Amsterdam, Netherlands, 5th World Heart Congress March 27- 28, 2019 Sydney, Australia, 25th International Conference on Cardiovascular and Thoracic Surgery, March 27-28, 2019 Sydney, Australia, Middle East Heart Congress, March 18-20, 2019 Dubai, UAE, 4th Global Summit on Heart Diseases, March 15-16, 2019 Singapore, World Cardiology Experts Meeting, Feb 28-March 01, 2019 Osaka, Japan
Why Kyoto, Japan?
Cardiolagists helps to treat conditions such as unstable angina, cardiomyopathy, coronary artery disease, congestive heart failure, myocardial infarction and Cardiac dysrhythmia under the direction of a cardiologist. The current survey on number of persons with cardiovascular and Cardiac disease manifestations in the Japan says that, although the mortality from cardiovascular disease (CVD) in our country has declined, its disease burden remains high. Council on Cardiovascular Nursing and Allied Professions (CCNAP) main objective is to support nurses and allied health professionals throughout Europe to deliver the best possible care to patients with cardiovascular disease and their families. Nurses and allied health professionals play a pivotal role in Cardiac care. Interventions developed, tested and implemented by nurses and allied health professionals can assist patients to prevent, adjust to and recover from Cardiac illness. In CCNAP you will find a team of dedicated professionals, eager to support you in the delivery of excellent cardiovascular care. Whether you are working in practice, education or research, they welcome you and encourage you to join they Council. They are committed to your professional development.
Members Associated with Cardiology:
There are 650 Cardiology specialists near & 1150 Cardiology specialist in Philippines & 42000 Cardiology specialists in worldwide & has a network of 160 acute primary care centres, making an open clinic within easy reach for most people. Acute primary care is offered by a combination of 121 general practice health centres that are open outside office hours and a total of 94 medical emergency units with surgery facilities, of which 90 are at hospital locations.
Related Conferences: 30th European Heart Diseases and Heart Failure Congress, February 18-19, 2019 Amsterdam, Netherlands, International Conference on Cardiovascular Diseases and Therapeutics, November 21-22, 2018 Paris, France, 6th World Congress on Hypertension and Public Health, November 21 - 22, 2018 Paris, France, 29th World Cardiology Conference November 19-20, 2018 Edinburgh, Scotland, World Heart Rhythm Conference November 15-17, 2018 Istanbul, Turkey, 28th World Congress on Cardiology and Heart Diseases, November 05-06, 2018 Amsterdam, Netherlands, Global Cardiology Summit, October 22-23, 2018 Osaka, Japan
Global Market at a Glimpse:
The global interventional Cardiology market is anticipated to grow at a steady rate and will post a CAGR of more than 7% during the forecast period. The growing demand for minimally invasive (MI) procedures will drive the growth prospects for the global interventional Cardiology market in the forthcoming years. Some of the major factors responsible for the growing preference for MI include faster recovery, less pain, fewer post-surgery infections, reduced hospital stays, minimized incision marks, controlled bleeding, and minimal complications and high accuracy. Also, MI artery stenting enhances the surgical precision by providing a 3D view of the patient and allowing the manipulation of small surgical tools for the placement of stents in the individual's body. As a result, 3D-MRI techniques for improved imaging have increased the popularity of MRI procedures, which will eventually increase the demand for Cardiac surgeries.
The growing popularity of hybrid procedures will drive the growth prospects for the global industrial castings market over the next four years. According to the industry research report, one of the major factors responsible for the growing preference for hybrid procedures is their ability to eradicate plaque entirely from the blood vessels and offer qualitative results to patients.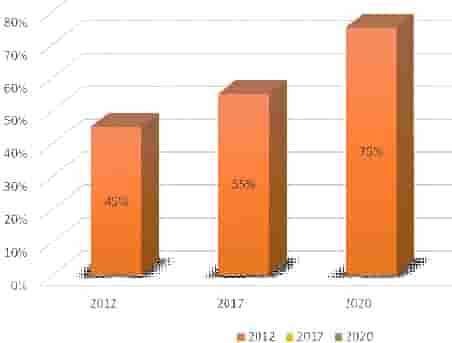 Fund Allotment to Cardiology Research:
The NIH (National Institute of Health) Funding Opportunity Announcement (FOA), funded by the Patient-Cantered Outcomes Research Institute (PCORI), funds up to two new patient-centred comparative effectiveness clinical trials, with the goal of comparing alternative, evidence-based ways to reduce inadequate control of Cardiology and disparities in outcomes among high-risk populations, including racial/ethnic minority groups, patients with low socioeconomic status (SES), and individuals residing in rural geographical areas with an above average lifetime risk of cardiovascular disease (CVD). This initiative is supported by the Cardiology Disparities Reduction Program Partnership (HDRPP), a research partnership between NHLBI, NINDS and PCORI, with funds provided by PCORI to the NIH.
The fund allotment granted by the NIH is raised up to $21,500,000 worldwide for supporting research works associated with the advances in treatment and management of Cardiology
Statistics of Physicians, Researchers and Academicians working on Cardiology:
The estimated statistics of the number of physicians, academicians and researchers working upon the advancement in the treatment and management of Cardiology are as described in the pie chart here....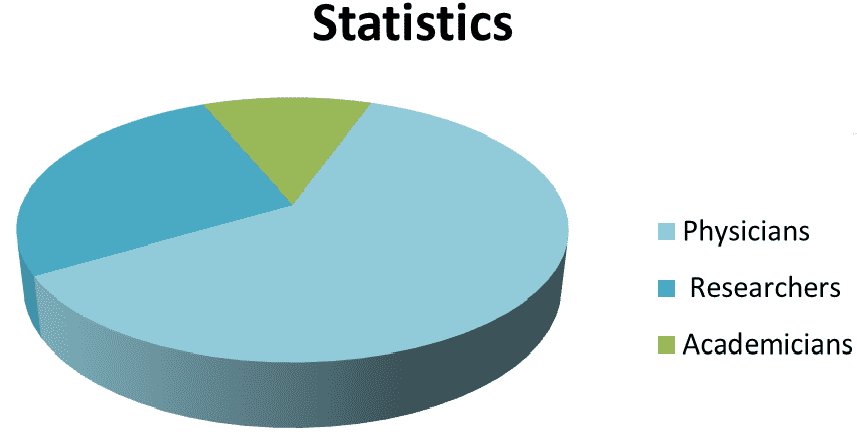 Related Conferences: 6th Global Experts Meeting on Cardiovascular Pharmacology, July 12-13, 2019 Yokohama, Japan, 26th Annual Cardiologists Conference, July 10-11,2019 Osaka, Japan, 25th World Cardiology Conference, July 10-11, 2019 Osaka, Japan, 31st Annual Cardiologists Conference, June 17-19, 2019 Rome, Italy, European Cardiology Congress, July 01-02, 2019 Prague, Czech Republic, 31st Annual Cardiologists Conference, June 17-19, 2019 Rome, Italy, 29th International Conference on Cardiology and Healthcare, June 10-11, 2019 Helsinki, Finland, 7th International Conference on Hypertension & Healthcare, June 10-11, 2019 Helsinki, Finland, cardiacsurgery-ann-2019
Cardio 2019 | Cardiology and Cardiovascular Medicine | July 26-27, 2019 | Kyoto, Japan
With the success of "Heart Congress 2018" in Tokyo, Japan Conference Series is proud to host "27th International Conference & Exhibition on Cardiology and Cardiovascular Medicine" (Cardio 2019) during July 26-27, 2019at Kyoto, Japan. The event will bring together world-class cardiologists, Academicians, Cardiac Nurses, researchers and professors to discuss strategies for prevention of coronary disease, stroke and sudden deaths. Cardio 2019 is designed on the theme: "Fostering the Future Excellence in Cardiology and Medicine" that focuses to share novel approaches related to Cardiology field and exploring the challenges concerning excellence in Cardio research and advancements. The motive of the event is to generate awareness that will keep medical professionals abreast of the problems affecting the prevention, diagnosis and treatment of cardiovascular disease.
This congress melds brief Keynote presentations, Speaker talks, Exhibition, Symposia and Workshops. Cardio 2018 is one of the Cardiology & Medical meetings which will be visited by all the prestigious cardiologists, Cardiology educators, fiery inspectors, postgraduates, affiliations, business meanders under a solitary rooftop. This Cardiology Congress or rather all Cardiology care meeting 2019, Cardiology Care events, Cardiology meetings will help in frameworks organization, B2B teaming up amidst specialists and academicians.
Summary of the conference:
Cardio 2019 is a unique forum to bring together worldwide distinguished Academics in the field of Cardiology, cardiovascular researchers, public health professionals, scientists, academic scientists, industry researchers, scholars to exchange about state of the art research and technologies. Expert faculties will discuss the relevant advances in Cardio research and will explore the novel trends to reduce the effects of cardiovascular risk factors.
Scope and importance:
The aim of this conference is stimulate new ideas for treatment and analyses the current market for the future direction of cardiovascular drugs, devices, and diagnostics, with an emphasis on newer products that will be beneficial across the spectrum of Cardiology. Lectures will provide a comprehensive state-of-the-art update of the clinical uses of various techniques in the diagnosis, prognosis, and management of common cardiovascular diseases
Related Conferences: CardiacSurgery-ann-2019, Asia Pacific Cardiology Congress 2019, 7th World Heart Congress, August 19- 20, 2019 Vienna, Austria, World Cardiology 2019, 27th International Congress on Cardiology and medical interventions, July 31-August 01, 2019 Chicago, Illinois, USA, 4th International Conference on Hypertension and Healthcare, July 26-27, 2019 Melbourne, Australia, 27th International Conference & Exhibition on Cardiology and Cardiovascular Medicine, July 26-27, 2019 Kyoto, Japan, 4th International Conference on Cardiovascular Medicine and Cardiac Surgery, July 22-23, 2019 London, UK, 27th European Cardiology Conference Oct 22- Oct 24 , 2018 Rome, Italy, American Heart Congress – CVD, October 05-06, 2018 Los Angeles, California, USA
Why to Attend???
Cardiology conference provides a global platform for global networking and exchanging latest innovations in Cardiology, nursing and healthcare. Offering Opportunity to attend the presentations delivered by Eminent Experts from all over the world. Participating in Cardiology conferences gives a way to meet, interact with, and make contacts with other experts in your specialty area. Most conferences will have authors, researchers, or clinicians who are recognized experts in the field.
Target Audience:
Cardiologists
Anesthesiologists
Research Scholars
Nurse Practitioners
Electrophysiologists
Cardiology Physicians
Business Entrepreneurs
Cardiovascular Doctors
Cardiothoracic Surgeons
Healthcare Professionals
Cardiovascular Scientists
Cardiovascular Researchers
Medical Students and Ph.D. Fellows
Cardiology Faculties and Professors
Various Societies And Their Members
Pharmaceutical and Medical Devices Companies
Cardiology Hospitals, Associations, and Societies
Angiography; open-heart surgery; automatic implantable cardiac defibrillators; and coronary angioplasty.
Related Conferences: CardiacSurgery-ann-2019, Asia Pacific Cardiology Congress 2019, 7th World Heart Congress, August 19- 20, 2019 Vienna, Austria, World Cardiology 2019, 27th International Congress on Cardiology and medical interventions, July 31-August 01, 2019 Chicago, Illinois, USA, 4th International Conference on Hypertension and Healthcare, July 26-27, 2019 Melbourne, Australia, 27th International Conference & Exhibition on Cardiology and Cardiovascular Medicine, July 26-27, 2019 Kyoto, Japan, 4th International Conference on Cardiovascular Medicine and Cardiac Surgery, July 22-23, 2019 London, UK, 27th European Cardiology Conference Oct 22- Oct 24 , 2018 Rome, Italy, American Heart Congress – CVD, October 05-06, 2018 Los Angeles, California, USA, 6th Global Experts Meeting on Cardiovascular Pharmacology, July 12-13, 2019 Yokohama, Japan, 26th Annual Cardiologists Conference, July 10-11,2019 Osaka, Japan, 25th World Cardiology Conference, July 10-11, 2019 Osaka, Japan, 31st Annual Cardiologists Conference, June 17-19, 2019 Rome, Italy, European Cardiology Congress, July 01-02, 2019 Prague, Czech Republic, 31st Annual Cardiologists Conference, June 17-19, 2019 Rome, Italy, 29th International Conference on Cardiology and Healthcare, June 10-11, 2019 Helsinki, Finland, 7th International Conference on Hypertension & Healthcare, June 10-11, 2019 Helsinki, Finland, cardiacsurgery-ann-2019, 4th World Heart Congress, April 29 - May 01, 2019 Kyoto, Japan, World Heart and Brain Congress, April 19-20, 2019 Chicago, USA, 28th International Conference on Clinical & Experimental Cardiology Research, April 19-20, 2019 Montreal, Canada, 5th World Heart Congress, April 15 -16, 2019 Amsterdam, Netherlands, 5th World Heart Congress March 27- 28, 2019 Sydney, Australia, 25th International Conference on Cardiovascular and Thoracic Surgery, March 27-28, 2019 Sydney, Australia, Middle East Heart Congress, March 18-20, 2019 Dubai, UAE, 4th Global Summit on Heart Diseases, March 15-16, 2019 Singapore, World Cardiology Experts Meeting, Feb 28-March 01, 2019 Osaka, Japan, 30th European Heart Diseases and Heart Failure Congress, February 18-19, 2019 Amsterdam, Netherlands, International Conference on Cardiovascular Diseases and Therapeutics, November 21-22, 2018 Paris, France, 6th World Congress on Hypertension and Public Health, November 21 - 22, 2018 Paris, France, 29th World Cardiology Conference November 19-20, 2018 Edinburgh, Scotland, World Heart Rhythm Conference November 15-17, 2018 Istanbul, Turkey, 28th World Congress on Cardiology and Heart Diseases, November 05-06, 2018 Amsterdam, Netherlands, Global Cardiology Summit, October 22-23, 2018 Osaka, Japan