Childhood Obesity Market Analysis and Reports | Italy Conference Series
Market Analysis - Childhood Obesity 2017
Childhood Obesity 2017 invites all the attendees, presenters, and exhibitors from all over the world to Rome, Italy. We are pleased to invite you all to attend and register for the "10thInternational Conference on Childhood Obesity & Nutrition (Childhood Obesity 2017)" which is going to be held during June 12-13, 2017 at Rome, Italy The organizing committee is all set for an exciting and educational conference program including plenary lectures, symposia, workshops, poster presentations and several programs for participants from all over the world. We invite you to join us at the Childhood Obesity 2017, where you will be sure to have an important involvement with researchers from around the globe for the worldview of healthy children. Childhood Obesity 2017 organising committee look forward for your presence in Rome, Italy.
For more details kindly visit: http://childhoodobesity.conferenceseries.com/
Importance and Scope
Childhood obesity is a serious medical disorder that affects children and adolescents. It occurs when a child is well above the normal weight for his or her age and height. As methods to regulator body fat directly are difficult, the diagnosis of obesity is often based on Body Mass Index (BMI). BMI is a measure used to determine childhood overweight and obesity. Overweight is well-defined as a BMI at or above the 85th percent and below the 95th percent for children and teens of the same age and sex. Obesity is definite as a BMI at or above the 95th percentile for children and teens of the same age and sex.
BMI is calculated by measure of a person's weight in kilograms by the square of height in meters. For children and teens, BMI is age and sex specific and is often termed as BMI-for-age. This is because children's body structure varies as they age and varies among boys and girls. Hence, BMI levels among children and teens need to be expressed relation to other children of the similar age and sex.
Childhood Obesity prevention will need to both individual and social/cultural change in way of life. A large volume of current research will help clarify what will be most helpful. Hope Childhood Obesity 2017 would make it half the way.
Why Italy
Italy is well-known for its healthy way of life and Mediterranean diet – but the country is facing severe future health problems because of its overweight children. Reports state that the number of overweight and obese children in Italy was "among the most noteworthy on the planet" and that this will "provoke a greater demand for healthcare in the future." As indicated by the OECD information, Greece has the most astounding rate of overweight and obese kids (5-17 aged) on the globe, followed by Italy, U.S. furthermore, Mexico. Italy's younger generation are increasingly eating more processed foods, more fast foods and more sugary desserts and beverages. A striking example of this can be seen in an aggressive publicizing effort dispatched by Coca-Cola in Italy in 2011.
Childhood Obesity rates are notoriously considered one of the highest (36% for boys and 34% for girls) In addition, WHO projections forewarn that by 2030 rising prevalence could see sickness rates almost twofold for specific populaces. In a country renowned for its regional variations in cuisine, Italians try not to take after an unbending arrangement of eating traditions, making it less demanding for commercial food advertisers to exploit. Considering the above criteria Italy would be the finest places for a conference on Childhood Obesity.
Conference Highlights
Ø Health benefits and risks of weight loss
Ø Food and Nutrition Economic costs of overweight and obesity
Ø Obesity & Weight Loss Nutrition
Ø Food, Nutrition and Body weight
Ø Current Prevalence of obesity
Ø Food Composition and Obesity
Ø Lifelong effect in Childhood Obesity
Ø Childhood Obesity Prevention
Ø Behavioral & Environmental Factors
Ø Diabetes & Endocrine Disorders
Leading Research Funders:
The National Collaborative on Childhood Obesity Research (NCCOR)
The Centres for Disease Control and Prevention (CDC)
The National Institutes of Health (NIH)
The Robert Wood Johnson Foundation (RWJF)
The U.S. Department of Agriculture (USDA)
Dr. Robert C. and Veronica Atkins Foundation
The National Institute of Diabetes and Digestive and Kidney Diseases (NIDDK)
Rural Assistance Center (RAC)
The International Development Research Centre
International Societies and Associations
World Obesity Federation
Global Obesity Prevention Center
World Health Organisation
World Heart Federation
The International Association for the Study of Obesity
The International Diabetes Federation
The International Pediatric Association
The International Union of Nutritional Sciences
The International Development Research Centre
Beth Israel Deaconess Medical Center,
Mayo Clinic & Mayo Foundation,
UT South-western Medical Center
Centre for Obesity Research and Education (CORE)
Fig. Obesity Societies and Associations
Top Universities in Italy
University of Bologna
Sapienza University of Rome
University of Padua
University of Milan
Scuola Normale Superiore di Pisa
University of Turin
University of Trieste
University of Florence
University of Naples Federico II
University of Pavia
University of Pisa
University of Rome Tor Vergata
University of Milan-Bicocca
University of Perugia
Polytechnic University of Milan
University of Genoa
Vita-Salute San Raffaele University
University of Trento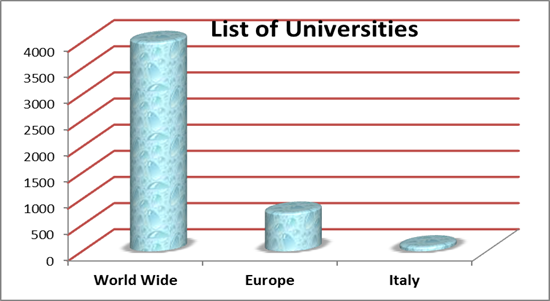 Fig. List of Universities
Market Analysis
Disorders that may occur with childhood obesity are Diabetes type 1and Diabetes type 2, asthama, sleep apnea, cardiovascular issues and orthopaedic problems. Almost 35% of the adults with income lower than $15000 per year are obese. 24% adults with income higher than $50000 per year are obese. Global Anti-obesity Drugs market is expected to grow at a CAGR of 39.45 percent over the period 2014-2019.
Increment in the wellbeing issues, modern lifestyle and nearness of enormous number of obese populace over the globe is the driving element for the worldwide hostile to corpulence drug market. . The market is segmented by the product type and end user. The worldwide anti-obesity drug business sector is relied upon to develop at CAGR of 40% over the time of 2015-2020.The worldwide anti- obesity drug business sector is required to extend locally by North America, Europe and Asia pacific. The worldwide obesity surgery gadget business sector is relied upon to develop at a CAGR of 9.6% from 2014-2020 to come to an expected estimation of USD 2489.5 million in 2020 from USD 1432.4 in 2014 .North America is the biggest business sector for worldwide weight surgery devices took after by Europe.
Fig. Target Audience in percentage
Obesity Clinics in Europe
Nuffield Hospital, Taunton-South West Bariatric Surgery Group
Medical Travel, Czech
Whittington Hospital (NHS Trust, London).
Polyclinique de Rillieux Lyon-Nord
Hôpital Européen Georges Pompidou, Paris
Hirslanden Clinique La Colline, Geneva
Catholic Medical Center
Brussels Europe Hospitals, Brussels
Diagnoseklinik Munich, Munich
Clinique Bois-Cerf, Lausanne
Klinik Hirslanden, Zurich
Health Centre Bad Ragaz, Bad Ragaz
Klinik Beau-Site, Berne
Lucerne Health, Lucerne
Surgeon Geneva, Geneva
Anti-Obesity Drug Manufacturing Companies
Abbott Laboratories
Amylin
Novartis
Merck
Instituto Llorente
Servier Laboratories
Marion Merrell Dow
Otsuka Pharmaceutical
Arena Pharmaceuticals
GlaxoSmithKline
Orexigen Therapeutics
Servier Laboratories
Vivus
Alizyme
Boehringer Ingelheim
Eisai
Norgine
Pfizer
Rhythm Pharmaceuticals
Shionogi USA
F. Hoffmann-La Roche
Novo Nordisk
Prevalence of Childhood Obesity.
As per the Italian government's insights, the greater part of the Italian children aged 5-19 are obese or overweight. In the U.S data from the Centers for Disease Control and Prevention demonstrate an expected 32% of U.S. kids aged 2-19 are overweight or fat, 17% are viewed as obese. OECD measures kids from 5-17, while the CDC splits it up from 2-19, and additionally 2-5, 6-11 and 12-19. The CDC characterizes obeseas a body mass list more prominent than or equivalent to the 95th percentile of the sex-and age-particular 2000 CDC development diagrams.
As indicated by the OECD information, Greece has the most astounding rate of overweight and obese kids (5-17 aged) on the globe, followed by Italy, U.S. furthermore, Mexico.
Fig. Prevalence of obese and overweight children in countries across the globe in percentage
Projections: Growth by next 4 years
The anti-obesity drug market development will be driven by the quick uptake of novel rising specialists and the high pervasiveness of weight. As indicated by Global Anti-Obesity Drugs Market 2015-2019 exploration, the worldwide anti-obesity drugs business sector is set to develop at a CAGR of 39.45% over the period 2014-2019 Presently, the weight drug market comprises of not very many compelling medications, with constrained accessibility in various locales that is accessible in both the EU and the US. . U.S. is relied upon to burn through $344 billion on human services costs owing to heftiness in 2018 if rates keep on increasing at their present levels. The stoutness drug business sector will expand more than six-fold throughout the following decade, expanding from $420 million in 2010 to $2.6 billion in 2020 in the United States, France, Germany, Italy, Spain, the UK and Japan.