Clinical Pharmacy Congress Market Analysis and Reports | Japan Conference Series
Market Analysis - Clinical Pharmacy Congress 2018
Importance & Scope:
Clinical pharmacy is a branch of pharmacy which deals with the patient care and medication and promotes health, wellness and disease inhibition. The pharmacist works in management with the doctors for the patient healthcare. Clinical pharmacists have wide education in the biomedical, pharmaceutical, and clinical sciences. Clinical Pharmacy consist of all the services accomplished by pharmacists practicing in hospitals, community pharmacies, nursing homes, home-based care services, clinics and any other setting wherever medicines are prescribed and used. The term "clinical" does not necessarily suggest an action implemented in a hospital setting. It defines that the type of activity is connected to the health of the patients. This suggests that community pharmacists and hospital pharmacists both can accomplish clinical pharmacy activities.
Scope of clinical pharmacy:
Drug Information
Drug Utilization
Drug Evaluation and Selection
Medication Therapy Management
Formal Education and Training Programs
Disease State Management
Why Japan:
Japan continues to be one of the largest pharmaceutical markets in the world despite a challenging business landscape due to demographics. According to the latest official figures from the Ministry of Health, Labor and Welfare (MHLW)'s Annual Pharmaceutical Production Statistics, the Japanese market for prescription and nonprescription pharmaceuticals in 2015 totaled $88 billion (up 10.7% from 2014 in yen terms). More than 90% of the total market consists of prescription pharmaceuticals. Imports of foreign pharmaceuticals accounted for approximately 38% of the total Japanese market in 2015. Japan's total imports of U.S. pharmaceuticals totaled $5.7 billion in 2015, a 6% market share. However, the total market share of U.S.-origin pharmaceuticals, i.e., including local production by U.S. firms and U.S.-owned compounds licensed to Japanese manufacturers approaches 20%. The size of the market is expected to increase in a measured fashion for the foreseeable future due to continued demands for drugs from Japan's aging population and the rising number of chronic and long-term diseases. However, in the short term, the market may see limited growth due to pricing environment which could become more challenging.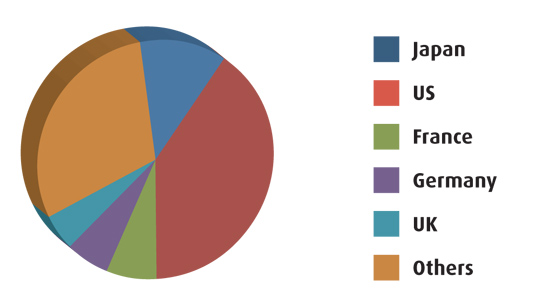 Figure 1: Global Pharma Market Analysis
Conference Highlights:
Clinical Pharmacy: Activities and Prescriptions
Clinical Pharmacists: Roles and Responsibilities
Hospital pharmacy & Health practice
Pharmacy Practice
Community Pharmacy
Nuclear Pharmacy
Ambulatory Care Pharmacy
Clinical Drug Development
Home Health Care Pharmacy
Managed Care Pharmacy
Healthcare and Hospital Management
Medication Therapy Management
Clinical Pharmacy Specialist
Rational Drug Use
Dispensing pharmacy
Drug Safety Reporting
Therapeutic Drug Monitoring
Clinical Pharmacology and Toxicology
Drug development and Industrial Pharmacy
Major Pharmacy Associations:
Japan Pharmaceutical Association
Japan CMO Association (JCMOA)
Nippon Pharmacy Association
Japan Pharmaceutical Manufacturers Association (JPMA)
The Federation of Pharmaceutical Manufacturers Association of Japan (FPMAJ)
Japan Pharmaceutical Wholesalers Association
Japan Pharmaceutical Equipment & Machinery Association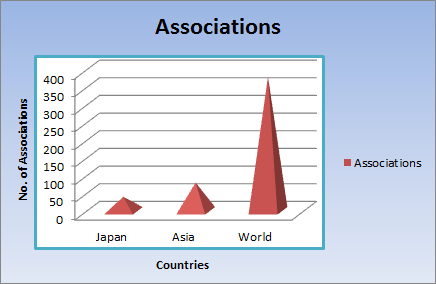 Figure 2: Statistical Analysis of Associations
Target Audience:
Hospital Pharmacists, Pharmacy Technicians, Association chiefs and Pharma Business people. Professors, Students and to provide an international forum for the spread of original research results, new ideas and practical development experiences which concentrate on both theory and practices, CEO's and Scientists, R & D Professionals
Industry 50%
Researchers 20%
Academia 20%
Others 10%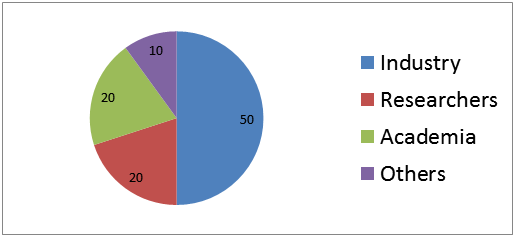 Figure 3: Target Audience Analysis
Top Universities in Japan:
Kyoto University
Osaka University
Hokkaido University
Chiba University
Kyushu University
Tohoku University
Okayama University
Hiroshima University
Nagasaki University
University of Tokushima
Kanazawa University
University of Toyama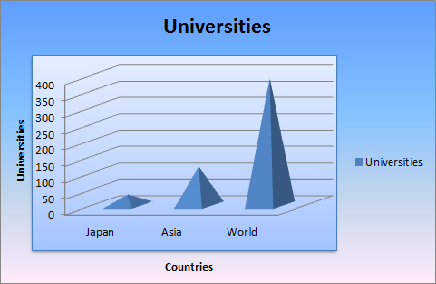 Figure 4: Statistical Analysis of Universities
Market Growth of Clinical Pharmacy:
The global pharmacy market reached nearly $3.0 billion in 2012. This market is expected to grow to nearly $3.2 billion in 2013 and $4.9 billion in 2018 with a compound annual growth rate (CAGR) of 8.8% over the five-year period, 2013 to 2018. Clinical pharmacy has a rich history of advancing practice through innovation. These innovations helped to mold clinical pharmacy into a patient-centered discipline recognized for its contributions to improving medication therapy outcomes. However, innovations in clinical pharmacy practice have now waned. In our view, the growth of academic–practice partnerships could reverse this trend and stimulate innovation among the next generation of pioneering clinical pharmacists. Although collaboration facilitates innovation, academic institutions and health care systems/organizations are not taking full advantage of this opportunity. The next few years will see spending on drugs in established markets in North America, Europe and Japan grow by just 1-4% annually.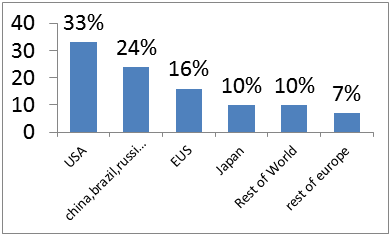 Figure 5: Market Segment on clinical pharmacy
Global pharmaceutical market forecast, 2010-2018:
The statistic describes the global pharmaceutical market's growth from 2008 to 2012 with a forecast from 2013 to 2017. Between the year 2010 and 2011, a growth of 5.1 percent was recorded within the industry.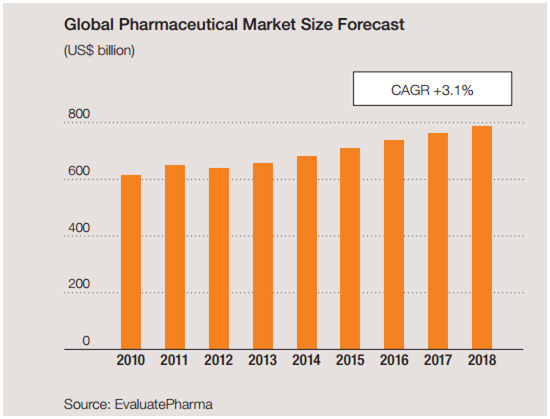 Figure 6: Global pharmaceutical market forecast
Pharmaceutical industry in Japan:
Japan is the second-largest individual pharmaceutical market in the world. It accounts for less than 10% of the total global pharma market. The country's pharma market is expected to grow annually by ~2.2%.

Figure 7: Expected Pharma Industry Challenges