Copd Market Analysis and Reports | Czech Republic Conference Series
Market Analysis - Copd 2020
Market Analysis Report for COPD and Lungs Conference 2020 scheduled at Kyoto, Japan during 25-26 May, 2020
The International COPD market is consider being worth $9.9 billion presently, and is expected to bench a value of $14.1 billion by 2025. The drugs driving this growth include once-daily LABA/LAMA fixed-dose combinations such as QVA-149, umeclidinium bromide/vilanterol and olodaterol/tiotropium. The opportunity in the U.S. and China asthma and COPD drugs market is slated to rise from a valuation of US$13.0 billion in 2015 to be worth US$18.7 billion by 2024. If these values hold true, the market is likely to expand at a modest CAGR of 4.1% therein. North Hemisphere countries trends the international market for COPD drugs. And it was followed by the European countries market capitalization. The Asia Pacific region is forecast to be the rapid regional for COPD & Asthma market owing to the fastest frequency of asthma & other respiratory diseases in industrial region.
Annis continues "These therapies are anticipated to be reserved as an add-on therapy for patients with high levels of blood eosinophilia who are poorly controlled with high-dose ICS therapy and at high risk for exacerbations. Thus, Global Data expects Nucala and benralizumab will garner US sales of approximately $1.2 billion and $817.9 million, respectively, in 2025."
Oxygen Therapy Market Size to Reach USD 18.2 Billion By 2024
The global respiratory inhaler devices market is estimated to expand at a CAGR of 4.3% during the forecast period. The global respiratory inhaler devices market value is expected to increase to US$ 43,214.0 Mn by 2025 end.
The global respiratory inhalers market was valued at US$ 27,424.4 million in 2016 and is expected to witness a robust CAGR of 5.7% over the forecast period (2017-2025).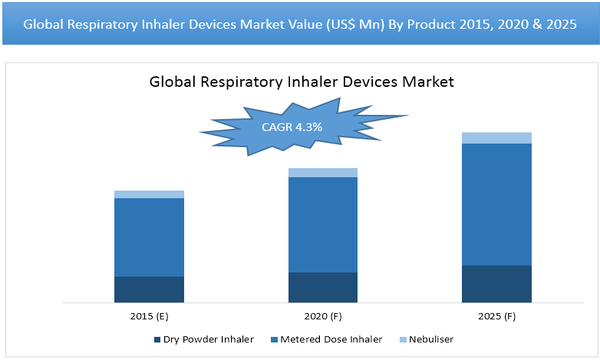 Major COPD Research Associations around Asia Pacific
COPD Patient Organization of Vietnam
COPD Patients Club Kyrgyzstan
COPD Club of Northern Thailand
Asian Pacific Society of Respirology
Chinese COPD Patient Education Organization
Major COPD Research Associations around Globe
Alpha-1 Foundation
American Association for Respiratory Care
American College of Chest Physicians
American College of Emergency Physicians
American College of Physicians
American Lung Association
Canadian Lung Association (CLA)
COPD Foundation