Cosmetic Surgery Market Analysis and Reports | Japan Conference Series
Market Analysis - Cosmetic Surgery 2020
Global Cosmetic Surgery Market size is projected to reach USD 21.97 billion by growing at a CAGR of 7.8% approximately throughout the forecast period in between 2017-2023. This report provides a detailed market analysis of cosmetic surgery by geography of Asia, Europe and North America. Cosmetic surgery market share is anticipated to witness significant growth due to rise in safety margins, obesity growth, accidents and increasing numbers of cosmetic surgery hospitals. Technology advancement and the development of advanced materials such as silicone implants etc. are fueling to rapid growth of the market. Social and cultural factors such as the influence of media, fashion & film industry, and social networking apps such as Snapchat and Instagram escalate the market on the global platform. The leading players operating in the global cosmetic surgery market are Valeant Pharmaceuticals International, Johnson & Johnson, Cutera, Inc., Allergan, Inc., Syneron Medical Ltd and Genesis Biosystems.
North America is the largest cosmetic surgery market share. Well-spread awareness and the growing acceptability of cosmetic surgery are key driving forces behind the growth of the market. Advancements in technology such as advanced silicone and polymer implants are enhancing the cosmetic surgery market growth in the region. European region is the second-largest cosmetic surgery market share. Increasing economy and the rising numbers of enthusiasts are the major factors for the growth of the market. The Asia Pacific cosmetic surgery market is emerging as a profitable market India, China, alongside, some of the Southeast Asian countries such as Vietnam, Thailand, and Malaysia, significantly Indian cosmetic surgery market is anticipated to witness remarkable growth in the coming years. The reason behind this is increasing consumer awareness, direct marketing and advertising campaigns and technological advances in surgical and non-surgical procedures, resulting in high growth of cosmetic surgery market in India. Growing disposable income of middle-class households and a gradual shift in people's desire to look presentable and more beautiful for a longer period of time is the driving force behind the cosmetic surgery industry. Anti-ageing surgeries and cosmetic procedures are rapidly gaining popularity in India.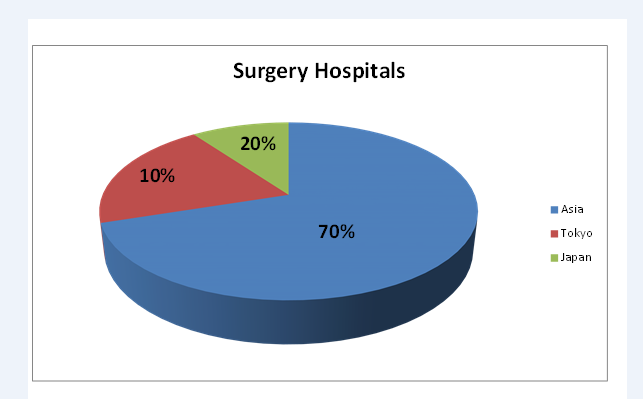 The surgical procedures accounted for 77% of the total expenditures in 2017 and nonsurgical procedures accounted for 23%. Patients between 35-50 ages had the largest percentage of surgical procedures in 2016. The top five surgical procedures for women in 2017 were listed as breast augmentation, liposuction, breast lift, tummy tuck and eyelid surgery (Blepharoplasty).
Age Distribution for Cosmetic Surgical Procedures:
Age: 18 and under – 1.1%
Age: 19-34 - 24.3%
Age: 35-50 - 38.6%
Age: 51-64 - 26.9%
Age: 65 - 9.1%
Societies associated with Cosmetic Surgery:
Cosmetic Dermatology Society
Cosmetic Trade and Professional Associations
Society of Cosmetic Chemists
ASEAN Cosmetics Association
Affiliated National Societies
International Federation of Societies of Cosmetic Chemists
Professional Beauty Associations
Society of Cosmetic Scientists
International Society of Aesthetic Plastic Surgery
International Cosmetic and Device Association
Cosmetic Surgery Association