Dental Medicine Market Analysis and Reports | USA Conference Series
Market Analysis - Dental Medicine 2017
Market Analysis
Dental Medicine-2017
(Theme: Meeting the growing demands of the evolving world of dental science)
Summary:
Conferenceseries LLC will be holding its 29th Annual World Congress on Dental Medicine & Dentistry from October 16-18, 2017 in New York, USA. The theme of this year's meeting is "Meeting the growing demands of the evolving world of dental science" which will provide an international platform for discussion of present and future challenges in oral health, dental education and expertise meeting. World-leading health practitioners, clinicians, educators and researchers will present cutting-edge and practical clinical techniques based upon widely accepted evidence and will introduce new and emerging research.
Dental Medicine-2017 includes international attendee workshops, lectures and symposia, including a designated registration area, a refreshment break and gala lunch. Dentists can join the Conferenceseries LLC as an international member to receive discounts on registration. So come and join leading experts and allied professionals from 16-18 May 2017 in New York, USA to keep up with the rapidly accelerating pace of change that is already having an impact on the field of dentistry & oral care, and will continue to in the future.
Increase in Income & Dental Health Awareness
According to the report, rising disposable incomes of patients coupled with growing dental care awareness will drive the dental equipment market in the developing Asian countries.
In the developed regions of North America and Western Europe, market growth will be driven mainly by the aging population possessing a desire to retain natural tooth structure.
Major Dental Associations in USA:
1. Academy for Sports Dentistry
2. Academy of General Dentistry
3. Academy of Operative Dentistry
4. Academy of Interdisciplinary Dentofacial Therapy
5. Academy of Laser Dentistry
6. Academy of Osseointegration
7. Alpha Omega International Dental Fraternity
8. American Academy of Cosmetic Dentistry
9. American Academy of Dental Hygiene
10. American Academy of Dental Practice Administration
11. American Academy of Esthetic Dentistry
12. American Academy of Fixed Prosthodontics
13. American Academy of Implant Dentistry
14. American Academy of Implant Prosthodontics
15. American Academy of Maxillofacial Prosthetics
16. American Academy of Orofacial Pain
17. American Academy of Pediatric Dentistry
18. American Academy of Periodontology
19. American Academy of Restorative Dentistry
20. American Academy for Oral Systemic Health
21. American Association for Dental Research
22. American Association of Endodontists
23. American Association of Oral and Maxillofacial Surgeons
24. American Association of Oral Biologists
25. American Association of Orthodontists
26. American Association of Public Health Dentistry
27. American Board of Forensic Odontology
28. American Cleft Palate-Craniofacial Association
29. American College of Dentists
30. American College of Forensic Examiners
31. American College of Prosthodontics
32. American Dental Assistants Association
33. American Dental Association
34. American Dental Education Association
35. American Dental Hygienists Association
36. American Dental Society of Anesthesiology
37. American Equilibration Society
38. American Orthodontic Society
39. American Society for Dental Aesthetics
40. American Society of Dental Anesthesiologists
41. American Society of Forensic Odontology
42. American Society for Geriatric Dentistry
43. American Student Dental Association
44. Arizona State University Pre-Dental Organization
45. Association of Managed Care Providers
46. Charles Tweed Foundation
47. Certified Dentists Internationale
48. Committee on Dental Auxiliaries
49. Dental Anthropology Association
50. Dental Assisting National Board
51. Federation of Special Care Dentistry Association
52. American Veterinary Dental Society
53. National Institute of Dental and Craniofacial
Statistical Analysis: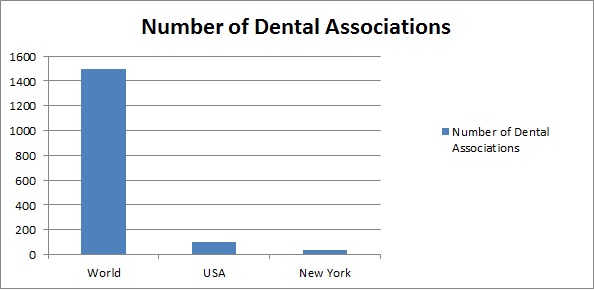 Target Audience:
The Professors, Dentists, Researchers, Clinicians, Educators, Marketing, and Students from Academia in the study of Dentistry and marketing.
Academia-40%
Industries-50%
Others-10%
Glance at Market of Dental Medicine:
The global dental market is expected to reach $60 Billion by the end of 2020 at a CAGR of 4.5 %. Factors like evolution of dental materials, discovery of newer, more sustainable, eco-friendlier dental technology; rise in awareness about dental health and its correlation with overall wellbeing; Availability of more funds for R & D have contributed to the rapid rise in the dental market. North America is the market leader with a share of ~42% of the global dental market. The presence of a large number of dental practice firms and analytical equipment manufacturers has contributed to the market boom. Another reason behind the market expansion is the huge increase in the number of PPOs (Private Practice Owners). Dental Equipment has the highest market share among all the 7 segments (Preventive Dental Care Market, Dental Restoratives Market, Dental Prosthetics Market, Dental Implants Market, Dental Orthodontics Market, Dental Endodontic Market and Dental Equipment Market).
Dental visits and consultations: In 2015, dental visits and consultations are expected to make up 32.3% of total revenue. This product segment includes prevention services (16.3%), as well as consultation and diagnostic services (15.9%).
Reference:
http://www.medindia.net/education/dental_colleges.asp
http://www.a2zcolleges.com/dental/usa.html
http://www.dentaljuce.com/fruit/docs/World_Dental_schools.html
http://www.educationnews.org/career-index/dental-hygienist-schools-in-louisiana/
http://dir.indiamart.com/impcat/dental-products.html
http://www.healthmantra.com/dealer.shtml
https://en.wikipedia.org/wiki/List_of_dental_organizations_in_the_United_States
https://en.wikipedia.org/wiki/List_of_dental_organizations
https://companylist.org/United_States/Health_Medical/Dental_Equipment/19.html
https://en.wikipedia.org/wiki/Category:Dental_companies_of_the_United_States
http://2010-2014.commerce.gov/blog/category/818?page=1