Dermatologists Market Analysis and Reports | Russia Conference Series
Market Analysis - Dermatologists 2018
Market Analysis Report for Dermatology
Skin disease is not a leading cause of mortality it is not usually thought of as a major health issue in developing countries. However, it is extremely common; up to 21-87% of the population may be affected by some type of skin problem, depending on the locale. It also contributes to significant physical and psychological disabilities. These disabilities have been measured by a number of life quality measures but the importance of skin health is often underestimated because of the chronic, non-life threatening nature of most skin diseases. Disfigurement and discomfort associated with skin problems make them among the main reasons people seek medical care, and are the cause of approximately 24% of primary care visits..
According to the American Cancer Society there are more than 2 million annual cases of basal and squamous cell skin cancer in the U.S. The occurrence of melanoma the most dangerous form of skin cancer, has increased from 47,700 diagnoses in 2000 to 75,000 in 2009. While demand for cosmetic dermatology decreased during the recession, the economic recovery combined with an aging population is driving a resurgence of demand for cosmetic procedures.
The global dermatology diagnostic devices market is expected to progress at a CAGR of 6.90% between 2015 and 2021. It was recorded at US$0.6 bn in 2014 and is expected to reach US$1.0 bn by 2023. The global dermatology therapeutics market, on the other hand, is expected to show a lower and slightly more skewered growth pattern. It is expected to progress at the CAGRs of 1.90% and 1.60% within the forecast periods of 2013 to 2018 and 2018 to 2023 respectively. This market shows a greater net worth, however, as it was already recorded at US$17.50 bn in 2014 and is expected to reach US$20.10 bn by the end of 2023.
Skin Care Products: Compared with sales of other product segments skin care products have experienced the fastest growth in recent years. Competition in this market is fierce with prices and target customers varying significantly. The market segment for middle grade products is increasing. Domestic products are more price competitive than imported ones. However, the attraction for higher quality, name brand products is solid. Facial products especially designed for Asian skin are well received by Chinese consumers. Creams and lotions have the largest sales volumes followed by facial wash creams creams. Additionally, anti-aging products extensively become prevalent for those looking to stay youthful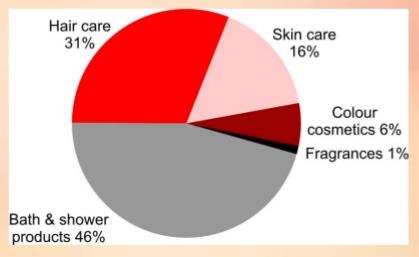 Global Cosmetic Market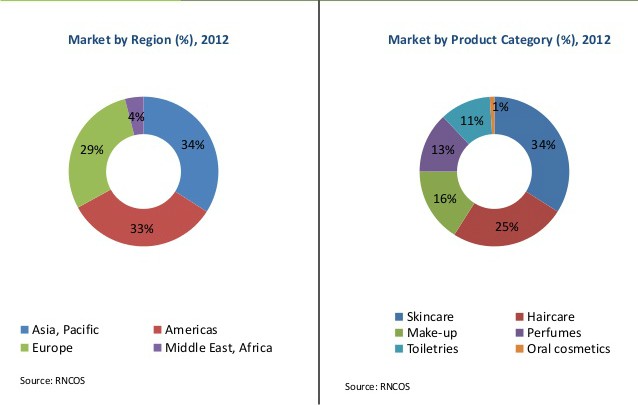 Why Madrid, Spain: Madrid is the capital and largest city of Spain. The population of the city is almost 3.2 million and that of the Madrid metropolitan area, around 6.3 million. It is the third-largest city in the European Union, after London and Berlin, and its metropolitan area is the third-largest in the European Union after London and Paris. The Madrid urban agglomeration has the third-largest GDP in the European Union and its influences in politics, education, entertainment, environment, media, fashion, science, culture, and the arts all contribute to its status as one of the world's major global cities. Due to its economic output, high standard of living, and market size, Madrid is considered the major financial centre of Southern Europe and the Iberian Peninsula; it hosts the head offices of the vast majority of the major Spanish companies, such as Telefónica, Iberia or Repsol. Madrid is the 17th most livable city in the world according to Monocle magazine, in its 2014 index
Tourist Attraction: Madrid, Spain's capital, is a city of exquisite streets and sweeping, manicured stops, for example, the Buen Retiro. It's famous for its rich vaults of European craftsmanship, including the Prado Museum's works by Goya, Velázquez and other Spanish bosses. The core of old Hapsburg Madrid is the porch lined Plaza Mayor, and close-by is the florid Royal Palace and Armory, showing notable weaponry. Its points of interest incorporate the Royal Palace of Madrid; the Royal Theater with its reestablished 1850 Opera House, the Buen Retiro Park, the nineteenth century National Library building containing some of Spain's verifiable files; countless historical centers, and the Golden Triangle of Art, situated along the Paseo del Prado and involving three craftsmanship exhibition halls: Prado Museum, the Reina Sofía Museum, a gallery of present day workmanship, and the Thyssen-Bornemisza Museum, which finishes the weaknesses of the other two museums. Cibeles Palace and Fountain have turned out to be one of the landmark images of the city.
Conference Highlights:
Aesthetic and Cosmetic Dermatology
Melanoma
Dermatological Diseases
Surgical Dermatology
Dermatological Oncology
Dermatology: Therapies and Advances
Hair and Nails
Alternative Medicine Solutions
Clinical and Medical Dermatology
Pediatric Dermatology
Hair transplantation
Dermatopathology
Cosmeceuticals
Psychodermatology
Major Dermatology Associations and societies around the Globe:
British Association of Dermatologists
Primary Care Dermatology Society
British Cosmetic Dermatology Group
Top Dermatology Universities around the Globe:
University of Pennsylvania
University of California
Newyork University
University of Michigan Medical School
Emory University
Columbia University
Thomas Jefferson University
University of Pittsburgh
Johns Hopkins Medical Institutions
Harvard University
Stanford University
University of California, Berkeley
University of Chicago
Yale University
University of California, Los Angeles (UCLA)
Duke University
University of Washington
University of California, Santa Barbara
Washington University in St Louis
University of Minnesota
Glance at Dermatology Industry: The Dermatology industry has increasingly expanded into cosmetic dermatology, with more dermatologists offering anti-aging procedures such as dermabrasion, laser treatments and Botox. These treatments have proven to be a high-growth sector for the industry and have contributed to the industry's consistently high profit margins. During the next five years, industry revenue is expected to grow. Steadily falling unemployment and the continued implementation of healthcare reform will yield greater insurance coverage for Americans, increasing demand for dermatologist offices. The baby boomer generation especially will generate a large portion of demand, particularly for skin cancer screenings and anti-aging procedures.
Market Growth of Dermatology Research in the last and upcoming ten years: