Eating Disorders Market Analysis and Reports | Japan Conference Series
Market Analysis - Eating Disorders 2020
According to Nutrition & eating disorders the ratio estimated by the National Eating Disorder Association, in the USA up to 30 million people suffer from an eating disorder such as anorexia nervosa, bulimia nervosa or binge eating disorder. Globally the number is more like 70 million sufferers. An estimated 0.9 in females and 3.7% in men suffer from anorexia nervosa at some point in their lifetime. An estimated 15% in female and 4.2% in men have bulimia nervosa in their lifetime. Lifetime prevalence of binge eating disorder is 35% in female, and 20% in males. Men are often one of the least diagnosed populations of people with eating disorders.
Obesity & malnutrition stands in fifth place in global death annually. Not less than 2.8 million adults die each year as a result of being overweight or obese. Consequently, 44% of the diabetes burden, 23% of the ischemic heart disease burden and between 7% and 41% of certain cancer burdens are attributable to overweight and obesity. When comparing the obesity % in different European countries and UK were recorded 66.6% of Men and women 57.2%. Germany was recorded 75.4% men's are obese and 58.9% Women are obese, In Czech Republic 73.2 % of Men's are obese were as 57.6% Women, In Netherlands 53.9% of Men's are obese and 38.6% Women, In France 57.1 of Men's were overweight while 41.6% were Women. In Poland Men's were recorded 56.4% and Women 60.6 of overweight. In Spain obese Men's (58.4%) were more compare to women (48%) . Coming to Austria Men's are 65.6% Obese and 53.2% were Women. While in Italy Males were more obese (51.4%) compare to Women 34.5%. As in Great Britain Men's were 69.5% obese and 58% were Women. According to the World Health Organization (WHO), Europe had the second highest proportion of overweight or obese people in 2014, behind the Americas. Globally, in 2017, 39 % men and 40 % of women aged 18 were overweight.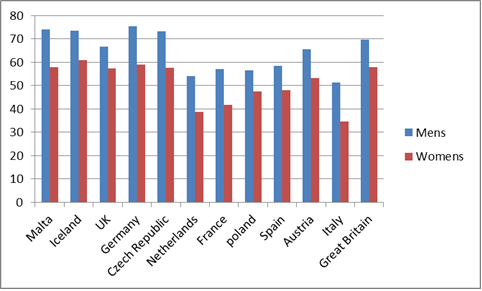 Eating Disorders 2020 witnessed an amalgamation of peerless speakers who enlightened the crowd with their knowledge and confabulated on various new-fangled topics related to the field of Food Science with namely Motivational Speaker ~ Eddie Mugampoza.
Japanese Consumers are firmly driving the offers of Nutrition in the nation and hence hold a significant share in the Asia Pacific Region profited by a generally high density of long-lasting consumers of Nutrition items. According to Japanese guidelines, these probiotic items are in a distinct classification of nourishments and Foods for Specific Health Uses (FOSHU).
Major Obesity & Food Research Associations in Japan
· Japan Society For Study of Obesity (JASSO)
· Association of abdominal obesity with decreased serum levels of carotenoids in a healthy Japanese population
· International Confederation of Dietetic Association
· Japan Society of Nutrition & Food Science
· The Flour Millers Association of Japan
· Nihon Delica Foods Association
· Nippon Fresh Foods Cooperative Associations
· Japan Federation of Miso Manufacturers Cooperatives.
· Japan Rice Millers Association.