Epilepsy Market Analysis and Reports | Italy Conference Series
Market Analysis - Epilepsy 2020
Epilepsy can affect every one of us In Europe, at least 6 million people have epilepsy, and 15 million Europeans will have one seizure at some time in their lives. Nevertheless, in some countries of Europe, epilepsy is not recognized as a brain disorder and up to 40% of people with this condition may be untreated - the treatment gap. The global market for the industry was valued at $8.4 billion in 2017, and is forecasted to grow at a compound annual growth rate (CAGR) of 2.7% through 2022, when it will be worth an estimated $9.5 billion, according to the report Anti-Epileptic Drugs Market: Global Markets to 2022.
The Americas is the largest market for the epilepsy drugs due to the high prevalence of the disorder and the treatment options in the region, especially in the developed markets such as the US and Canada. Approximately 1% of the population in Canada has epilepsy, and 15,000 new cases are diagnosed each year.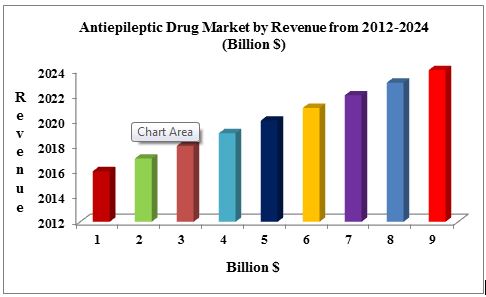 North America is the largest market for anti-epileptic drugs manufacturing, accounting for 33.9% of the global market. It is followed by the Asia-Pacific region and Western Europe. North America is the largest market for anti-epileptic drugs manufacturing, accounting for 33.9% of the global market. It is followed by the Asia-Pacific region and Western Europe. Eastern Europe is expected to witness the fastest market growth, with CAGR of 5.4% through 2022. Second-generation anti-epileptic drugs accounted for the largest share of the market in 2017 at 44.3%. The highest growth is projected to come from third-generation antiepileptic drugs, which are forecasted to grow at a CAGR of 3.1%
The global epilepsy drugs market is primarily driven by the need of effective medications as the generic or branded drugs available in the market only provide symptomatic treatment. This has increased investment in the R&D of new drugs for epilepsy by companies such as Major players in the market include Pfizer Inc., UCB Biosciences Inc., GlaxoSmithKline PLC, Sanofi, Eisai Inc., Otsuka Pharmaceutical LTD., H. Lundbeck, Sumitomo Dainippon Pharma Co., Shire PLC., Marinus Pharmaceuticals, SAGE Therapeutics, H.Lundbeck, and CURx Pharmaceuticals.
Importance and Scope
Epilepsy medications can prevent seizures. An epileptic seizure is caused by hyperactivity in the brain's nerve cells. Anti-epileptic drugs (AEDs) work by lowering this level of activity. Although AEDs do not cure the underlying causes of epilepsy, they can lower the risk of seizures. But they do not work in everyone. It is sometimes possible for people to stop taking medication if they haven't had a seizure for several years. The aim of drug treatment is to prevent epileptic seizures. If this is not possible, then the goal is to at least reduce the number of seizures.
Drug treatment helps to permanently prevent seizures in most people who have epilepsy. About 5 out of 10 people stop having seizures or have fewer seizures after taking the first drug they try. Overall, about 7 out of 10 people with epilepsy have no more seizures when they use medication. The 6 million people with epilepsy in Europe want to bring epilepsy "out of the shadows".
Research related to epilepsy is remarkably broad and comprehensive, with programs in numerous university centres worldwide. On-going studies involve many scientific disciplines and areas of exploration.
Target Audience
Doctors
Physicians
Directors
Pharmaceutical Industries
Patients
Students
Researchers in Epilepsy
Related Companies
Pfizer Inc.
UCB Biosciences Inc.
GlaxoSmithKline PLC
Eisai Inc.
Otsuka Pharmaceutical LTD
Sumitomo Dainippon Pharma Co.
Shire PLC.
Marinus Pharmaceuticals
H.Lundbeck
CURx Pharmaceuticals
Novartis
Related Associations and Societies
The International League Against Epilepsy (ILAE)
National Association of Epilepsy Centers (NAEC)
International Bureau for Epilepsy
European Concerted Action and research in Epilepsy (Eucare)
Epilepsy Foundation (of America)
The Japan Epilepsy Society
Epilepsy Action Australia
Epilepsy Foundation of Victoria
Associazione Italiana Contro l'Epilessia (AICE)
The Swedish Epilepsy Association
National Society for Epilepsy
Joint Epilepsy Council (JEC) for the UK and Ireland
Indian Epilepsy Association
Epilepsy 2020 welcomes attendees, participants, students, speakers, organizing committee members, delegates from all over the world to Rome, Italy. We are delighted to invite you to our 6th International Conference on Epilepsy & Treatment on September 20-21, 2020 at Rome, Italy.
Epilepsy 2020 is the gathering of Scientists, Neurologists, speakers, professors, business delegates and students all over the world to participate to discover the new novel therapeutics of Epilepsy, where people can get desired knowledge over Epilepsy and recent inventions on Epilepsy Treatment. We are glad to invite you at Epilepsy 2020 where you can experience a really sumptuous information and knowledge on Epilepsy management.
Importance and Scope:
Epilepsy is a chronic disorder usually occurred in children and people aged above 60 years. A neurological disorder marked by sudden recurrent episodes of seizures with loss of consciousness. It is associated with abnormal electrical activity in the brain with the loss of consciousness; it may be of different types and with different episodes of seizures from person to person. Epilepsy is a non-communicable disease with approximately 50 million people in the world suffers from this disease. People with Epilepsy respond to treatment approximately within 70% of the time. About three-fourths of people with Epilepsy living in low- and middle- income countries do not get the treatment properly as they need. In many parts of the world, people with Epilepsy and their families suffer from stigma and discrimination. It is estimated that every year nearly 2.4 million people are diagnosed with Epilepsy and there are 4 to 5 in a group of 1000 people with active Epilepsy. Nearly 80% of the individuals with Epilepsy are found in developing regions.
Target Audience:
Conference Opportunities:
Symposium hosting (4-5 member teams)
For Researchers and Faculty Members
For Universities, Associations & Societies:
Association Partnering
Collaboration proposals
Academic Partnering
For Students and Research Scholars:
Poster Competition (Winner will get Best Poster Award)
Young Researcher Forum (YRF Award to the best presenter)
Student Attendee
For Business Delegates:
Book Launch event
Networking opportunities
Audience participation
For Product Manufacturers:
Marketing and Networking with clients