Euro Dental Congress Market Analysis and Reports | Hungary Conference Series
Market Analysis - Euro Dental Congress-2017
Dental Diseases are Europe's most prevalent health problem. Hungary is one of the main destinations of medical tourism in Europe. The country leads in dental tourism; its share is 42% in Europe and 21% worldwide. The first medical tourists were Germans and Austrians in the 1980s, looking for cheap and top-quality dentistry services. Since the fall of Communism medical tourism is an emerging business, 60,000-70,000 people visit Hungary for dental treatments every year, making 65–70 billion HUF (~325–350 million $) revenue only in the dental sector. The cost of medical treatments is between 40% and 70% of the cost in the United Kingdom, United States and Scandinavian countries. Dentistry is by far the most popular treatment in Hungary.
IMPORTANCE AND SCOPE:
Oral health is essential to general health and quality of life. It is a state of being free from mouth and facial pain, oral and throat cancer, oral infection and sores, periodontal (gum) disease, tooth decay, tooth loss, and other diseases and disorders that limit an individual's capacity in biting, chewing, smiling, speaking, and psychosocial wellbeing. Worldwide, 60–90% of school children and nearly 100% of adults have dental cavities. Euro Dental-2016 aims to bring together leading academic scientists, researchers and research scholars to exchange and share their experiences and research results about all aspects of dental & Oral Health. It also provides the chance for researchers, practitioners and educators to present and discuss the most recent innovations, trends, and concerns, practical challenges encountered and the solutions adopted in the fields of Dental & Oral Health.
Euro Dental Congress-2017 is an international platform for presenting research about Dental, exchanging ideas about it and thus, contributes to the dissemination of knowledge in marketing for the benefit of both the academia and business. We bring together business, creative, and technology leaders, Academics from the Dental, Oral Health for the most current and relevant.
Dentistry is one of the most rewarding professions to pursue. Through education, diagnosis and treatment, dentists provide the public with an essential health service. Research is continuing to show that the link between oral health and general health is strong.
Conference Highlights:
Advances in Dentistry
Oral Epidemiology & Community Dentistry
Preventive Dentistry
Dental practice management and Marketing
Technological Tools in Dentistry
Oral Cancer
Oral and Maxillofacial Surgery
Dentures
Orthodontics
Endodontics
Prosthodontics & Periodontics
Dental Implants and prosthesis
Orofacial Myology
Forensic Dentistry
Dental Sleep Medicine
Cosmetic Dentistry
Why to attend the conference on dentistry???
25th Euro Dental Congress which is going to be the biggest conference dedicated to dental provides a premier technical forum for reporting and learning about the latest research and development, along with discussing new applications and technologies. Events include hot topics presentations from all over the world and professional networking with industries, leading working groups and panels.
Meet Your Objective Business sector With individuals from and around the globe concentrated on finding out about Oral Care and Dental Hygiene, this is the best chance to achieve the biggest collection of members from everywhere throughout the World. Conduct shows, disperse data, meet with current, make a sprinkle with another product offering, and get name acknowledgment at this occasion. Widely acclaimed speakers, the latest methods, strategies, and the most up to date overhauls in Oral Care and Dental Hygiene are signs of this meeting.
Why Budapest, Hungary?
25th Euro Dental Congress is going to be held in Budapest, Hungary. Budapest is the capital and most populous city of Hungary, one of the largest cities in the European Union and sometimes described as the primate city of Hungary. It has an area of 525 square kilometres (203 square miles) and a population of about 1.8 million within the administrative limits in 2016. It is both a city and county, and forms the center of the Budapest Metropolitan Area, which has an area of 7,626 square kilometers (2,944 square miles) and a population of 3.3 million, comprising 33 percentage of the population of Hungary.
Budapest is an Alpha- global city, with strengths in arts, commerce, design, education, entertainment, fashion, finance, healthcare, media, services, research, and tourism. Its business district hosts the Budapest Stock Exchange and the headquarters of the largest national and international banks and companies. Budapest is a leading R&D and financial center in Central and Eastern Europe, the city has a gross metropolitan product more than $100 billion in 2015, thereby the city is among the Top 100 GDP performing cities in the world.
A Unique Opportunity for Advertisers and Sponsors at this International event:
http://dentalcongress.com/europe/
Major Dental Associations around the Globe
1. World Health Organization (WHO)
2. FDI World Dental Federation
3. International Association for Dental Research (IADR) & American Association for Dental Research (AADR)
4. National Institute of Dental and Craniofacial Research (NIDCR), Office of International Health
5. Pan American Health Organization (PAHO)
Major Dental Associations in Europe
1. Dental Chamber of Bosnia & Herzegovina
2. Association of Dentists in Bulgaria
3. Croatian Dental Chamber
4. Cyprus Dental Association
5. Czech Dental Chamber
6. Association of Public Health Dentists in Denmark
7. Danish Society of Periodontology
8. European Federation of Periodontology
9. Icelandic Dental Association
10. Associazione Nazionale Dentisti Italiani (ANDI)
11. Associazione Italiana Odontoiatri (AIO)
12. Austrian Society of Periodontology
13. Belgian Society of Periodontology
14. British Society of Periodontology
15. Croatian Society of Periodontology
16. Czech Society of Periodontology
17. Danish Society of Periodontology
18. Dutch Society of Periodontology
19. Finnish Society of Periodontology
20. German Society of Periodontology
21. Hellenic Society of Periodontology
Statistical Analysis of Associations
Figure 1: Statistical Analysis of Associations (1)
Target Audience:
The professors, Dentists, researchers, clinicians, educators, program developers Marketing, and Students from Academia in the study of Dental and Oral Health field.
Target Audience:
· Academia 60%
· Industry 30%
· Others 10%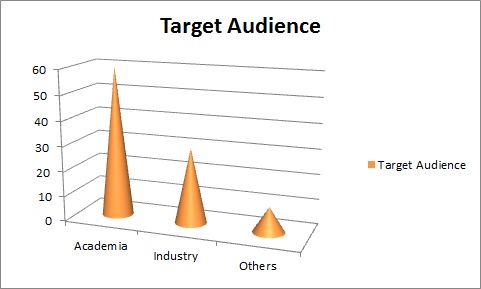 Figure 2: Target Audience
Top Universities in Hungary:
· Eszterházy Károly University
· Szent István University
· Széchenyi István University
· University of Debrecen
· University of Dunaújváros
· University of Kaposvár
· University of Miskolc
· University of Nyíregyháza
· University of Pannonia
· University of Pécs
· University of Szeged
· University of West Hungary
· Debrecen Reformed Theological University
· King Sigismund University
· Università Cattolica
Figure 3: Top Universities (7)
Companies Associated with Dental & Oral Health
· AmannGirrbach GmbH
· Castellini S.p.A
· Coltène/Whaledent AG
· Dentatus AB
· Durr Dental GmbH & Co. KG
· Ivoclar Vivadent AG
· Larident Srl
· Ormco Europe
· Peri-dent Ltd
Glance at Market of Dental & Oral Health:
The global dental equipment market revenue is expected to increase from USD 6,081.4 million in 2013 to USD 8,453.7 million by 2020, growing at a CAGR of 4.9% from 2014 to 2020. Costs across Europe for dentistry therefore vary widely between individual countries and are also linked to the economic development and status of each State The global dental equipment market is predicted to exhibit a compound annual growth rate (CAGR) of 9% to reach over $13 billion by 2016, The dental equipment market is fuelled not only by the prevention and treatment of disease, but also in large part by cosmetic dentistry, which sees an annual expenditure of $2.75 billion in the US alone. Tooth whitening procedures attest to soaring demand for cosmetic dentistry, with a 300% increase over the past five years. The global dental implants market is expected to grow from $3.2 billion in 2010 to $5.8 billion in 2016 at a CAGR of 6% from 2011 to 2016. Europe currently forms the world's largest market for dental implants with a 52% market share, and is also expected to have the highest CAGR 7.0% from 2011 to 2016.
In Italy, 1.4% of the GDP is spent on oral health. 97% of this cost is expenditures in private practices. In 2012 one family would spend €1500 per year with dental care. Over-all healthcare spending varies greatly across the countries of the EU, it is impossible to accurately state what proportion of this is dental expenditure. Interpretation of 'dental' varies greatly and in many countries the majority of expenditure is in the private sector and difficult to quantify.
Market Value:

Year

Source

% GDP Spent on Health

10.20%

2013

OECD

% of this spent by government

84.20%

2013

OECD

Year of Data

2015

Number of Public Schools

40

Number of Private Schools

13

Number of Hygienist schools

45

Dental Student intake

1000

Number of Graduates

900

Female percentage

49%

Year of Data

2014

General Practice

56000

Publics Dental Service

4500

Hospitals

325

Armed Forces

100

General Practice as a proportion

92%

Dental Companies

1538

Dental Clinics

5060