Pediatrics Surgery Market Analysis and Reports | Italy Conference Series
Market Analysis - Pediatrics Surgery 2020
Market Analysis
The Pediatrics and Pediatric Surgery Conference 2020 will be held at Rome, Italy with the innovative theme "A path to the accelerating advancements and innovations in Pediatric Surgery". This conference is advanced and elated International conference reflecting the direction of Pediatrics and Pediatric Surgery in the 21st century. We are awaiting a great scientific faculty from Europe as well as other continents and expect a highly interesting scientific as well a representative event.
Global Pediatric Healthcare Market analysis:
According to the report, the global pediatric healthcare market was approximately USD 11,881 million in 2018 and is expected to generate around USD 15,984 million by 2025, at a CAGR of around 4.35% between 2019 and 2025.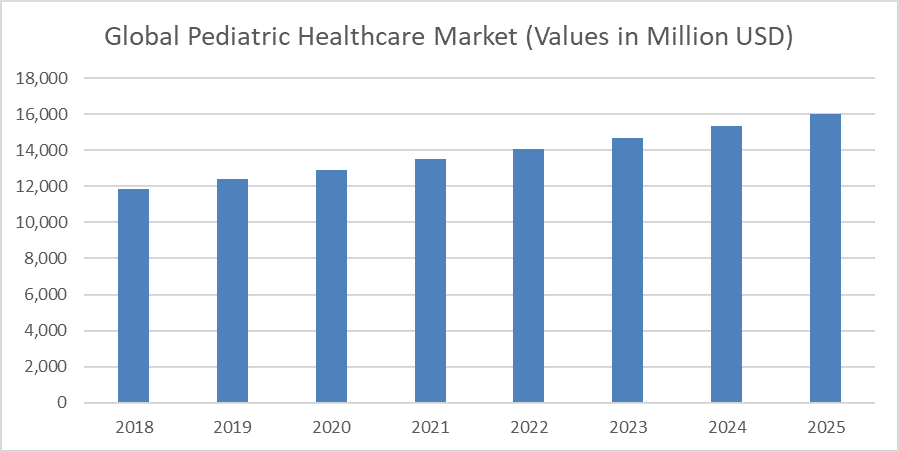 Global Pediatricians Market analysis:
The global Pediatricians market is valued at 148500 million USD in 2018 and is expected to reach 170800 million USD by the end of 2024, growing at a CAGR of 2.8% between 2019 and 2024.
Europe held the second spot in the global pediatric healthcare market in 2018, due to the increasing demand for chronic disease treatment, rising healthcare infrastructure, and growing enterprises of medical hospitals and clinics. Germany, the UK, and France are major countries in the European pediatric healthcare market. The UK is estimated to be growing rapidly over the forecast timeframe. Germany dominated the European market with a major revenue share in 2018, due to the increasing adoption of advanced medical treatment and various technological advancements.
Global Pediatric Healthcare Market: By Region
North America
Europe
Asia Pacific
China
Japan
India
Brazil
Latin America
The Middle East and Africa
Some key players operating in the global pediatric healthcare market are GlaxoSmithKline, AstraZeneca, Pfizer, Merck, Boehringer Ingelheim, Pediapharm, Sanofi, Gilead Sciences, Eisai, and Mylan.
Importance and Scope:
Pediatrics and Pediatrics Health gathering adds to the chances to decide advance procedures, research, and improvements in the medicinal services field of Pediatrics. Everywhere throughout the world these new strategies and propelled methods will be utilized to guarantee the health of pediatrics and kids. Pediatrics and Pediatrics health is a perfect stage to spread the knowledge of innovative procedures and novel research in Pediatrics and Pediatric Healthcare. Pediatrics is a versatile meeting that offers expert diagnosis and medications for a wide range of diseases in Pediatrics, Neonates and Adolescents alongside offering master advices for maternal consideration. With this Annual gathering on Pediatrics, clever thoughts and researches will come up with the discussions at the meeting and that will be a boon to the kids experiencing various kinds of disorders. This International Pediatric Conference furthermore useful as the dynamic collaboration of young researchers as we are encouraging Poster Award Competition and Young Research Forum at this gathering.
Target Audience:
Pediatricians
Pediatric Surgeons
Neonatologists
Children Specialists
Case Managers
Clinical Nurse Specialists
Nurse Directors
Case Managers
Registered Nurses
Pediatric Surgery Faculty
Division Chief
Perinatologists
Basic Scientists
Pediatric Surgery Nurses/Nurse Practitioners
Physician Assistants
Young Researchers
Pediatric Companies and Product Manufacturers
House Surgeons
Residents
YOU!
Related Companies/Industries:
Abbott Laboratories
Amgen| AstraZeneca
Biogen Idec
Boehringer Ingelheim
Bristol Myers Squibb
Celgine Corporation
Eli Lilly & Co
European Commission
Gilead Sciences
Industry ARC
Johnson & Johnson
Mead Johnson Nutrition
Merck & Co
Novartis
Novo Nordisk
Ortho Europe
Para base Genomics
Research and Diagnostic Antibodies
Sanofi
Savion Advanced Patient Care
Siemens AG
Teva Pharmaceuticals
Varian Medical Systems
Pharma Tech
Related Associations and Societies:
Societa Italiana di Pediatria (Italian Society of Pediatrics)
The Italian Society of Pediatric Anesthesia (SARNePI)
Italian Federation of Primary Care Pediatricians
Società Italiana di Ricerca Pediatrica (SIRP)
Societatea Romana de Pediatrie Sociala
Romanian Society of Pediatrics
World Federation of Associations of Pediatric Surgeons
Asian Association of Pediatric Surgeon
European Pediatric surgeon association
European society for paediatrics research
American Pediatric surgical association
Association of Paediatric Surgeons of Belarus
Association of Pediatric Surgeons of Macedonia
German Pediatric association