Eurobiosensors Market Analysis and Reports | Ireland Conference Series
Market Analysis - Eurobiosensors 2018
Conference Series LLC is overwhelmed and delighted to announce the inception of the novel event "9th Euro Biosensors and Bioelectronics Conference." The most awaited event would be staged during "June 04-05, 2018" at London, UK. With the theme upholding "Research and Innovations on Biosensing Technologies and Bionics", the event is assured to bring forth transparent and significant changes in the Biosensor and technologies.
Biosensors Conferences is the premier conference to gather scholars from all over the world to present advances in the relevant fields and to foster an environment conducive to exchanging ideas and information. This conference will also provide an ideal environment to develop new collaborations and meet experts on the fundamentals, applications, and products of the bio sensor technologies. Euro Biosensor 2018 warmly welcomes Professors, Industrialists, Research scholars, CEO's, and other experts related to the field of Biosensing technologies.
Summary of Biosensor & Bioelectronics conference
Biosensors conferences are devoted to design, research, development and application of biosensors and bioelectronics. Euro Biosensors 2018 is an interdisciplinary conference serving professionals with an interest in the exploitation of biological materials and designs in novel trends in diagnostic and electronic devices including sensors, DNA chips, electronic noses, lab-on-a-chip and μ-TAS. Biosensors Conferences include immune sensors, enzyme-based biosensors, and organism and whole cell-based biosensors. They have been applied to a wide variety of analytical problems including uses in medicine, biomedical research, drug discovery, the environment, food, process industries, security and defense. The rising field of Bioelectronics Conferences seeks to take advantage of biology in conjunction with natural philosophy during a wider context encompassing, as an example, biological fuel cells, engineering science and biomaterials for data processing, information storage, electronic components and actuators. A key aspect is the interface between biological materials and micro- and Nano-electronics.
Scope and Importance
Biosensors 2018 will be held at London, UK during June 03-04, 2018. Biosensors & Bioelectronics Conferences will continue to bring together leaders from industry and academia to exchange and share their experiences, present research results, explore collaborations and to spark new ideas, with the aim of developing new projects and exploiting new for bio sensing technologies. It also provides the premier interdisciplinary forum for researchers, practitioners and educators to present and discuss the most recent innovations, trends, and concerns, practical challenges encountered and the solutions adopted in the field of Biosensors and Bioelectronics.
Why London?
London is one of the best cities to organize an international conference on Biosensors. The research work going on in the field is in a good range when compared to the other cities. London is the fastest growing city in the UK with an excellent economic growth. Synthetic biology as a major new technology for the 21st century- Biosensors Technology degree programs are offered at Centre for Synthetic Biology and Innovation- Imperial College, London.
The location is continuously focusing on a sensing technologies, R&D-oriented, technology-driven manufacturing industry. London's industry is at the forefront of innovation with 3.6 % of the GNP, London is one of the top most investment in research and development in the country. About 61 % of R&D spending goes to the very pronounced publicly funded and university research landscape. Industry receives about a 27-percent share. London is unique in that science as a resource is available to industrial companies in a highly compact manner and offers companies excellent cooperation opportunities. London is UK's best tourist city destination. It is a great city to visit, mixing venues of historical interest with exciting recreation and entertainment opportunities. Alongside its major historical sites, London offers a diverse range of top attractions – world famous buildings, museums, city parks, cabaret theatres, festivals and of course plenty of shopping opportunities. Biosensors Conference 2018 at London will certainly give a wonderful experience to attendees to explore the beautiful city with gaining knowledge.
Biosensors Market Analysis Summary:
The total market was valued at 15.96 Billion in 2016 and is expected to reach 27.06 Billion by 2022, at an estimated CAGR of 8.84% during forecast period. The report can be attributed to the continuous technological advancements in the biosensors ecosystem, increase in the use of biosensors for nonmedical applications, lucrative growth in POC diagnostics, and rise in the demand for glucose monitoring systems. Biosensors square measure investigatory devices composed of electrical device and biological part for providing analytical data. The global biosensors market is being driven by increasing prevalence of diabetic population, and rise in geriatric population.
Diabetes is a chronic and non-communicable disease, and its global prevalence is increasing enormously. Increasing demand of point of care testing, rising prevalence of chronic and lifestyle associated diseases, and increasing application of biosensors in various industries are some of the other factors driving the biosensors global market.
According to International Diabetes Federation, the number of people suffering from diabetes is expected to grow from 415 million in 2015 to almost 642 million by 2040 worldwide; this would increase the demand for biosensors used for monitoring glucose. The emergence of the nanobiosensors, rapid technological advancements in the biosensors ecosystem, growing demand for glucose monitoring systems, and rising demand for home-based POC devices are driving the growth of the biosensors market. Most of the IT companies are significantly investing in this industry. Investments from major IT players such as IBM, Infosys, and TCS are expected to boost industry size. Significant funding has been made in Europe by Max-Planck Institute in collaboration with the Federal Government of Germany and other Europe countries like Italy and UK.
Growing aging population, increasing health awareness, rising chronic and lifestyle diseases, technological developments for various home use applications, and appropriate insurance coverage are driving the biosensors market in North America. Similarly, in Europe, according to International Diabetic Federation in 2013, approximately 52 million people are suffering from diabetes. Thus increasing prevalence of diabetes would increase the usage of biosensor devices for the diagnosis.
Biosensors market is robust in emerging markets in Asia-Pacific with 11% CAGR (2008-2018) closely followed by 10.7% in highly developed market of the United States. Europe is the second largest, in terms of value, after the US with an estimated $2.6 billion in 2012. This report reviews, analyses and projects the Biosensors market for global and the regional markets including the United States, Europe, Japan, Asia-Pacific and Rest of World. The regional markets further analyzed for 4 more independent countries in Europe – Germany, France, United Kingdom and Italy.
Members Associated with Biosensors Research
Scientists, Experts, Academic Professors, Practitioners, Software Professionals, Business delegates, scholars, Young researchers, Talented student community and researchers in the field of Biosensors, Biomedical engineering, Nanotechnology, Point of Care, Home Diagnostics, Biodefense, Food Industry and so on
Academia: 50%
Industry: 40%
Others: 10%
Target Audience
Some of the major associations/companies operating in the biosensors market are Abbott Point of Care Inc. (US), LifeSensors Inc. (US), Nova Biomedical Corp. (US), Acon Laboratories Inc. (US), Biacore (UK), Biosensors International Ltd. (Singapore), Sysmex Corporation (Japan), Siemens AG (Germany), DuPont (US), Bio-Rad Laboratories Inc. (US), Pharmaco-Kinesis Corporation (PKC), Universal Biosensors (Australia), LifeScan, Inc. (US), F. Hoffman-La Roche Ltd. (Switzerland), Medtronic, Inc. (US)
Biosensors & Bioelectronics Companies/ Laboratories in London
Orla Protein Technologies Ltd
MicroLab Devices Ltd
Gwent Biotechnology Systems Ltd
Sarissa Biomedical Limited
Major Biosensors & Bioelectronics Companies/ labs in Europe
Biocrates
Anagnostics
Aposcience
ViennaLab Diagnostics
Immunodiagnostic Systems
Janssen Diagnostics (J&J)
Biocartis
Janssen Diagnostics (J&J)
Dako (Agilent)
Orion
Novartis Diagnostics
Genclis
Abbott
Trinity Biotech
Epigenomics.
Roche
Seegene
Immunodiagnostic Systems
Altona Diagnostics
Qiagen
Curetis
DiaSys Diagnostic Systems
EKF Diagnostics
Major Biosensors & Bioelectronics Laboratories world wide
US Diagnostics
Atomo Diagnostics
Universal Biosensors
Sienna Cancer Diagnostics
Avant Diagnostics
Celera (Quest Diagnostics)
Oncocyte (BioTime)
Teco Diagnostics
Exogen Biotechnology
Nodexus
GenMark Diagnostics
Genoptix (Novartis)
BioGenex
Hycor Biomedical
Biomerica
Vortex Biosciences
Target Discovery
ImmunoScience
Statistical report of Biosensors and Bioelectronics associatioed with research labs/companies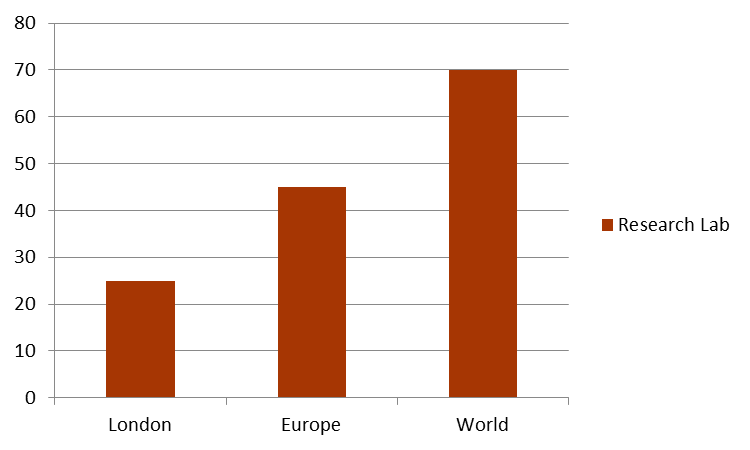 Key findings of Biosensors Market Research:
Biosensor refers to investigatory devices composed of electrical device and biological component for providing analytical info. The biosensors work on numerous technologies, together with electrochemical biosensors, optical biosensors, thermal biosensors and piezoelectric biosensors. Increasing prevalence of polygenic disease and manner iatrogenic diseases, increasing demand for POCT and rise in geriatric population square measure major factors driving the expansion of biosensors market Strict regulatory requirements for biosensors inhibits the growth of biosensors market
Geographically, North America has the most important share in international biosensors market, whereas Europe & Asia-Pacific has emerged as the fastest growing region in the market. Based on the technology, electrochemical biosensors have the largest share in the biosensors market.
In this report, the biosensors market has been segmented on the basis of application, technology, product, and geography. In 2016, POC applications accounted for the largest share of the overall biosensors market. The development of accurate testing kits is contributory to the expansion of the biosensors marketplace for POC applications. Among wearable biosensors, wristwear biosensors accounted for the largest size of the biosensors market in 2016. The market scope for optical biosensors is predicted to grow at a rate between 2017 and 2022. Optical biosensors are commonly used to analyze biomolecular interactions as these sensors can determine affinity and kinetics of a wide variety of molecular interactions in real time, without requiring a molecular tag or label. New applications are being discovered for optical sensors such as drug discovery, including target identification, ligand fishing, assay development, and manufacturing quality control. All the above discussed are responsible for highest growth rate of market for optical sensors between 2017 and 2022.
Biosensors Market, By Technology
Electrochemical merchandise dominate the trade conducive to seventy one-Per cent of revenue share in 2015, and anticipated to exceed USD twenty one-billion by 2024.. However, optical biosensor market size is expected to grow at the fastest CAGR of 8.7% throughout the forecast period.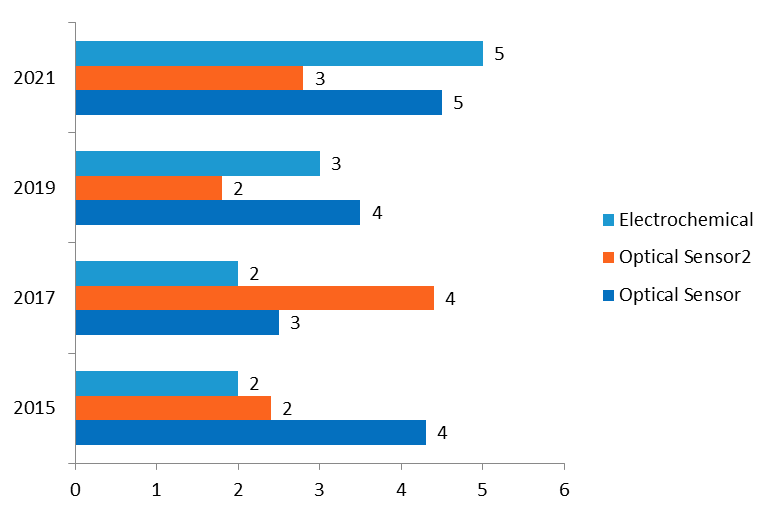 Biosensors Market, By Application
Medical applications hold sixty six-Per cent of biosensor market revenue shares. The biggest share may be attributed to the intensive use of biosensors during this field. Medical sensors are considered as an essential tool in the detection and monitoring of a wide range of medical conditions ranging from diabetes to cancer.
Biosensors Market, By Region
U.S. biosensors market size holds 81% of regional revenue share in 2015, attributed to increasing prevalence of diseases such as diabetes and cardiac disorders and early adoption of technologically advanced products by the clinicians, scientists, and patients.
Asia Pacific, on account of its constantly improving healthcare facilities, growing access to healthcare, and rising patient awareness is expected to witness the highest CAGR of 11.1% during the forecast period.