Euro Biotechnology Market Analysis and Reports | Russia Conference Series
Market Analysis - Euro Biotechnology 2018
Biotechnology is a biology-based technology revolutionizing fields like agriculture, medicine and food, and bringing new changes everyday, making it difficult to stay updated.
In recent years, the biotechnology industry has been defined by a number of mergers and acquisitions as well as several companies going public. Biotechnology draws from biomolecular and cellular processes to formulate products ranging from drugs to industrial enzymes. The global biotechnology industry currently features over 250 products for healthcare alone. Likewise, biotechnology also increasingly finds uses in the agriculture sector to protect crops against pests and insects. The use biotechnology in formulating new grades of biobased fuels is currently an area witnessing considerable attention.
On the basis of geographical regions, global biotechnology market is segmented into North America, Europe, Latin America, Asia-Pacific, and MEA. North America accounted for the largest share of the overall industry in 2013, accounting for over 42.30% of the revenue share, as a result of increasing initiatives in R&D by various pharmaceutical companies.
The global market for biotechnology is expected to reach USD 604.40 billion by 2020. Increasing application scope coupled with the rising demand for effective vaccines and drugs in an attempt to improve healthcare access to patients with unmet medical needs is expected to drive market demand over the next six years. In addition, the need to enhance agricultural productivity via the use of genetically engineered seeds is expected to serve this market as a driver.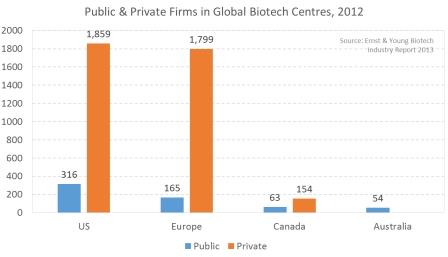 Biotechnology Market in Europe:
Biotechnology and life sciences contribute to the modernisation of European industry. They are used in a variety of industrial sectors such as healthcare and pharmaceuticals, animal health, textiles, chemicals, plastic, paper, fuel, food, and feed processing. Taking advantage of biotechnology helps the EU economy grow and provides new jobs, while also supporting sustainable development, public health, and environmental protection
Biotechnology's contribution to the EU economy
The main applications of biotechnology in the EU economy can be classified into three broad groups
Healthcare and pharmaceutical applications
Agriculture, livestock, veterinary products, and aquaculture
Industrial processes and manufacturing
The biotech industry in Europe spends nearly $7.32 billion in R&D and $23.2 billion in revenue. Around 20% of the total marketed medicines, and as much as 50% of all drugs that are in the pipeline, are all healthcare biotech products. The European biotech industry provides employment to approximately 95,000 people.
European nations with maximum number of biotech firms include France, Denmark, Sweden, Germany, the Netherlands and the UK. The amount of biotech firms almost doubled in the mid-90s. As per an EC report, past few years have been characterized by consolidation instead of growth and that during the period from 2001-2003, employment rate dropped by as much as 4%.
Biotechnology sector makes a substantial contribution to the fundamental EU policy objectives, such as job creation, economic growth, ageing society, public health, environmental protection and sustainable development.
Biotechnology in Germany
Germany is one of the leading global biotech players and accommodates maximum number of biotech-based companies when compared to the other EU members. The German biotech industry comprises four important segments including agricultural biotech, industrial biotech, medical biotech and service and suppliers. Germany offers favorable investment options in the biotech sector. Some of the largest and most reputed biotech clusters are located around Rhine-Neckar Triangle (Heidelberg), Cologne/Düsseldorf, Berlin/Brandenburg and Munich.
Germany has a highly innovative R&D, with a research landscape comprising 330 research institutes and 343 universities that work in cooperation with the biotech companies to help them in discovering newer and more effective products.
Biotechnology Market in USA:
The USA biotechnology market size was valued at USD 270.5 billion in 2013 and is expected to grow at a CAGR of 12.3% owing to the increasing demand for diagnostics and therapeutics solutions such as recombinant technology, red biotechnology, and DNA sequencing. The increasing prevalence of diseases such as cancer, hepatitis B, and other orphan disorders is expected to serve as a high-impact rendering driver for this industry in recent period. Rising government initiatives owing to high significance towards growth of the economy are expected to boost the biotechnology market growth over the forecast period.
Biotech Market in Asia Pacific:
Biotechnology market in 2010, between US$400 billion and US$600 billion in revenue was generated by this medium also, it is anticipated that in 2015, this online market will generate revenue between US$700 billion and US$950 billion.
Middle East: Biotechnology market is currently its trade deficit is nearly US$8 billion, its external debt market is expected to grow to nearly US$31.6 billion during the forecast period 2016-2019.
Competitive Market Share
Major industry players are Abbott, Amgen, AstaZeneca, Biogen, Celgene, Genzyme, Johnson & Johnson, Pfizer, GlaxoSmithKline, Genentech, F. Hoffman La Roche, Novartis, Lonza and Sanofi.
Key strategies adopted by the companies to increase global biotechnology market share includes mergers and acquisitions, strategic collaborations, outsourcing R&D, and manufacturing activities. In 2015, Roche collaborated with Janus Biotherapeutics, a U.S. based biotechnology company to develop treatment for autoimmune disease, while Celgene acquired Quanticel, a biotechnology company to increase their focus on cancer drug discovery.