Ophthalmology Market Analysis and Reports | Ireland Conference Series
Market Analysis - Ophthalmology 2019
Ophthalmology is the branch of medicine that deals with study of anatomy, physiology, disease and treatment of eye related problems. These problems like glaucoma, near­sightedness, far­sightedness, blindness, cataracts and macular degeneration through the use of surgery or laser technology.
Globally, it is estimated that approx. 1.3 billion people live with some form of distance or near vision impairment. Around 48% of world population is blind because of cataract and more than 60 million people suffer from glaucoma and it is estimated that the number would rise to 80 million by the end of 2020. Ageing population is the leading cause for refractive error problem in countries like the USA and Europe. The majority of people with vision impairment are over the age of 50 AND 80% of all vision impairment is considered avoidable.
Ophthalmology market is mainly divided in to four segments viz, surgical devices, diagnostic and monitoring devices, vision care and ophthalmic drugs.
Importance and scope:
Ophthalmology 2019 enhances ophthalmic education to improve eye care Institutes like (NIE, Wilmer are involved) Contribute to preservation and restoration of vision around the world.
Ophthalmology continues to be an attractive field of medicine with great opportunities.
According to WHO:
285 million people are estimated to be visually impaired worldwide: 39 million are blind and 246 have low vision.
About 90% of the world's visually impaired live in low-income settings.
82% of people living with blindness are aged 50 and above.
Globally, uncorrected refractive errors are the main cause of moderate and severe visual impairment; cataracts remain the leading cause of blindness in middle- and low-income countries.
The number of people visually impaired from infectious diseases has reduced in the last 20 years according to global estimates work.
80% of all visual impairment can be prevented or cured.
Cataract removal is the most commonly performed ophthalmic surgical operation.
Top Ophthalmology Hospitals for 2018-19
University of Miami Hospital and Clinics-Bascom Palmer Eye Insititute
Wills Eye Hospital, Thomas Jefferson University Hospital
Wilmer Eye Institute, Johns Hopkins Hospital
Massachusetts Eye and Ear Infirmary, Massachusetts General Hospital
Stein and Doheny Eye Institutes, UCLA Medical Center
Duke University Hospital
University of Iowa Hospitals and Clinics
Major hospitals associated with ophthalmology in Europe are
Neoretina Eye care Institute
European Ophthalmology Clinic
European Eye Hospital
Moorfields Eye Hospital Laser Vision Correction Surgery by Vincenzo Maurino
Wellington Eye Clinic
Major hospitals associated with ophthalmology in Ireland are
Royal Victoria Eye and Ear Hospital
Wellington Eye Clinic
Vista Eye Clinic Ranelagh
Vista Eye Clinic Naas
National Optometry Centre
Major societies associated with ophthalmology are
American Academy of Ophthalmology (AAO)
American Association for Paediatric Ophthalmology
Association for Research in Vision and Ophthalmology(ARVO)
European Society of Retina Specialists (EURETINA)
Asia Pacific Glaucoma Society
European Society of Cataract & Refractive Surgeons (ESCRS)
Global Ophthalmic lasers Market Revenue [2017-2023]
The global ophthalmic lasers market is expected to rise with the compound annual growth rate (CAGR) of about 5% during the forecast period 2016-2024. Chronic diseases such as diabetes contribute to the raising growth of global ophthalmic lasers market during the forecast period. The high cost of equipment, therapy and availability of alternative therapies for the treatment of eye related diseases are some of the major factors preventive the growth of the global ophthalmic lasers market during the forecast period.
The global ophthalmic lasers market report has been divided into North America, Asia Pacific, Europe, and Rest of the World. It is expected that North America held the largest market revenue share for the ophthalmic lasers market in 2016. However, Asia Pacific is probable to be the fastest growing region in the ophthalmic lasers market during the forecast period due to increasing prevalence of cataract removal surgeries and increasing awareness for the prevention of blindness.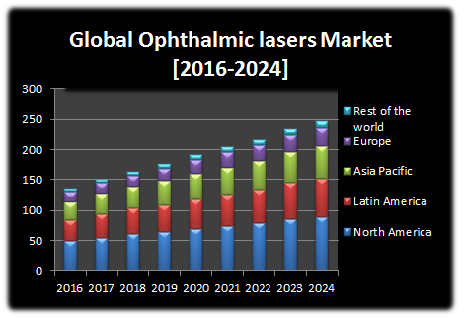 There are various major players such as Abbott and Afimmune (Ireland), Ellex Medical Lasers Limited (Australia), Optotek Medical (Slovenia), Abbott Medical Optics, Inc. (United States), Alcon Laboratories, Inc. (United States), Valeant Pharmaceuticals International, Inc. (Canada), etc. which helps in the growth of global ophthalmic lasers market.
The report on the global ophthalmic lasers market is divided on the basis of product, applications and end ophthalmic users. Product segment is divided as diode lasers, excimer lasers, and femtosecond lasers. Application segment of global ophthalmic lasers market is divided as AMD treatment, cataract removal, diabetic retinopathy treatment, glaucoma treatment, refractive error corrections and other applications. End users adopting ophthalmic lasers are divided as ambulatory surgical centers, hospitals and ophthalmic clinics.