Family Nursing Market Analysis and Reports | USA Conference Series
Market Analysis - Family Nursing 2018
Family Nursing Research Scope - Global Analysis, Size, Share, Growth, Trends, & Forecast 2016 - 2021
Market Scenario
Regional Analysis of Family Nursing & Healthcare Research:
ConferenceSeries Ltd is overwhelmed to announce the commencement of 29th International Conference on Family Nursing and Healthcare from October 22-23, 2018 in Baltimore, USA.
The upcoming conference will be organized around the theme "Explore Opportunities, Best Practices & Recent Developments in Family Nursing".
Scope & Importance:

29th International Conference on Family Nursing and Healthcare is unique forum to bring to gather worldwide distinguished academics in the field of nursing and healthcare, public health professionals, nurse educators, researchers, nurse managers, physicians, pediatricians and healthcare professionals provides the ideal environment to disseminate and gain current knowledge in the area of family nursing. Nurses and other healthcare professionals will have the opportunity to network with colleagues and exhibitors; discuss best practice research, safety-related outcomes, competencies, and challenges.
This is an excellent opportunity to share your best practice initiative, research project, or provide continuing education as it relates current issues. The conference offers participants breakout sessions highlighting clinical projects, education, and research studies. Nursing is among the fastest-growing fields, and it has a robust job market, which makes it very attractive to people in search of a new or first career. In the U.S., there is an abundance of exceptional nursing programs available, both online and traditional.
Why Baltimore?

The Healthcare industry cluster includes not only research and development, but manufacturing in such fields as pharmaceuticals and medical supplies, analytical laboratory instrumentation and testing, and environmental, biotechnology and life sciences. The Port of Baltimore has been a seminal and definitive component of the City's economy for centuries, and will continue to play a key role in the City's future. Baltimore, Maryland is a national leader in the healthcare sector, making it a haven for nursing or healthcare research. However, Baltimore also is populated by a nationally representative demographic for any type of consumer research studies. The city has a highly competitive hospital environment (over 30) and virtually every physician specialty is available. Two of the top medical teaching institutions in the country (Johns Hopkins, University of Maryland) are located in Baltimore. About 300,000 people are employed in healthcare in Baltimore. This includes 15,000 physicians, 4,000 dentists, 55,000 nurses and 5,000 pharmacists. With such a deep base of healthcare professionals, Baltimore is a leading hub for medical, nursing and healthcare research studies.
Some of the world's most respected medical institutions are found here. Our medical schools, Johns Hopkins University School of Medicine and the University of Maryland School of Medicine, are leaders in healthcare education, and our research facilities pave the way for a healthier future. More than 189,000 healthcare professionals are employed in the region and cover all medical specialties and research programs. In fact, Baltimore ranks 3rd nationally in the concentration of U.S. health-care service employees. More than $3 billion has been invested in recent hospital expansions in the region, including Johns Hopkins Medical Campus; the University of Maryland, Baltimore; Mercy Hospital; Baltimore/Washington Medical Center; Upper Chesapeake Medical Center; and St. Agnes.
Across the nation, Baltimore is known for some pretty impressive numbers:
#1 Research and development funding, Johns Hopkins University (1)
#1 Hospital in the U.S, Johns Hopkins Medicine (2)
#2 Active physicians per 100,000 residents, with more than 24,000 doctors statewide (3)
#3 Best U.S. medical school, Johns Hopkins Medicine (2)
#4 Best cancer hospital, Johns Hopkins Medicine (2)
Conference Highlights:
Nursing Education & Research
Family Medicine
Health Care
Public Health
Midwifery & Women Health Nursing
Critical Care Nursing & Emergency Nursing
Pediatric Nursing
Cancer Nursing
Cardiac Nursing
Nursing Types
Nursing Practice
Clinical Nursing
Legal Nursing
Psychiatric and Mental Health
Geriatric Nursing
Surgical Nursing
Tele Medicine & e-health
Dental Nursing
Why to attend???
Improving the patient and family experience through best practice implementation.
Understanding perspectives of the patient and family and applying that knowledge to daily practice.
Sharing innovative advances in Family nursing care.
Improving patient safety and health care quality to enhance outcomes for patients through education.
To promote advanced skills of nursing leaders in the use of evidence-based practice models.
To develop leadership skills for facilitating completion of clinically relevant evidence-based practice projects.
To foster creative thinking networks and issue resolution in the evidence-based practice process.
To demonstrate nursing's contribution to patient safety and health care services.
To improve health care and safety practices for better outcomes for patients.
To provide Global collaboration for health care advancement through the science of nursing and education.
Target Audience:
World's Leading doctors, Registered nurses, Professors, Research fellows Advanced Practice Nurses, Physician Assistants, Pharmacists, Physicians, and Professionals who are seeking updated information for providers caring for patient in primary, ambulatory and urgent care settings. Staff Nurses, Nurse Manager, Educator/Instructor Societies, Universities, companies and medical research institutions, hospitals sharing their novel researches in the arena of Nursing, Healthcare & Medicine.
Top Societies and Associations around the World:
National League for Nursing
National Student Nurse Association
American Organization of Nurse Executives
International Association of Nurses
International Council of Nurses
Aboriginal Nurses Association of Canada
Asian American/Pacific Islander Nurses Association
Indian Nursing Council
Japanese Nursing Association
Association of Faculties of Pediatric Nurse Practitioners
Association of Women's Health, Obstetric and Neonatal Nurses
Nursing Association of Nepal
Association of Community Health Nursing Educators
Association of Child and Adolescent Psychiatric Nurses
Nursing Council of New Zealand
New Zealand Nurses Organisation
Philippine Nurses Association
Philippine Nurses Association of United Kingdom
Top Societies and Associations in USA:
Society of Pediatric Nurses
American Association of Colleges of Nursing
National Association of Clinical Nurse Specialists
National Association of Independent Nurses
The National Association of Pediatric Nurse Associates and Practitioners
Emergency Nursing Association
The American Psychiatric Nurses Association
American Forensic Nurses
Worldwide Nursing Unions:
Canadian Federation of Nurses' Union
Democratic Nursing Organisation of South Africa
Finnish Union of Practical Nurses
Manitoba Nurses' Union
National Nurses United
New South Wales Nurses' Associations
New Zealand Nurses Organisation
Pennsylvania Association of Staff Nurses and Allied Professionals
Queensland Nurses' Union
Royal College of Nursing
South African Democratic Nurses' Union
Tennessee Nurses Association
United American Nurses
United Nurses of Alberta
Worldwide top Nursing Universities:
University of Toronto, Canada
University of Alberta, Canada
University of Michigan, USA
University of North Carolina, Chapel Hill, USA
University of Washington, USA
The University of Sydney, Australia
University of Southampton, UK
University of California, Los Angeles (UCLA), USA
Monash University, Australia
Yale University, USA
National University of Singapore (NUS), Singapore
The University of Melbourne, Australia
University of British Columbia, Canada
Deakin University, Australia
Major Nursing Universities in USA:
University of California, San Francisco
University of Michigan
University of Washington
Case Western Reserve University
University of California, Los Angeles (UCLA)
Yale University
Columbia University
Emory University
University of Maryland—Baltimore
Vanderbilt University
University of Alabama—Birmingham
Rush University
University of Texas—Austin
University of Colorado
University of Illinois—Chicago
Nursing Universities in Maryland:
Cambridge Nursing Academy
Nursing Review Center
Perpetual School of Nursing Assistant
Benedictine University
Davenport University
Georgetown University
Grand Canyon University
Simmons School of Nursing and Health Sciences
Number of Registered Nurses State wise in USA: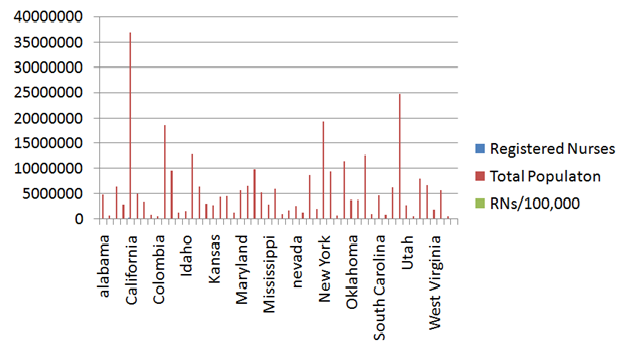 Fig 1: Registered Nurses

Worldwide Nursing Organizations: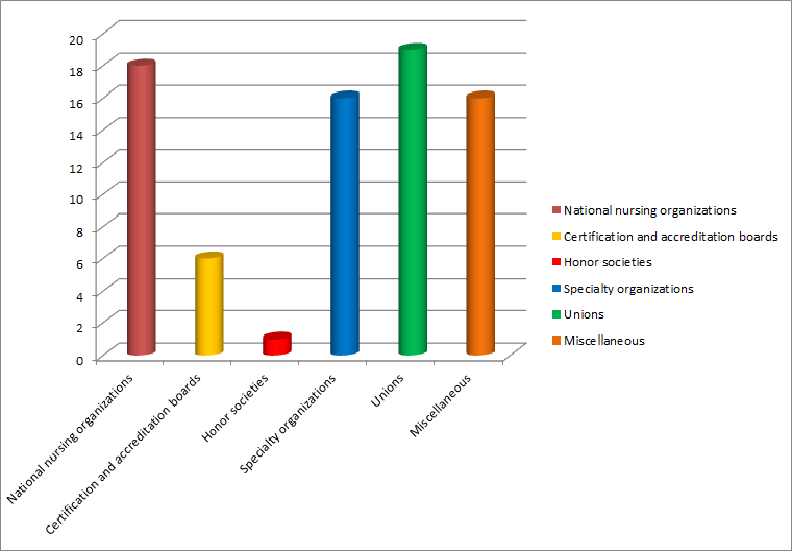 Fig2: Nursing Organizations

Major Universities in USA and Maryland: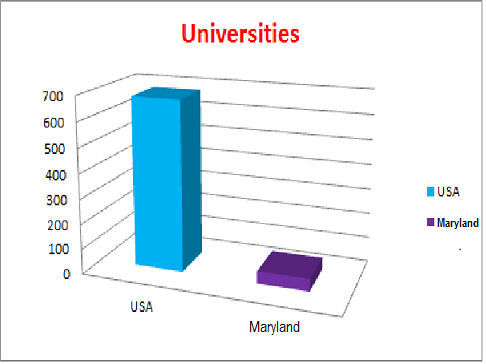 Fig3: Universities in USA and Texas
Market analysis on Nursing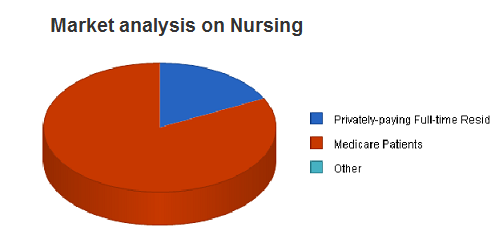 Figure 4: Market analysis on Nursing

References:
1. http://www.nursetogether.com/list-of-global-nursing-organizations
2. http://kff.org/other/state-indicator/total-registered-nurses/
3. https://en.wikipedia.org/wiki/List_of_nursing_organizations
4. https://en.wikipedia.org/wiki/List_of_nursing_schools_in_the_United_States
5. http://data.worldbank.org/indicator/SH.MED.BEDS.ZS
6. http://www.bplans.com/nursing_home_business_plan/market_analysis_summary_fc.php