Family Nursing Market Analysis and Reports | USA Conference Series
Market Analysis - Family Nursing 2018
Family Nursing and Healthcare Research Scope - Global Analysis, Size, Share, Growth, Trends, & Forecast 2017 - 2022
Market Scenario
Regional Analysis of Family Nursing & Healthcare Research:
Conference Series LLC Ltd is overwhelmed to announce the commencement of 29th International Conference on Family Nursing and Healthcare from October 19-20, 2018 in New York, USA.
The upcoming conference will be organized around the theme "Explore Opportunities, Best Practices & Recent Developments in Family Nursing".
Scope & Importance:

29th International Conference on Family Nursing and Healthcare is unique forum to bring to gather worldwide distinguished academics in the field of nursing and healthcare, public health professionals, nurse educators, researchers, nurse managers, physicians, pediatricians and healthcare professionals provides the ideal environment to disseminate and gain current knowledge in the area of family nursing. Nurses and other healthcare professionals will have the opportunity to network with colleagues and exhibitors; discuss best practice research, safety-related outcomes, competencies, and challenges.
This is an excellent opportunity to share your best practice initiative, research project, or provide continuing education as it relates current issues. The conference offers participants breakout sessions highlighting clinical projects, education, and research studies. Nursing is among the fastest-growing fields, and it has a robust job market, which makes it very attractive to people in search of a new or first career. In the U.S., there is an abundance of exceptional nursing programs available, both online and traditional.
Why New York?
New York is a state in the Northeastern United States and is the 27th-most extensive, fourth-most populous and seventh-most densely populated U.S. state. New York is bordered by New Jersey and Pennsylvania to the south and Connecticut, Massachusetts, and Vermont to the east. The state has a maritime border in the Atlantic Ocean with Rhode Island, east of Long Island, as well as an international border with the Canadian provinces of Quebec to the north and Ontario to the west and north. The state of New York, with an estimated 19.8 million residents in 2015, is often referred to as New York State to distinguish it from New York City, the state's most populous city and its economic hub.
Tourism is a vital industry for New York City, which has witnessed a growing combined volume of international and domestic tourists, receiving a sixth consecutive record of nearly 60 million visitors in 2015. Tourism had generated an all-time high US $61.3 billion in overall economic impact for New York City in 2014, pending 2015 statistics. Approximately 12 million visitors to New York City were from outside the United States, with the highest numbers from the United Kingdom, Canada, Brazil, and China. According to the website reuters.com, "New York City tourism climbed record high in 2015 for sixth year.
Over 600,000 students are enrolled in New York City's over 120 higher education institutions, the highest number of any city in the United States, including over half million in the City University of New York (CUNY) system alone in 2014. In 2005, three out of five Manhattan residents were college graduates, and one out of four had a postgraduate degree, forming one of the highest concentrations of highly educated people in any American city. New York City is home to such notable private universities as Barnard College, Columbia University, Cooper Union, Fordham University, New York University, New York Institute of Technology, Pace University, and Yeshiva University. The public CUNY system is one of the largest universities in the nation, comprising 24 institutions across all five boroughs: senior colleges, community colleges, and other graduate/professional schools. The public State University of New York (SUNY) system serves New York City, as well as the rest of the state.
The New York metropolitan area has the busiest airport system in the United States. It is also the most frequently used port of entry and departure for international flights. The metro area is served by three major airports, John F. Kennedy International Airport (JFK), Newark Liberty International Airport (EWR) and La Guardia Airport (LGA), which have been operated by PANYNJ since 1947. The International Air Transport Association airport code (IATA code) "NYC" is reserved to refer to these three airports. JFK and Newark are connected to regional rail systems by AirTrain JFK and AirTrain Newark respectively.
Conference Highlights:
Nursing Education & Research
Family Medicine
Health Care
Public Health
Midwifery & Women Health Nursing
Critical Care Nursing & Emergency Nursing
Pediatric Nursing
Cancer Nursing
Cardiac Nursing
Nursing Types
Nursing Practice
Clinical Nursing
Legal Nursing
Psychiatric and Mental Health
Geriatric Nursing
Surgical Nursing
Tele Medicine & e-health
Dental Nursing
Why to attend???
Improving the patient and family experience through best practice implementation.
Understanding perspectives of the patient and family and applying that knowledge to daily practice.
Sharing innovative advances in Family nursing care.
Improving patient safety and health care quality to enhance outcomes for patients through education.
To promote advanced skills of nursing leaders in the use of evidence-based practice models.
To develop leadership skills for facilitating completion of clinically relevant evidence-based practice projects.
To foster creative thinking networks and issue resolution in the evidence-based practice process.
To demonstrate nursing's contribution to patient safety and health care services.
To improve health care and safety practices for better outcomes for patients.
To provide Global collaboration for health care advancement through the science of nursing and education.
Target Audience:
World's Leading doctors, Registered nurses, Professors, Research fellows Advanced Practice Nurses, Physician Assistants, Pharmacists, Physicians, and Professionals who are seeking updated information for providers caring for patient in primary, ambulatory and urgent care settings. Staff Nurses, Nurse Manager, Educator/Instructor Societies, Universities, companies and medical research institutions, hospitals sharing their novel researches in the arena of Nursing, Healthcare & Medicine.
Top Societies and Associations around the World:
National League for Nursing
National Student Nurse Association
American Organization of Nurse Executives
International Association of Nurses
International Council of Nurses
Aboriginal Nurses Association of Canada
Asian American/Pacific Islander Nurses Association
Indian Nursing Council
Japanese Nursing Association
Association of Faculties of Pediatric Nurse Practitioners
Association of Women's Health, Obstetric and Neonatal Nurses
Nursing Association of Nepal
Association of Community Health Nursing Educators
Association of Child and Adolescent Psychiatric Nurses
Nursing Council of New Zealand
New Zealand Nurses Organisation
Philippine Nurses Association
Philippine Nurses Association of United Kingdom
Top Societies and Associations in USA:
Society of Pediatric Nurses
American Association of Colleges of Nursing
National Association of Clinical Nurse Specialists
National Association of Independent Nurses
The National Association of Pediatric Nurse Associates and Practitioners
Emergency Nursing Association
The American Psychiatric Nurses Association
American Forensic Nurses
Worldwide Nursing Unions:
Canadian Federation of Nurses' Union
Democratic Nursing Organisation of South Africa
Finnish Union of Practical Nurses
Manitoba Nurses' Union
National Nurses United
New South Wales Nurses' Associations
New Zealand Nurses Organisation
Pennsylvania Association of Staff Nurses and Allied Professionals
Queensland Nurses' Union
Royal College of Nursing
South African Democratic Nurses' Union
Tennessee Nurses Association
United American Nurses
United Nurses of Alberta
Worldwide top Nursing Universities:
University of Toronto, Canada
University of Alberta, Canada
University of Michigan, USA
University of North Carolina, Chapel Hill, USA
University of Washington, USA
The University of Sydney, Australia
University of Southampton, UK
University of California, Los Angeles (UCLA), USA
Monash University, Australia
Yale University, USA
National University of Singapore (NUS), Singapore
The University of Melbourne, Australia
University of British Columbia, Canada
Deakin University, Australia
Major Nursing Universities in USA:
University of California, San Francisco
University of Michigan
University of Washington
Case Western Reserve University
University of California, Los Angeles (UCLA)
Yale University
Columbia University
Emory University
University of Maryland—Baltimore
Vanderbilt University
University of Alabama—Birmingham
Rush University
University of Texas—Austin
University of Colorado
University of Illinois—Chicago
Number of Registered Nurses State wise in USA: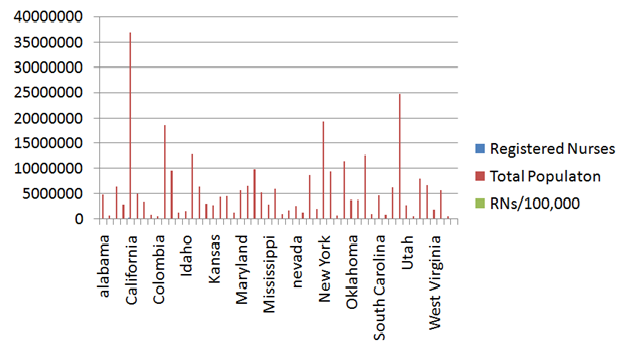 Fig 1: Registered Nurses
Healthcare Spending Across the Developed Countries:
Worldwide Nursing Organizations: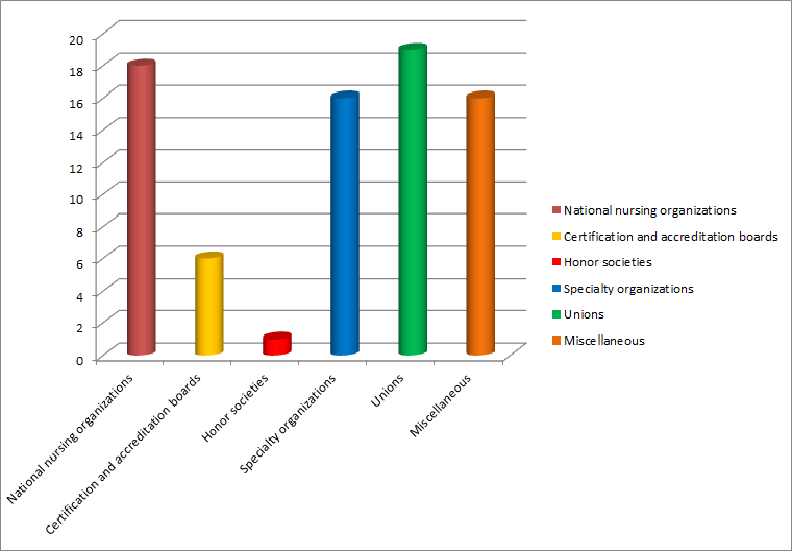 Fig2: Nursing Organizations
Market analysis on Nursing and Healthcare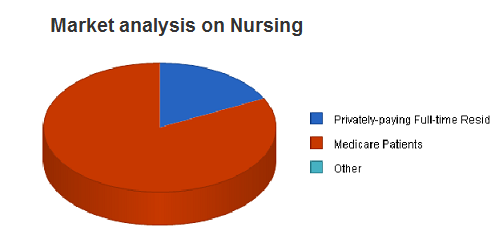 Figure 3: Market analysis on Nursing
References:
1. http://www.nursetogether.com/list-of-global-nursing-organizations
2. http://kff.org/other/state-indicator/total-registered-nurses/
3. https://en.wikipedia.org/wiki/List_of_nursing_organizations
4. https://en.wikipedia.org/wiki/List_of_nursing_schools_in_the_United_States
5. http://data.worldbank.org/indicator/SH.MED.BEDS.ZS
6. http://www.bplans.com/nursing_home_business_plan/market_analysis_summary_fc.php