Food Tech Market Analysis and Reports | Japan Conference Series
Market Analysis - Food Tech 2020
The global market value of ethically labelled packaged foods is projected to grow from 793.3 billion U.S. dollars in 2015 to 872.7 billion U.S. dollars by 2020.
The future of the functional food market looks bright; the worldwide revenue for functional food is projected to increase from about 300 billion U.S. dollars in 2017 to over 440 billion dollars in 2022. At present, there is no universally accepted definition of functional foods. But, according to the International Food Information Council (IFIC), functional foods are "foods or food components that may provide benefits beyond basic nutrition".
Revenue in the Food market amounts to US$660,831m in 2019. The market is expected to grow annually by 3.0% (CAGR 2019-2021).
The market's largest segment is the segment Meat Products & Sausages with a market volume of US$139,792m in 2018.
In global comparison, most revenue is generated in the United States (US$660,831m in 2018).
In relation to total population figures, per person revenues of US$2,015.64 are generated in 2018.
The average per capita consumption stands at 403.8kg in 2018.
Fair-trade products have grown increasingly more popular in recent years. In the early 2000s, it was uncommon to see anything other than fair trade coffee or tea, but the market has since expanded to include fair trade sugar, honey, wine, apparel, coconuts, and seafood to name a few. UTZ, an organization that certifies products as sustainably farmed, reported that the global production value for sustainably produced cocoa grew from 918,000 metric tons in 2015 to nearly 1.2 million metric tons in 2016.
In the Food market, 3.6% of the total revenue will be generated through online sales by 2020.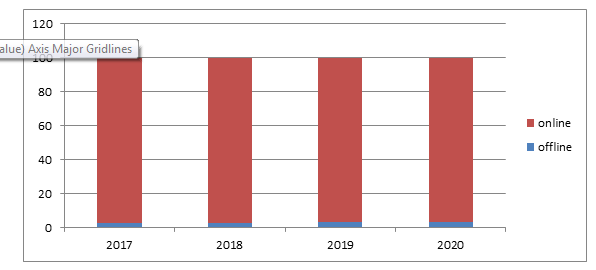 Employment of Food Industry in Japan
Employment Rate in Japan for Food industry in Meat & poultry is 31%, Fruits & vegetables 11%, Animal Food 3%, Dairy 9%, Sea food 2%, Bakery &Tortilla products 16%,Sugar & Confectionery 5%, Grains &Oil seeds 4%,Beverages 9% .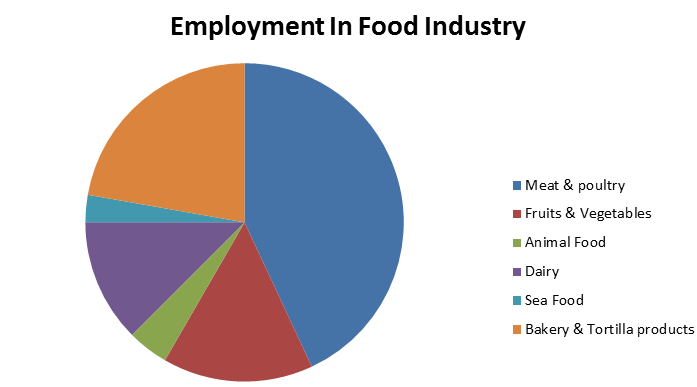 Food loss in japan
Food loss is a big problem domestically and globally as well, When coming to Japan burns 3.3 million tons of commercial food Annually on an average from 2015-2018 the wastage of food is increasing rapidly as shown in the graph.


Food Bank Organization
There has also been an increase in "food bank" organizations that provide food products free of charge to social welfare institutions and people living in poverty by repurposing "dead stock": products in circulation or storage that are nearing their expiration dates, products considered substandard at the manufacturing process, and unconsumed products in households.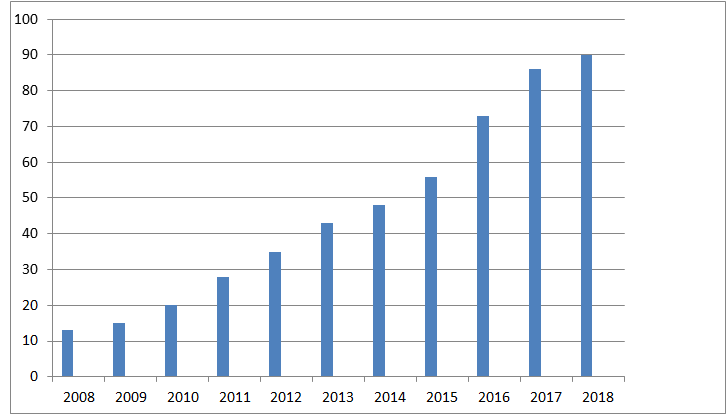 Major Food Research Associations in Japan
The Flour Millers Association of Japan
Nihon Delica Foods Association
Nippon Fresh Foods Cooperative Associations
Japan Federation of Miso Manufacturers Cooperatives.
Japan Rice Millers Association.
Major Food Research Associations around Globe
European Federation for the Science and Technology of Lipids
Food Chemistry Division of the European Association of Chemical and Molecular Sciences
Institute of Food Science & Technology (IFST)
Institute of Food Technologists (IFT)
Gesellschaft Detacher Lebensmitteltechnologen e.V. (GDL)
Korean Society of Food Science and Technology (KoSFoST)
The Society of Flavour Chemists
South African Association for Food Science & Technology (SAAFoST)
Swiss Society for Food Chemistry (Schweizerische Gesellschaft fur Lebensmittelchemie, SFC)
Federal Center for Nutrition (Bundeszentrum fur Ernährung)
IN FORM - Germany's initiative for healthy nutrition and more physical activity (Deutschlands Initiative fur gesunde Ernährung und mehr Bewegung)
NIH
SPRING Nutrition
USAID
American Society for Nutrition (ASN)
The Nutrition Society of Australia
Austrian Nutrition Society (Österreichische Gesellschaft fur Ernährung)
Belgian Nutrition Society
British Nutrition Society
Canadian Nutrition Society
Czech Society of Nutrition
Cyprus Dietetic & Nutrition Association
Danish Nutrition Society (Selskabet for Ernæringsforskning)
International Food Policy Research Institute (IFPRI)