Food Technology Market Analysis and Reports | Austria Conference Series
Market Analysis - Food Technology 2020
24th International Conference on Food Technology & Processing scheduled on October 07-08, 2020 at Vienna, Austria
Food, agriculture and aquaculture are significant sources of national income for developing countries. The global food technology market expands drastically by 2022 the expected growth of food technology market is over $250.43 billion. The global market of probiotic ingredients and supplements has reached $23.1 billion in 2012, $27.1 billion in 2013 and it may reach $36.7 billion in 2018. The processed food industries are also valued globally at over $2 trillion dollars and reside of over 400,000 businesses.This growth is attributed to a number of factors such as suitable weather conditions, availability of natural resources and labor at a cheap salary. Furthermore, North America and Europe are expected to have significant growth in the near future owing to advancing trends in aquaculture.
Agriculture turnover per year as shown below in terms of percentage in different continents
The food flavours market was valued at USD 12.94 billion in 2017; it is projected to grow at a CAGR of 4.8%, to reach USD 17.10 billion by 2023. The basic aim of the report is to segment, define, and project the global market size for food & beverages flavours on the basis of application, type, form, origin, and region.
The food Processing Industry Growth as shown up to 2025 in terms of years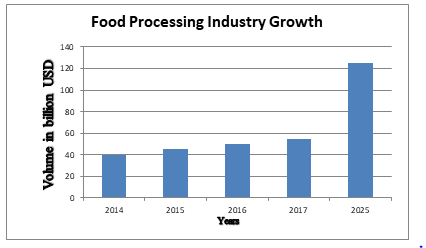 This has empowered various new players to venture into the business sector with items that guarantee to be the remedy for youth, wellbeing, and essentialness. After a year, it was around US$104 billion all inclusive.
The global nutrition supplements market size was valued at USD 133.1 billion in 2016 and is expected to accelerate at a CAGR of 9.6% from 2016 to 2024.
Food is majorly consumed with an intention to enhance the intake of essential nutritional elements in the human body. Increased cardiovascular disorders among the populations because of fluctuating diet patterns and inactive lifestyle among the age-group of 30-40 are expected to promote the importance of nutraceuticals.
The major manufacturing hubs in the globe are Europe which constitutes the majority share in the food flavour's and enhancer market along with North America. European market is a mature market and has several regulatory bodies to regulate stringently the use of food flavours and enhancers, thereby taking care of the consumers of the nations. Germany constitutes the major share having 24% followed by the UK (23%), Spain (10%), Netherland (5%) and Italy (9%). US $ 823 million is the market size by value of the synthetic flavour and $ 755.65 million US dollar is the market size by value of the natural in the year 2014.
Importance & Scope:
Good nutrition is one of the important parts of leading a healthy lifestyle. Along with physical activity, your diet can help you to reach and maintain a healthy weight, reduce your risk of chronic diseases like heart disease and cancer, etc., and support your overall health.
From plant or animal food will origin, and contains essential nutrients like carbohydrates, proteins, vitamins, fats, or minerals. These substances are ingested by an organism and assimilated by the organism's cells to provide energy, maintain life, or stimulate growth.
To advancing the science of food is ensuring a safe and abundant food supply, and contributing to healthier people everywhere is essential.
Food technology is vast. There are numerous fields you can step your foot into after choosing Food Technology.
Food Microbiology
Food Quality and Safety
Food Laws and Agri Business Management
Food Science and Technology
Food Engineering
Food Chemistry and Nutrition
The industrial food processing sector has emerged, to meet the current demand of food materials. The food processing sector in the country is mainly controlled by the unorganized sectors. About, 25% comes from the organized sector, 42% of the output comes from the unorganized sector, and the rest of it comes from the small scale players. The small-scale food processing sector is one of the major sources of employment and adds value to crops by processing. Small-scale food processing sector is a major source of food in the human diet.
The small-scale food processing sector is, though, beneath increasing threat and competition from the large manufacturers whose, better presentation and marketing, good packaging lies at the very heart of presentation and thus customer appeal. Good packaging is an area of vital importance for small and medium food manufacturers if they are going to continue to compete and expand. Improvement in the field of processing efficiency, by increased yield of usable product, is a tangible means of reducing food loss and increasing food supply. It is possible to maintain a nutritious and safe food supply for the millions of people that inhabit both urban and rural areas with food processing,
Target Audience:
Food technologist
Microbiologist
Food safety officers
Nutritionists
Dietician
Quality control officers
Quality assurance officers
Scientists
Researchers
Biotechnologists
Industrialists
Food Engineers
Related Companies/Industries:
Nestlé
PepsiCo, Inc.
JBS
The Coca-Cola Company
Archer Daniels Midland Company
Tyson
Mondelez International
Cargill
Mars
Unilever
Danone
Kraft Heinz
SABMiller
Heineken
Lactalis
Suntory
Kirin Holdings
Fonterra
General Mills Inc.
ConAgra Foods Inc.
Asahi Group
Diageo
Royal FrieslandCampina
Kellogg Company
CHS Inc.
Grupo Bimbo (Mexico)
Arla Foods
Smithfield Foods Inc.
Brf Brasil Foods
NH Foods
Carlsberg
Ferrero
China Mengniu Dairy Company
Campbell Soup Company
Coca-Cola Enterprises
Kerry Group
Parmalat
The Hershey Company
DMK Deutsches Milchkontor
Sodiaal
Oetker Group
Red Bull
Bernard Matthews Farms
BASF
AVEBE
Archer Daniels Midland
Alico Incorporated
Alberta Wheat Pool
Agrium
AgriSA
Agria Corporation
Adler Seeds
Adecoagro
Aker Seafoods ASA
Albion Fisheries Ltd
American Pride Seafoods
Corpesca SA
Day Boat Seafood
Domstein ASA
Fishing Worker Agency
HB Grandi
Kris Seafoods LLP
Norway KingCrab
Outcast Charter Fishing
Panapesca USA
Parlevliet & Van der Plas B.V. Group
Pevaeche
Pingtan Marine Enterprise Ltd
Sablefish Canada Inc
Samherji hf
Sapmer SA
United States Seafoods
South Pacific Tuna Corporation
Related Associations and Societies:
International Food Policy Research Institute, USA
Good Food Society, UK
The Food society, USA
National Association of Specialty Food, USA
IUFoST International Union of Food Science and Technology, Europe
ISEKI-Food Association, Europe
FoodDrink Europe, Europe
Society of Nutrition and Food Science, German
Asian Food Safety and Security Association, Bangladesh
International Wine & Food Society, UK
Japan Society of Nutrition and Food Science, Japan
U.S. Food and Drug Administration (FDA), USA
British Frozen Food Federation, UK
European Food Information Council (EUFIC), UK