Gastro Congress Market Analysis and Reports | Italy Conference Series
Market Analysis - Gastro Congress 2020
Gastro Congress 2020 Market Analysis:
Gastroenterology is the branch of medicine Related to the GI tract (stomach and intestines) and the accessory organs of digestion (from the mouth to the anus).Focused on the digestive system and its disorders. Some of the conditions treated under this specialty include but are not limited to: Crohn's disease, Gastroesophageal reflux disease (GERD), inflammatory bowel disease, irritable bowel syndrome, peptic ulcer disease, celiac disease, colon cancer, heartburn, gastric cancer, diverticulitis, and ulcerative colitis.
Gastrointestinal diseases refer to diseases involving the gastrointestinal tract, namely the esophagus, stomach, small intestine, large intestine and rectum, and the accessory organs of digestion, the liver, gallbladder, and pancreas.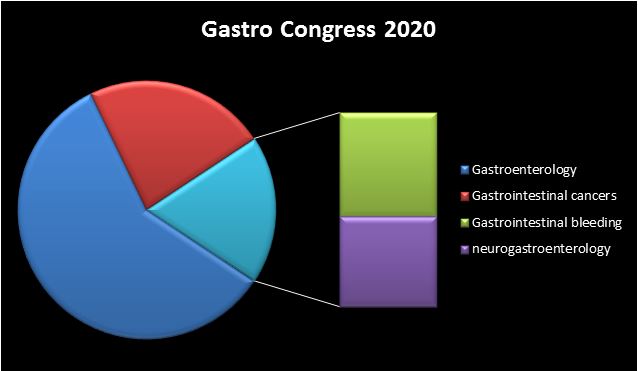 Fg: Mostly Affected Gastroenterology diseases
The global gastrointestinal therapeutics market size is expected to reach USD 65.1 billion by 2025, according to a new report by Grand View Research, Inc., registering a 6.6% CAGR during the forecast period. Growing geriatric population prone to gastrointestinal indications is one of the key factors anticipated to contribute to market growth. According to a report by WHO, colon cancer caused nearly 694,000 deaths in 2014.
Fg : Gastroenterology market size,2017-2025 65.1 (USD billion) by 2025
A wide range of new generation therapeutics targets that include novel small molecules and cellular therapy are currently under investigation. These include tofacitinib, ustekinumab, mongersen, and vedolizumab. This influx is anticipated to be a consequence of high prevalence of gastrointestinal diseases globally. Vedolizumab is emerging as a first-line biologic therapy for Crohn's disease. Currently, the U.S. FDA has approved Humira, Amjevita, Cimzia, Remicade, Renflexis, Inflectra, Tysabri, and Entyvio for the treatment of Crohn's disease.
Some studies have indicated that biologics exhibit greater long-term efficiency. According to a study conducted by University of Chicago, usage of biologics has resulted in an overall decrease in the number of surgeries by approximately 40.0%, emergency room visits by 60.0%, and hospitalizations by 50.0%.
Similarly, the National Institute carried out a study on effectiveness of infliximab in treatment for Health Research and it was reported to be a cost-effective solution in episodic treatment of active Crohn's Disease. Increasing need for cost containment in drug development as well as administration costs is likely to fuel growth opportunities for biologics. Advent of targeted treatment alternatives has led to development of more personalized biologics.
Top Gastroenterology companies
Allergan Pharmaceuticals

Boston Scientific

Cogentix Medical

EndoChoice

EndoGastric Solutions

Evoke Pharma

Exact Sciences Corp. (colorectal cancer)

Fujifilm Medical Systems USA

gMed, a Modernizing Medicine Co.

Interscope

Johnson & Johnson

Motus GI

Olympus Corp. of the Americas

Pentax Medical USA

Physicians Endoscopy

Synergy Pharmaceuticals

Salix Pharmaceuticals

Shaili Endoscopy

Takeda Pharmaceuticals USA

US Endoscopy Group
Growing geriatric population, especially in emerging economies, is expected to drive market growth over the coming years. Furthermore, initiatives undertaken by the Centres for Disease Control and Prevention (CDC) to promote cancer screening nationwide is expected to boost market growth over the forecast period. The Division of Cancer Prevention and Control (DCPC) supports National Colorectal Cancer Action Campaign (NCCCP) and provides funds to aid research studies and implement strategies to control colorectal cancer. This increase in initiatives for screening is expected to fuel sales of therapeutics and present lucrative growth opportunities to the market.