Genetics Market Analysis and Reports | Switzerland Conference Series
Market Analysis - Genetics 2020
Genetic Analysis is the study of genes or gene mutations done by conducting various laboratory experiments on the fundamental code of life i.e. DNA or RNA. These tests are usually performed to test either the possibility of the occurrence of a disease or simply to understand the errors in the metabolic system programming. However, the most prevalent and well known of these are forensic tests done to confirm a person/suspect's identity or to confirm genetic relation between multiple persons, the former being state judiciary's responsibility (criminal cases) and the latter done majorly for private reasons (paternity tests, etc). Beside these popular tests, genetic analysis is used for a number of scientific and academic research purposes. Genetic analysis has come a long way since GJ Mendel and Watson-Crick introduced the fundamentals of genetics, today it is the most diverse analytic study making it an eternal part of various diagnostic studies.
Genetic Testing Market size was valued at USD 10.6 billion in 2017 and is expected to witness more than 11.6% CAGR from 2018 to 2024.
U.S. Genetic Testing Market, By Test Type, 2013 – 2024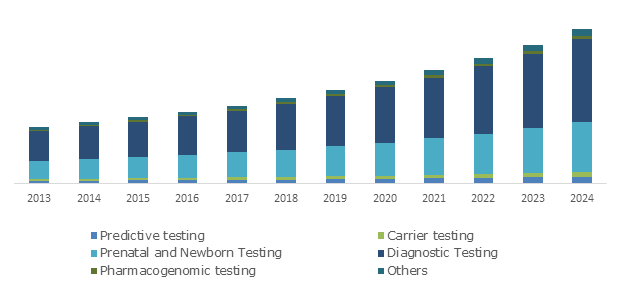 Increasing demand from patients for personalized medicines will fuel the demand for genetic testing during the forthcoming years. Personalized medicine offers tailored medical treatment to patients based on their molecular basis. Various developed economies such as Europe undergo genetic testing for detection of various genetic and rare diseases. Detection of diseases at an early stage facilitates early treatment and helps reduce severity of diseases. Growing adoption of personalized medicines coupled with increasing awareness regarding early diagnosis of disease will boost the industry growth over the forecast period.
Technological advancement in genetic testing is expected to drive the genetic testing market during the coming years. The demand for genetic testing is increasing across the globe owing to the availability of new tests as well as advancement in the genetic testing techniques. Innovations in tests that offer safer and efficient techniques of disease detection, surpassing the risk of miscarriage during early stages of pregnancy will serve to be a high impact rendering factor that will drive the genetic testing market growth during the forthcoming years.
Dearth of experienced professionals and advanced infrastructure in developing as well as under developed economies is should hamper the market growth over the forecast period. Accessibility to quality healthcare in low resource areas is difficult to maintain owing to lack of infrastructure. Moreover, risk of false interpretations associated with unavailability of experienced professionals will restrain industry growth noticeably.

Genetic Testing Market, By Test Type
Diagnostic testing segment accounted for the highest market share with a revenue share of USD 5690.6 million and is expected to grow at a significant rate over the forecast timeframe owing to its wide applications in various diseases. Detection of diseases at early stage allows patients to undergo therapeutic treatment at an early stage and minimizes the severity of diseases leading to reduced mortality rate. Increasing prevalence of chronic diseases worldwide will augment the segment growth over the forecast period.

Prenatal and new born testing segment is estimated to witness lucrative growth with a CAGR of 11.6% during the forecast period.Increasing prevalence of chromosomal abnormalities and genetic disorders in the new borns worldwide is one of the leading cause of infant morbidity and mortality. According to Centres for Disease Control and Prevention (CDC), around 3% of all babies born in the U.S. are affected by birth defects leading to infant death. Aforementioned factors will fuel the demand for prenatal and new-born genetic testing during are the coming years.
Genetic Testing Market, By Application
Cardiovascular disease diagnosis segment of genetic testing market will grow at the fastest CAGR of nearly12.8% owing to rising prevalence of cardiac diseases across the globe. Genetic testing allows testing for a wide range of cardiovascular diseases (CVDs) encompassing congenital heart malformations. Timely diagnosis of heart disorders helps save lives and reduce the number of CVD deaths. Healthcare system's efforts towards reducing CVD incidences should fuel business growth over the forecast period.
Cancer diagnosis segment dominated the genetic testing market with a revenue of USD 5562.8 million in 2017. According to, The Institute for Health Metrics and Evaluation (IHME), around 8.9 million cancer deaths were recorded in 2016, of which around 5%-10% were caused by inheriting genetic mutation. Rising prevalence of various types of cancer such as prostate cancer, breast cancer and lung cancer coupled with increasing awareness pertaining to early detection of cancer will stimulate the market growth throughout the forecastperiod.

Genetic Testing Market, By Region
North America dominated the genetic testing market with a revenue of USD 6382.1 million in 2017 and is projected to grow at a significant rate over the forecast period. This is attributable to increasing incidences genetic diseases such as cancer, Turner syndrome, neurofibromatosis, and spinal muscular atrophy. Availability of new tests owing to technological advancements will fuel the demand for genetic testing. Advanced infrastructure coupled with high healthcare expenditure and regulatory support for direct-to-consumer genetic testing will further augment the market growth in the coming years.
Latin America Genetic Testing Market is projected to grow at a robust CAGR of around 13.3% during the forecast period owing to increasing prevalence of various types of cancer such as prostate cancer, breast cancer and lung cancer. Breast cancer is the most common cancer among women in Latin America. According to the Pan American Health Organization (PAHO), around 4,08,200 women were diagnosed with breast cancer and the number is estimated to grow by 46% by 2030. Hence, adoption of genetic testing for early detection and prevention of cancer and other genetic diseases will accelerate the regional growth over the forecastperiod.

Competitive Market Share
Some of the eminent industry players operating in global genetic testing market are 23andMe, Abbott Molecular, Bayer Diagnostics, Biocartis, BioHelix, BioMerieux, BGI, Celera Genomics, Cepheid, Counsyl, deCODEme, Genentech, Genomictree, Genomic Health, HTG Molecular Diagnostics, IntegraGen, LabCorp Diagnostics, Luminex, MolecularMD, Myriad, Natera, PacBio, Pathway Genomics, Qiagen, Roche Diagnostics, Sequenom and Siemens. Industry players are focusing on strategic expansion through acquisitions, mergers and collaborations help the players to strengthen and enhance the product portfolio. For instance, in December 2017, Roche acquired Ariosa Diagnostics, a molecular diagnostic testing services provider, to enter the non-invasive prenatal test (NIPT) and cell-free DNA testing services market.

Genetic Testing Industry Background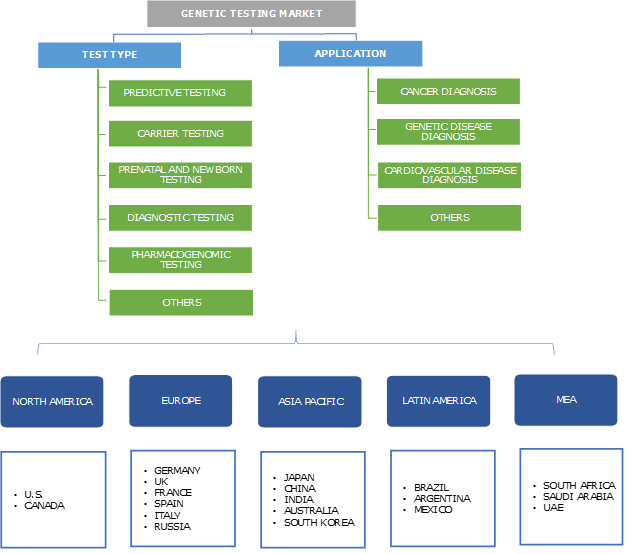 Rising prevalence of diseases such as cancer, cystic fibrosis, Alzheimer's and other genetic diseases will drive global genetic testing industry. Increasing adoption of genetic testing for early detection of diseases and identification of genetic mutation prior to its manifestation will further augment industry growth over the forecast period. The industry is expected to witness rapid growth in the future owing to rising physician adoption of genetic testing into clinical care. Availability of regulatory support for direct to consumer (DTC) testing and ongoing advancements in technology enable industry players to maintain their market position.
Growing Demand for Personalized Medicine
Personalized medicine, where tailored therapy is made available to patients with an understanding of the molecular basis of diseases, has become popular over the recent years. Genetic testing and genome sequencing are two of the most important tools that are used to understand the molecular basis of a disease. European countries are screened for several genetic diseases, as an early detection of these diseases can prevent the onset of symptoms, or minimize the severity of the disease. Genetic testing for cancer diagnosis can indicate the predisposition of the disease in the gene, before its actual manifestation. This type of diagnostic technique enables a person to take precautionary steps, and avoid possible risks in the future.
Social and Ethical Implications of Genetic Testing
Insurance is an important asset to people. The fear of discrimination by insurance companies discourages people from undertaking genetic tests, which is a restraining factor for the market growth. The expensive nature of genetic tests affects the market, adversely. At times, the payments made by individuals are not reimbursed through insurance, thus, affecting the pockets of these patients. The high-import duty by the government on genetic tests kits also acts as a barrier to the market growth.
North America to Dominate the Market
The genetic testing market is segmented by treatment type, diseases, technology, and geography. By geography, the market has been segmented into North America, Europe, Asia-Pacific, the Middle East & Africa, and South America.
Owing to the presence of well-established healthcare facilities and new discoveries in the field of genetic markers, North America dominates the genetic testing market. The Asia-Pacific market is expected to register the highest CAGR, as government and private firms are making significant investments in the healthcare industry. Over the last couple of years, to invest in the Japanese market, several mergers, acquisitions, and collaborations between companies have taken place.
Key Developments in the Market
September 2017: Myriad Launched riskScore to enhance the hereditary cancer test myRisk. riskScore determines the risk of women to get breast cancer by analyzing their genome.
July 2017: Admera Health Partners collaborates with Helix to Launch Genetic Tests to Assess the Risk of Inherited High Cholesterol, Sudden Cardiac Death, and Inherited Diabetes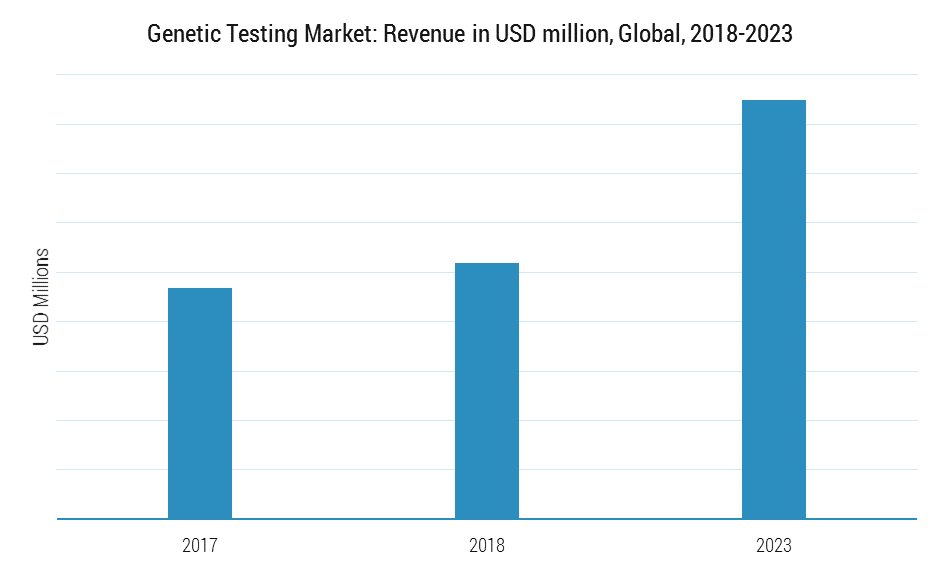 Major Players: Illumina, Inc, Abbott Molecular Inc, 23 And Me, Roche Diagnostics, Qagen, Blueprint Genetics, BJI Tech, Eurofins Scientific, Centogene AG, Thermo Fisher Scientific, Elitech Group, amongst others.
Reasons to Purchase This Report
Market analysis for the global genetic testing market, with region-specific assessments and competition analysis on the global and regional scale
Analyzing various market perspectives, with the help of Porter's five forces analysis
The treatment type that is expected to dominate the market
Regions that are expected to witness fastest growth during the forecast period
Identify the latest developments, market shares, and strategies employed by the major market players
3 months analyst support, along with the Market Estimate sheet (in excel)
Customization of the Report
This report can be customized to meet your requirements. Please connect with our analyst, who will ensure you get a report that suits your needs.
Conference Series Ltd conferences, "14th International Conference on Genetics and Genetics Disorder" during August 03-04, 2020 in Zurich, Switzerland aims to bring together leading academic scientists, researchers, specialists and research scholars to exchange and share their experiences and research results on all aspects of Genetic and Genetic Disorders. It conjointly provides a premier knowledge domain platform for researchers, practitioners and educators to present and discuss trends, the most recent innovations, and concerns as well as practical challenges encountered and solutions adopted in the fields of Genetics.
Genetics 2020 aims are to engage new audiences to participate in activities on the day, Of course, we also want to reach existing followers of Genetic Disorder social media accounts, and to expand the global reach. Finally, this will be a great opportunity to explore as a new science communication tool.