Geriatrics Market Analysis and Reports | Spain Conference Series
Market Analysis - Geriatrics 2018
Geriatric Care Services Market - Global Industry Analysis, Size, Share, Growth, Trends, & Forecast 2015 - 2023
Market Scenario:
Regional Analysis of Geriatric Care Services Market:
The Global Geriatric care services market size was valued at USD 684.05 billion in 2015, with forecast target exceeding USD 1,101 billion by 2023, at over 6.2% CAGR. Growth of geriatric care services market at geographical scales like USA, Europe, Middle East and Asia Pacific.
USA: The U.S. geriatric care services market having had a share of USD 258 billion in 2015 is anticipated to be the largest market over the coming period. The growth can be attributed to the large number of long-term care services across this region. According to the State of Aging and Health in America 2015 it is estimated that by 2023, health care spending will increase by 25%, largely because the population will be older.
Europe: The geriatric care service market is expected to reach £44 billion in Europe by 2023 with the private setting contributing to 91% of revenues.
Middle East & Asia Pacific: Elderly healthcare in the Middle East region will cost more than US$20 trillion between 2015 and 2023. Asia Pacific is projected to record the highest growth rate of 8.5 % over the coming seven years. The APAC geriatric market share is likely to hit USD 248 billion by 2023.
Based on geography, the geriatrics market is divided into North America, Europe, Asia Pacific, and rest of the world. North America and Europe acquired major share of the market and are expected to lead the geriatrics market during the forecast period. Factors attributing to the growth of the market are higher demand for geriatrics, growth in the rate of adoption in health care, technological advancements for easy accessibility, and others. In addition, well-established health care infrastructure in North America and Europe attributed to a larger share in this market. Although, these regions accounted for a higher share of this market, Asia Pacific is estimated to grow faster owing to rise in number of medical procedures, high prevalence of chronic diseases, and increase in investments to improve the health care for elderly, and growth in R&D.
Key Players in Geriatrics Market:
CareLinx, Lift Labs, Neurotrack, Always Best Care, Geriatric & Medical Companies, Inc., Abbott Laboratories, Inc., AstraZeneca plc, Boehringer Ingelheim GmbH, Bristol-Myers Squibb Company, Eli Lilly and Company, GlaxoSmithKline plc, Merck & Company Inc., Novo Nordisk, AstraZeneca, Merck and Co., Novartis AG, Pfizer, Inc., Proprietary Nutritionals Inc., Nutralliance, Inc., Barrington Nutritionals, Asiamerica Ingredients, Inc., and Alkemists Labs and Sanofi S.A are some of the major players operating in the global geriatric medicines market.
Key Universities offering Geriatrics Research:
University of Edinburgh, Oxford University, University of Glasgow, King's College London, University of Manchester, Johns Hopkins University, Cardiff University, Queen Mary University of London , University of Dundee, University of Birmingham, Lancaster University, Newcastle University, National Institute on Ageing, Centre for Translational Research in Ageing and Longevity, Buck Institute for Research on Ageing, Alzheimer's and Ageing Research Center, Center for Research and Education in Ageing.

Source: Primary Research, Government Publications & Geriatrics 2018 Internal
Key Elderly Care Organizations in Europe:
Aberness Care Ltd, Able Health Care, Falkirk, Bedtime Angels Home Care, Hamilton, Bluebird Care, Braes Home Care Ltd, Grangemouth, Call In Homecare Ltd Care at Home, Elite Care Ltd, Embrace, Everycare Ltd, Flourish Home Support Services Ltd, Alloa, Guardian Response Ltd, Dumfries, Home Instead Senior Care, Independent Living Services, Ellon, ElderlyCare Edinburgh, Mears Care Ltd, North Berwick, Mears Nurseplus, Alva, Montana Home Care Ltd, Falkirk, My Care, Tayside, Nurseplus - Care at Home, Auchterarder, Prestige Nursing and Care, TayCare at Home.
Conferences Hosted by Geriatrics Societies:
Annual Scientific Meeting of the American Geriatrics Society (AGS), San Antonio, Texas; Virginia Geriatrics Annual Conference (VGS), Richmond, Virginia; 18th Annual Oregon Geriatrics Society Conference (OGS), Oregon; 13th European Union Geriatric Medicine Society Congress (EUGMS), France; 21st International Association of Gerontology and Geriatrics World Congress (IAGG), California; 46th British Society of Gerontology Annual Conference, UK; American Geriatrics Society Annual Scientific Meeting, Orlando, USA.
Conferences Hosted by Private Organizations:
2nd Interventions in Aging Conference, Cancun, Mexico; 2nd Congress of Cardiovascular Prevention in Pre-Elderly and Elderly Individuals, Vienna, Austria; 7th International Conference on Frailty and Sarcopenia Research, Barcelona, Spain; 2nd International Disease and Aging Conference, Stanford, USA; 4th World Parkinson Congress, Portland, USA; 2nd International Conference on Aging and Gerontology, USA; 7th International Gerontology and Gerontological Nursing Conference San Antonio, USA; 3rd International Conference on Palliative Care and Hospice Philadelphia, USA; 4th International Conference Aging & Cognition Zurich, Switzerland; Asia Pacific Geriatrics Conference, USA; The Asian Conference on Aging and Gerontology, Kobe, Japan; Evidence for Action in an Aging World Winnipeg, Canada; 5th International Workshop on the Socio-Economics of Ageing Lisbon, Portugal.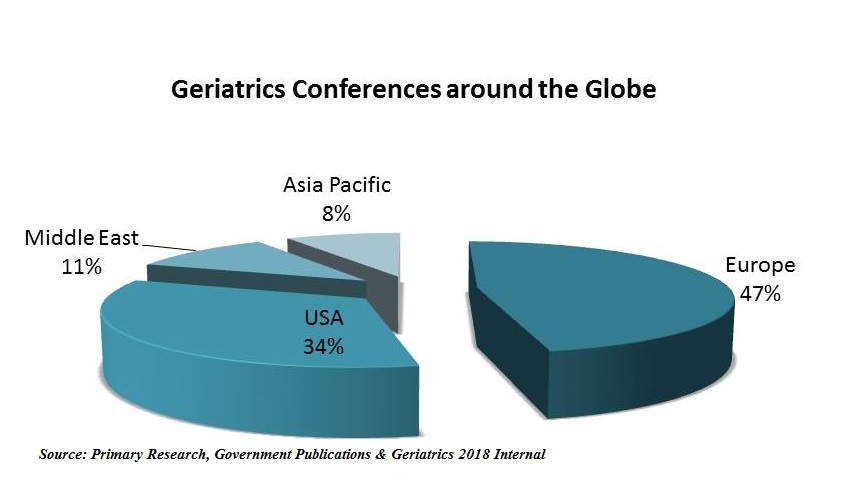 Global Organizations that support basic Geriatric research:
Ellison Medical Foundation, Alzheimer's Association, Larry L. Hillblom Foundation, SENZ research Foundation, American Federation for Aging Research, Huntington's Disease Society of America, Hereditary Disease Foundation, Progeria Research Foundation, Methuselah Foundation, Alliance for Aging Research, National Association for Geriatric Education, Dublin Ageing Research Network, Emerging Researchers in Ageing, New Age Skin Research Foundation, Research Network on Ageing in Europe.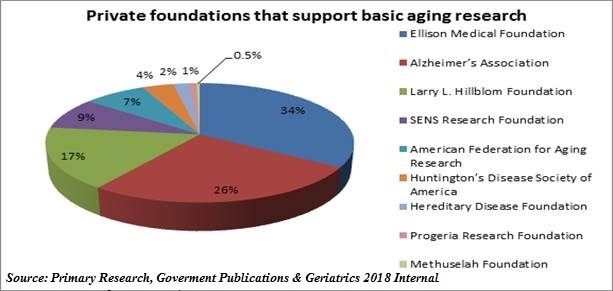 Conclusion:
Geriatric care market has lot to offer for the special geriatric service providers who are capable to run long-term as well as short-term aged care home, Nutraceutical manufacturers, pharmaceutical manufacturers, senior care furniture manufacturers and real estate companies. It has already made an impact in developed countries like Europe, USA, Canada, and Australia. With this increasing growth of market the dissemination of knowledge could occur only through international meetings and conferences. 8th International Conference on Geriatrics Gerontology & Palliative Nursing, July 30-31, 2018, Barcelona, Spain would address the recent advancements happening in this field with a series of key Note, Plenary sessions, Workshops, Symposiums and discussions represented by renowned speakers from more than 40 nations.