GIS Market Analysis and Reports | USA Conference Series
Market Analysis - GIS 2017
The field of remote sensing and GIS has become exciting and enchanting with rapidly expanding opportunities. Geographical information system (GIS) is designed to capture, store and manage all types of geographical data. Remote sensing is the accession of information about the object without any physical contact. There are wide range of applications in the field of GIS and remote sensing. Remote sensing also replaces expensive and slow data collection on the ground, ensuring in the process that areas or objects are not disturbed.
GIS and Remote Sensing conference will place a platform where worldwide researchers, academicians and scientists from the Geographic Information System and Remote Sensing community will aggregate to create a platform for robust exchange of information on technological advances, new scientific achievements and the effectiveness of various regulatory programs towards GIS and Remote sensing. It provides a premier technical forum for reporting and learning about the latest research and development, as well as for launching new applications and technologies. It will promote science and technology of the relevant fields of GIS and Remote Sensing.
Members Associated with GIS and Remote Sensing Research:
For the field of GIS and Remote Sensing people are working along with many universities, individual Institutions, associations and societies. Around 450 members in San Antonio, 6000 in USA, More than 8000 physicians, academicians and researchers
Societies & Associations Associated with GIS and Remote Sensing Research:
American Society for Photogrammetry & Remote Sensing
Cartography and geographic information society (CAGIS)
Centre for advanced spatial technologies (CAST)
Centre for spatially integrated social science (CSISS)
Earth sciences & map library, university of California Berkeley library
ESRI conservation program
Federal geographic data committee (FGDC)
Geo community
Geodata alliance
National centre for geographic information and analysis (NCGIA)
National geospatial-intelligence agency (NGA)
Open geospatial consortium (OGC)
Society for conservation GIS (SCGIC)
GIS speciality group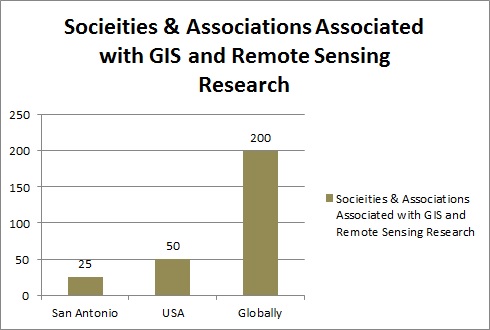 Industries Associated with GIS and Remote Sensing Research:
3D Laser Mapping
Aarvee associates
Aero-Metric, inc.
AML Solutions Group
Angus Geosolutions Inc. (AGSI)
Avineon India Private Limited
BroadMap
CARIS
Cinco GIS
Complete Spatial Solutions
Datamap
Spatial (Formerly Laser Scan)
Universities Associated with GIS and Remote Sensing Research in USA:
Acadia University
Alabama A&M University
American Sentinel University
Appalachian State University
Arizona State University
California State Polytechnic University
Central Connecticut State University
Central Washington University
Claremont Graduate University
Delta State University
East Carolina University
George Mason University
Humboldt State University
Indiana University at Pennsylvania
Louisiana Technical University
North Carolina State Universit
San Francisco State University
University of Akron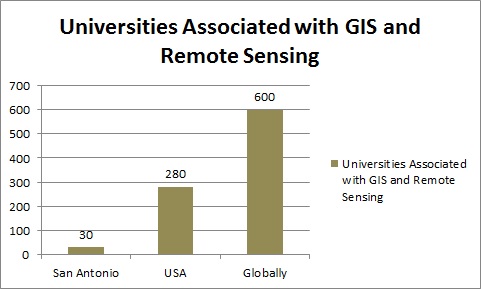 Target Audience:
Academicians, Research scientists, Students, young researchers, professors from different universities containing GIS and Remote Sensing studies, eminent persons from different associations and societies, directors, CEO's from different companies.
Academia 40%
Industry 30%
Associations 20%
Government 10%
Total business of GIS and Remote Sensing market Japan, South Korea, Canada, US, UK, Germany, India, Brazil for the globla geo-services market to be between $ 150 billion and $ 270 billion, chinese government is $ 31 billion.
Funding for GIS and Remote Sensing: