Gynec & Preventive Oncology Market Analysis and Reports | USA Conference Series
Market Analysis - Gynec & Preventive Oncology 2017
Gynecologic cancers are categorized by uncontrolled growth and spread of abnormal cells. These cancers originate in the female reproductive organs such as uterus, cervix, ovaries, vagina , vulva and Breast cancer. Several factors are responsible for the occurrence of these cancers. It includes various classes of cancer originating genes, known as oncogenes, which promotes the abnormal growth of cells. The abnormal function of these genes regulates through aging, smoking and environmental influences. In adding, infertility, obesity, mutations, early start of menstruation and late start of menopause also causes gynecologic cancers.
Gynecologic cancers are also originated by some viruses. For instance, almost all cervical cancers and vaginal and vulva cancers are caused by human papillomavirus (HPV). These gynecologic cancers are treated by medication therapies, radiation therapy, surgeries and chemotherapy. Treatments of these cancers are depends upon the type and different stages of cancers.
The global gynecologic cancers market is categorized based on various types of cancers and their treatment therapies. It includes uterine, ovarian cancer, vaginal cancer, vulvar cancer and cervical cancer.
Uterine cancer is also known as endometrial cancer. It is the most common type of gynecologic cancer. Major risk factors of uterine cancer include the use of estrogen without progesterone, hypertension, diabetes, tamoxifen, obesity and later age of menopause. Obese women have higher circulating levels of estrogen, which increases their risk for uterine cancer. Cervical cancer is the second most common type of gynecologic cancer. Ovarian cancer is mainly divided into three types: germ cell cancer, epithelial ovarian cancer and stromal ovarian cancer. Vulvar and vaginal cancers are rarest forms of gynecologic cancer. It usually affects women with age group of 50-70 years.
In terms of geographic, North America and Europe dominates the global gynecologic cancers market. The U.S. represents the largest market for gynecologic cancers followed by Canada in North America. In Europe, France, Germany and the U.K. holds major share of gynecologic cancers market. However, Asia is expected to show high growth rates in the next five years in global gynecologic cancers market. This is due to increasing awareness among people about various types of gynecologic cancers in the region. Japan, China and India are expected to be the fastest growing gynecologic cancers markets in Asia.
However, patent expiry of various major drugs is key restraint for the global gynecologic cancers market. In addition, stringent regulatory hurdles also obstruct the growth of global gynecologic cancers market. Advancement in personalized medicines holds immense potential for the growth of global gynecologic cancers market. Increasing mergers and acquisitions between drugs manufacturing companies and government bodies is key trend of global gynecologic cancers market.
Breast cancers can start from different parts of the breast. Most breast cancers begin in the ducts that carry milk. A small number of cancers start in other tissues in the breast. These cancers are called sarcomas and lymphomas and are not really thought of as breast cancers. If cancer cells have spread to your lymph nodes, there is a higher chance that the cells could have spread (metastasized) to other sites in your body. The more lymph nodes with breast cancer cells, the more likely it is that the cancer may be found in other organs as well. Because of this, finding cancer in one or more lymph nodes often affects your treatment plan. Usually, surgery to remove one or more lymph nodes will be needed to know whether the cancer has spread there.Still, not all women with cancer cells in their lymph nodes develop metastases, and some women can have no cancer cells in their lymph nodes and later develop metastases.
Scope and Importance of Gynecologic Oncology Research
Ovarian cancer presents a very varied prognosis depending on age: whilst 70% of the group between 15 and 44 years survives this form of cancer, this is the case for only 19% of those over 74 years-old.
Cervical cancer is the third most commonly diagnosed cancer and the fourth leading cause of cancer death in females' worldwide, accounting for 9% (529,800) of the total new cancer cases and 8% (275,100) of the total cancer deaths among females. More than 85% of these cases and deaths occur in developing countries.
Tumor biology early detection, and treatment of ovarian cancer in older women as compared to younger women suffering with this malignancy. Effort was devoted to the type of problems met in conducting the analyses and, where data were inadequate, recommending research guidelines or approaches.
The center are at the forefront of research in the early discovery of ovarian cancer and uterine cancer , which is involved in developing blood tests to precisely determine the absence or presence of early stage ovarian cancer before it reveals, as well as on going translational research programs for all Gynecologic Cancers. Physicians are also involved in leading-edge programs in the prevention of cervical cancer through regular screenings and the identification of precancerous cervical lesions associated with papilloma virus infections.
Organized screening procedures can support to detect Gynecologic Cancer, including cervical cancer, uterine cancer, and ovarian cancer, early.
A pap smear can identify cervical and uterine cancers. It is suggested to begin analysis every three years early at age 21.
A pelvic exam images the rectum, vagina, cervix, fallopian tubes, uterus, ovaries, and Pelvic tests should be done annually, beginning at 21 and can help detect irregularities of the female reproductive system.
An endometrial tissue sample checks for abnormal cells or signs of uterine cancer which can be done for women with a high risk for endometrial cancer due to an inborn susceptibility or when there are symptoms that need to be evaluated.
Why it's in Chicago, USA.
Gynecologic Cancer confers a large burden among women in the United States. Several evidence-based interventions are available to reduce the incidence, morbidity, and mortality from these cancers. The National Comprehensive Cancer Control Program (NCCCP) is uniquely positioned to implement these interventions in the US population. Every woman is at risk for developing a Gynecologic Cancer & Breast Cancer. It is estimated that there will be about 91,000 new cases diagnosed and approximately 28,000 deaths from Gynecologic Cancers in the United States during 2014.Post-menopausal women aged 45–70 years have the highest risk of developing uterine cancer. It is more common in Caucasian women than in other populations. Women living in North America or Europe develop uterine cancer more often than those living in other parts of the world. Women in higher income groups also tend to be affected more often than women in lower income groups.
Hospitals Associated with Gynecologic Oncology Research
Major Gynecologic Oncology associated hospitals in Chicago are around 2% when compared to worldwide.
Hospitals in Chicago and USA are:
Methodist Hospital
Southwest General Hospital
Cancer Care Centers of South Texas
Methodist Women's Center
Metropolitan Methodist Hospital
South Texas Oncology Group
Advocate Good Samaritan Hospital
Anderson Hospital
Aspirus Wausau Hospital
Aultman Hospital
Aurora St. Luke's Medical Center
Banner Good Samaritan Medical Center
Barnes-Jewish Hospital
Beaumont Hospital
Bon Secours Memorial Regional Medical Center
Boone Hospital Center
Boston Medical Center
Brigham and Women's Hospital
Bryn Mawr (Pa.) Hospital
Carle Foundation Hospital
Cedars-Sinai Medical Center
Christiana Hospital
Dartmouth-Hitchcock Medical Center
Duke University Hospital
Emory University Hospital
Evanston (Ill.) Hospital
Fairview Southdale Hospital
Flagler Hospital
Florida Hospital
Glendale (Calif.) Memorial Hospital and Health Center
Gundersen Lutheran Medical Center
Hackensack (N.J.) University Medical Center
Halifax Health Medical Center of Daytona Beach
Hutzel Women's Hospital
Hartford (Conn.) Hospital
Holy Cross Hospital
Hospital of the University of Pennsylvania
Huntington Hospital
Indiana University Health Methodist Hospital/University Hospital (Indianapolis)
Ingalls Memorial Hospital
Inova Fairfax Hospital
Johns Hopkins Hospital
Keck Hospital of the University of Southern California
Lancaster (Pa.) General Hospital
LDS Hospital
Magee-Womens Hospital of UPMC
Massachusetts General Hospital
MedStar Georgetown University Hospital
Memorial Hermann Memorial City Medical Center
Societies Associated with Gynecologic Oncology Research
In world there are about 9,685 societies which are specifically associated with Gynecologic Oncology, in which 1289 societies are from USA and the remaining 269 societies are from Chicago.
American gynecologic and obstetrics society
American society of clinical oncology
National cancer institute
Society of Gynecologic Oncology
Society of Gynecologic nurse Oncologists
International Gynecologic cancer society
American college of Phlebology
American congress of Obstetricians and Gynecologists
Asian Society of Gynecologic Oncology
Female Genital Tract Pathology
Foundation for Women's Cancer
GYN-ONC - Gynecologic Cancers Support Group
Gynecologic Oncology Group
Northern Gynecologic Oncology Centre
Queensland Centre for Gynecologic Oncology
Industries Associated with Gynecologic Oncology Research
Industries associated with Gynecologic cancer over all world is about 85% in which 12% of industries are in USA and in Chicago about 3%.
· Johnson & Johnson
· Novartis
· Roche
· Pfizer
· Sanofi
· Merck
· Bristol-myers squibb
· Eli Lilly
· Celgene
· Takeda
· AstraZeneca
· Merck & Co.
· Amgen
· Bayer
· Otsuka
· Pharmacyclics
· Incyte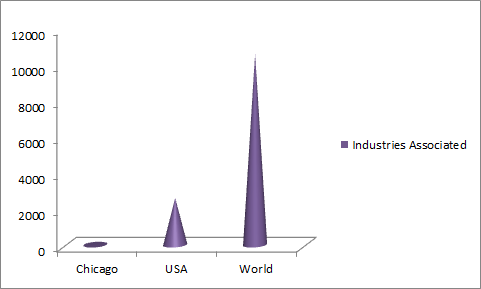 Universities Associated with Gynecologic Oncology Research
Gynecologic cancer associated universities in world are about 3284, in USA 612 universities.
Trinity University
St. Mary's University
Our Lady of the Lake University
Baptist University of the Americas
University of Texas Medical Branch
University of Texas Medical School at Houston
University of Texas Rio Grande Valley School of Medicine
Dell Medical School at The University of Texas at Austin
University of Alabama School of Medicine
University of Arizona College of Medicine
Charles R. Drew University of Medicine and Science
Keck School of Medicine of University of Southern California
Loma Linda University School of Medicine
Stanford University School of Medicine
UC Davis School of Medicine
University of California, Irvine School of Medicine
David Geffen School of Medicine at UCLA
UC Riverside School of Medicine
University of California, San Diego School of Medicine
University of Colorado School of Medicine
Frank H. Netter M.D. School of Medicine at Quinnipiac University
University of Connecticut School of Medicine
Yale School of Medicine
George Washington University Medical School
Georgetown University School of Medicine
Howard University College of Medicine
The University of Texas at San Antonio
The University of Texas Health Science centre at San Antonio
Florida Atlantic University Charles E. Schmidt College of Medicine
Florida State University College of Medicine
University of Florida College of Medicine
University of South Florida College of Medicine
Mercer University School of Medicine
Loyola University Chicago Stritch School of Medicine
Northwestern University Feinberg School of Medicine
Rush Medical College
Indiana University School of Medicine
University of Iowa Roy J. and Lucille A. Carver College of Medicine
University of Kansas School of Medicine
University of Kentucky College of Medicine
University of Louisville School of Medicine
Louisiana State University School of Medicine in New Orleans
Tulane University School of Medicine
Johns Hopkins University School of Medicine
Boston University School of Medicine
Harvard Medical School
Oakland University William Beaumont School of Medicine
Wayne State University School of Medicine
Mayo Clinic College of Medicine
University of Minnesota Medical School
University of Mississippi School of Medicine
University of Missouri-Columbia School of Medicine
Rutgers New Jersey Medical School
University of New Mexico School of Medicine
Icahn School of Medicine at Mount Sinai
New York Medical College
New York University School of Medicine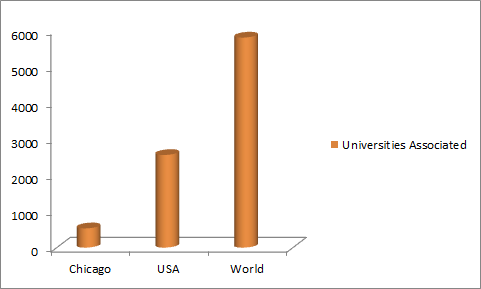 Market Value on Gynecologic Oncology Research
The global Gynecologic cancer market in 2010 was valued at $54bn, an increase of 5.1% over the previous year's sales of $51.3bn, and is forecasted to grow at a CAGR of 6.9% from 2010–16, reaching $81bn in 2016. Collectively, the seven major markets (US, 5EU, and Japan) represented 79.1% (or $43bn) of in the global cancer market in 2010. In terms of size, the US dominated the global cancer market, with 2010 sales of $21bn and a market share of 38.5%. The global cancer market is becoming increasingly competitive, with two therapeutic classes, namely antineoplastics and cytostatic hormonal treatments, dominating this sector. Collectively, the leading 10 brands accounted for almost 58.2% (or $31.4bn) of the global cancer market in 2010. In 2010 antineoplastics was the leading drug class in the global cancer market. The global antineoplastic market was valued at $46bn in 2010 at a year-on-year (Y-o-Y) growth of 7.3%. The major drugs that contributed to the 2010 sales in the antineoplastic category were Roche's Avastin (bevacizumab) at $6.2bn, Herceptin (trastuzumab) at $5.2bn, and MabThera (rituximab) at $5.1bn, with Y-o-Y sales growth of 3.8%, 3.1%, and 3.3% respectively. The cytostatic hormonal market registered 2010 sales of $8bn at a Y-o-Y decline of 6.5%. AstraZeneca's Arimidex (anastrozole) and Novartis's Femara (letrozole) led this class, reaching sales of $1.5bn and $1.3bn respectively in 2010.