Gynecology Congress Market Analysis and Reports | Japan Conference Series
Market Analysis - Gynecology Congress 2018
Scope and Importance :
Obstetricians and gynecologists face a wide variety of challenges: managing the care of patients of all ages from puberty through menopause and beyond; treating both acute and chronic health conditions; and of course, managing risk through the pregnancy and childbirth process. The United States has a higher ratio of maternal deaths than at least 40 other countries, even though it spends more money per capita for maternity care than any other. The lack of a comprehensive, confidential system of ascertainment of maternal death designed to record and analyze every maternal death continues to subject U.S. women to unnecessary risk of preventable mortality. Maternal deaths must be reviewed to make motherhood safer.
The status of maternal deaths in the United States was part of a larger report on the global, regional, and national levels and causes of maternal mortality from 1990-2013. The findings suggest that only 16 countries will achieve a target of a 75% reduction in the maternal mortality ratio (or number of maternal deaths per 100,000 live births) by 2016.
About Venue:
Tokyo, Japan's busy capital, mixes the ultramodern and the traditional, from neon-lit skyscrapers to historic temples. The opulent Meiji Shinto Shrine is known for its towering gate and surrounding woods. The Imperial Palace sits amid large public gardens. The city's many museums offer exhibits ranging from classical art (in the Tokyo National Museum) to a reconstructed kabuki theater (in the Edo-Tokyo Museum).
Tokyo is a mega-metropolis of dizzying contradictions, both familiar and foreign. It has neon, skyscrapers, salary man crowds, packed trains, cutting-edge architecture and futuristic technology. But it also has ancient shrines, plant-covered wooden houses, cycling grannies, old-school sweet shops and village-like lanes. It is one of the planet's most densely populated cities (as any rush-hour train journey will demonstrate), with a hyperactive skyline that changes as regularly as the sun rises and sets. Yet it is also a city rooted in its traditions and in possession of a calm and efficient rhythm that belies its sprawling dimensions. And even though it's home to a 13 million-plus population, trains run on time, there is no public litter and street crime is near non-existent. In short, it works.
Another key enticement is the food from sushi to soba, and everything in between. Tokyo is a nirvana for foodies, and has the world's highest volume of Michelin stars in a city. Shopping is another highlight it's worth bringing an empty suitcase to fill with hard-to-resist gadgets, trendsetting garments and treasures from craft and design stores
Why to Attend?
As the leading event in its niche field of ultrasound in obstetrics and gynecology, we were delighted to welcome international experts from all corners of the world to present cutting edge scientific breakthroughs, offer clinical guidance and participate in lively discussions on sub-specialist areas.
Unique opportunity to discuss case studies and meet some of the most influential professionals in ultrasound for obstetrics and gynecology. The program is presented through a variety of sessions including seminal plenary lectures and didactic workshops where international experts are invited to deliver lively discussion sessions on sub-speciality topics. Cutting-edge research updates comprise more than 50% of the program and are delivered through the oral communication, short oral and poster sessions.
Who can attend?
Individuals around the globe concentrated on finding out about the Gynecology & Obstetrics Practice and its advances; this is a good opportunity to go to attend the Conference and achieve the biggest collection of members from the Medical Health sector.
Target Audience:
DEAN, Doctors, Research associates, Professors, assistant professors, associate professors, head of the departments, CEO of companies, related societies members, related association members and Students from Academia in the study gynecology and obstetrics filed.
Target Audience:
Industry 30%
Academia 40%
Others 30%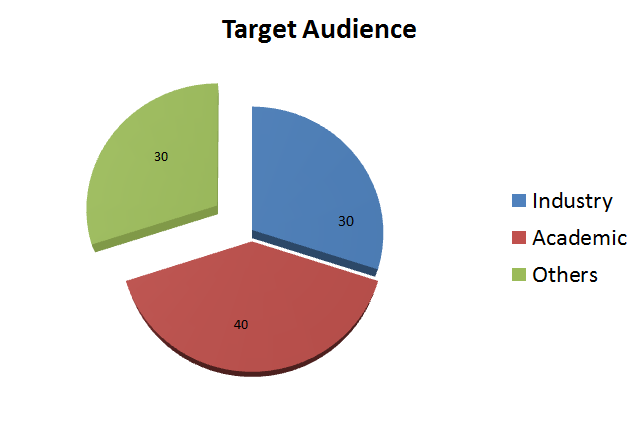 A Unique Opportunity for Advertisers and Sponsors at this International event:
http://gynecology-obstetrics.conferenceseries.com/sponsors.php
Major Gynecology and Obstetrics Associations around the Globe:
· International Union for the Scientific Study of Population (IUSSP).
· National Abortion Federation (NAF).
· Religious Institute on Sexual Morality.
· American College of Nurse Midwives.
· National Association of Nurse Practitioners in Women's Health (NPWH).
· Physicians for Reproductive Health.
· Sexuality Information and Education Council of the United States.
· National Organization for Women.
· International Center for Research on Women.
· Nyanza Reproductive Health Society Kenya.
· Nyanza Reproductive Health Society, Kenya.
· ASRM - American Society for Reproductive Medicine.
· Association for Fertility and Reproductive Health (AFRH), Nigeria.
· American Association of Pro Life Obstetricians and Gynecologists
· American Gynecological & Obstetrical Society
· World Medical Association
· Dubai Health Authority
Related Associations and Societies in Gynecology and Obstetrics.
· American Association of Gynecologic Laparoscopists.,
· American College of Obstetricians & Gynecologists,
· The Association of Physician Assistants in Obstetrics and Gynecology,
· Association of Professors of Gynecology and Obstetrics,
· Central Association of Obstetricians and Gynecologists,
· Gynecologic Cancer Foundation,
· Society of Gynecologic Oncologists (SGO),
· The Asian Pacific Council on Contraception,
· The European Society of Contraception and Reproductive Health,
· German Foundation for World Population,
· The International Federation of Pediatric and Adolescent Gynecology,
· International Planned Parenthood Federation,
· International Urogynecological Association (IUGA),
List of Top Hospitals in Japan:
· Japan Baptist Hospital
· Kanagawa Cancer Center
· Nagoya Memorial Hospital
· Sumitomo Hospital
· Osaka University Hospital
· Nagoya City West Medical Center
· Kokuritsu International Medical Research Center Hospital
· St. Luke's International Hospital
· Naval Hospital Yokosu
· Sakakibara Heart Institute
· Kameda General Hospital
· Sagara Hospital
· Kyushu University Hospital
· Mazda Motor Corporation Hospital
· Seirei Hamamatsu General Hospital
List of Hospitals in Tokyo:
· Keio University Hospital
· Tokyo Medical University Hospital
· University of Tokyo Hospital
· St. Luke's International Hospital
· Jutendo University Hospital
· International Catholic Hospital (Seibo Hospital)
· NTT Medical Center Tokyo
· Jikei University School of Medicine Hospital
· National Hospital Organization Tokyo Medical Center
List of Top Hospitals in World:
· Ayr Hospital
· Babinda Hospital
· Baillie Henderson Hospital
· Bamaga Hospital
· Banana District Community Health Service
· Baralaba Multipurpose Health Service
· Barcaldine Hospital
· Beaudesert Hospital
· Biggenden Health Service
· Biloela Hospital
· Blackall Hospital
· Blackwater Multipurpose Health Service
· Bollon Bush Nursing Service
· Boonah Health Service
· Boulia Primary Health Care Centre
· Bowen Hospital
· Brisbane Youth Detention Centre
· Bundaberg Hospital
· Burketown Health Centre
· Caboolture Hospital
· Cairns Hospital
· Cairns North Community Health
· Caloundra Health Service
· Camooweal Health Centre
· Capricorn Coast Hospital and Health Service
· Central Queensland Rural Outpatient Clinic
· Charleville Hospital
· Charters Towers Health Centre
Glance at revenue of Ob Gyn's:
An Obstetrician / Gynecologist (OB/GYN) earns an average salary of $195,693 per year in USA. In 2016, obstetricians and gynecologists earned a mean income of $220,000, somewhat less than in the previous year. About 20% of ob/gyns earned $350,000 or more, slightly more than in last year's survey. Some 19% earned $100,000 or less, up from about 12% the previous year. Solo practitioners earned 93% of income from clinical practice compared to 89% for group practice ob-gyns. Those in group practice derived significantly greater percentages of income from teaching/research and other professional activities.
Zion Market Research has published a new report titled "Gynecological Devices Market by Surgical Device (Gynecological Endoscopy Devices, Endometrial Ablation Devices, Fluid Management Systems and Female Sterilization and Contraceptive Devices) by Hand Instrument (Vaginal Speculum, Tenaculum, Curettes, Trocars, Biopsy Forceps and Others) and by Diagnostic Imaging System (Ultrasound and Mammography) Global Industry Perspective, Comprehensive Analysis and Forecast, 2015 -2021".According to the report, the global gynecological devices market accounted for around USD 14.50 billion in 2015 and is expected to reach approximately USD 19.50 by 2021, growing at a CAGR of around 5.0% between 2015 and 2021.
A gynecologist is a general practitioner with special learning and proficiency in the field of women's' health and reproduction. A gynecologist has the appropriate medical, surgical and obstetrical knowledge and skills for the prevention, diagnosis, and management of a wide range of conditions that affect women's reproductive and gynecological health. The specialty of obstetrics and gynecology can be divided into two parts. Obstetrics concentrates on the care and treatment before and during pregnancy, and after the child is born. Gynecology is concerned with the treatment of diseases and disorders of the female reproductive system. Various devices such as gynecology endoscopy device, ultrasound sonography, and vaginal speculum are some of the common devices used during obstetrics and gynecological practice.
The global market for gynecological devices features a highly fragmented vendor landscape, with the leading three companies, namely Olympus Corporation, Boston Scientific Corporation, and Cooper Surgical accounted for over 25.5% of the market's overall revenue in 2014, observes Transparency Market Research in a recent report. Although regional players and new vendors account for a significant share in the market's revenue presently, entry barriers are becoming more intense for new companies. Increasingly stringent, slow, and expensive regulatory approval procedures are increasing operational challenges for companies in the market.
Transparency Market Research estimates that the global gynecological devices market will exhibit a healthy CAGR of 4.8% over the period between 2015 and 2023 and rise from a valuation of US$14.9 bn in 2014 to US$22.5 bn by 2023.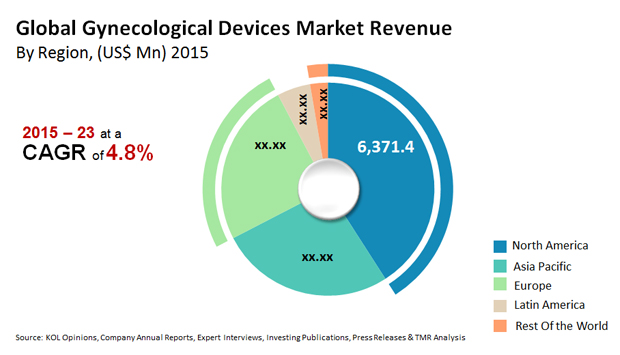 Some of the key factors driving the global market for gynecological devices are the rising prevalence of a number of gynecological disorders, the increased adoption of noninvasive or minimally invasive gynecological procedures, and the increase in healthcare expenditure across emerging economies. Owing to the presence of a large number of companies and the intense level of competition in the market, focus on R&D activities and the increased energy directed towards the introduction of innovative devices are leading to the development of highly advanced and reliable noninvasive devices for the gynecological devices sector.
Increase in healthcare expenditure, especially across emerging economies in regions such as Asia Pacific and Latin America, is also providing significant boost to the overall demand for gynecological devices in the region. Continued efforts aimed at the improvement of the healthcare infrastructure in these regions will also boost the demand for advanced gynecological devices in the near future.
This analytical overview of the market is based on a recent Transparency Market Research report, titled "Gynecological Devices Market (Surgical Devices (Gynecological Endoscopes (Hysteroscopes, Colposcopes, Resectoscopes, Laparoscopes, and Endoscopic Imaging Systems), Endometrial Ablation Devices (Hydrothermal Endometrial Ablation Devices, Radiofrequency Endometrial Ablation Devices, Balloon Endometrial Ablation Devices, Cryoablation, Microwave Ablation, and Laser Ablation), Female Sterilization and Contraceptive Devices (Permanent Birth Control Devices and Temporary Birth Control Devices), and Gynecologic Fluid Management Systems; Hand Instruments (Vaginal Speculum (Disposable and Reusable), Tenaculum, Curettes, Trocars, and Biopsy Forceps); Diagnostic Imaging Systems (Ultrasound and Mammography); and Gynecological Chairs (Fixed Height and Adjustable)) - Global Industry Analysis, Size, Share, Growth, Trends and Forecast 2015 - 2023."
Global Gynecological Devices Market, by Geography
· North America
o U.S.
o Canada
· Europe
o U.K.
o Germany
o Rest of Europe
· Asia Pacific
o China
o Japan
o Rest of Asia Pacific
· Latin America
o Brazil
o Mexico
o Rest of Latin America
· Rest of the World
TOKYO : When it comes to women, Japan is an outlier compared with other highly industrialized countries: It lags regarding women's roles in politics and business, in the salary gap between the genders and in obstetrics and gynecology.
Less than 3 percent of Japanese women use pain relief during delivery, according to the Ministry of Health and Welfare, compared with 50 percent in the United States and at least 75 percent in France. And only about 3 percent of Japanese women undergo amniocentesis or other genetic screening during prenatal exams, compared with 64 percent in California, according to Eriko Sase, an adjunct professor at the University of Tokyo's Graduate School of Medicine.
Often, Japanese doctors don't even mention genetic tests or pain relief. At least one hospital in Tokyo has gone so far as to impose a "no epidural" policy, presumably as part of its emphasis on natural deliveries.
Industry Insights
The global gynecology devices market size was valued at USD 10,984.1 million in 2014. Introduction of minimally invasive procedures such as laparoscopy and high definition imaging devices such as 3D endoscope is primarily boosting market growth. In addition, rising prevalence of diseases, such as uterine fibrosis andsexually transmitted diseases (STDs), associated with female reproductive organsare anticipated to support market growth during the forecast period.
According to the United Nations, the global female population accounted for more than 3.64 billion in 2015. Every woman visits a gynecologist at least once in her lifetime either for pregnancy or other complications related to menstrual cycle. The growing number of patients is likely to drive market growth during the forecast period.
Moreover,healthcare agencies are now promoting routine-checkups for early cancer detection and other gynecological conditions. For example, The American Cancer Society recommendsannual breast cancer screening with mammography for women aged between 40 to 44 years. Increase in routine check-ups has helped these devices gain usage rates.
Furthermore, the introduction of user friendly and technically advanced products has augmented the adoption of surgical procedures such as laparoscopy, ablation, endoscopy, and female sterilization. To conclude, the availability of technically advanced products coupled with rising adoption of surgical procedures is steering the global gynecological devices market towards experiencing swift growth.
Gynecological Devices Market, By Product, 2012 - 2022 (USD Million)
Segment Insights
Based on the product type, the global market is segmented into surgical devices, hand instruments, and gynecological imaging devices. Surgical devices captured largest market share in 2014 owing to rising use of endoscopy devices and female contraceptives.As a result, surgical devices segment was valued at USD 8,720.6 million in 2014 and is expected to reach USD 17,073.3 million by2022.
Availability of technically advanced products is resulting in widening of the application of endoscopes in gynecology. Hysteroscopes, laparoscopes, resectoscopes, and endoscopic imaging are the common applications of endoscopes in gynecology. Growth in hysterotomy, hysterectomy, and laparoscopy procedures is pushing the growth of the endoscope market. Furthermore, user-friendly products are fueling the adoption of these devices since, these are minimally invasive procedure enabled.Thus, endoscopy accounted for the largest market share of around 54% in 2014.
Hand instruments accounted for the smallest market share in 2014 and are anticipated to witnessslow growth during the forecast period. Low product cost and application of these instruments in other surgical methodsalong with gynecology are some major factors anticipated to challenge growth.
Regional Insights
North America dominated the global market with a revenue share of 40.6% in 2014. High adoption rate of advanced technology and the presence of large market players in the region are some factors accounting for its large revenue share. The region is expected to maintain its dominance throughout the forecast period, mainly due to the growth in the number of new detectedcases.
Government and healthcare agencies in North America are promoting routine check-ups to lower mortality rates associated with breast and cervical cancer patients since, early detection increases treatment success rates.
Asia Pacific is anticipated to witness lucrative growth during the forecast period. Growth in the inflow of patients owing to the rapidly booming medical tourism industry is expected to serve as the highest impact rendering driver.
Moreover, the presence of a large pool of skilled professionals, cheaper labor cost, and advance manufacturing facilities haveresulted in the shifting of manufacturing facilities to China and India. As a result, the overall manufacturing cost of these devices have reduced. Therefore, manufacturers are now able to offer their products at lower cost.
Competitive Insights
The global market is highly fragmented marked with the presence of many local players. Some leading players operating in the global market include Medtronic plc, Richard Wolf GmbH., Cooper Surgical, Inc., Stryker Corporation, Hologic, Inc., Boston Scientific Corporation, Karl Storz GmbH& Co. KG, and Ethicon, Inc.
Take action to make your OB/GYN practice stand out, overcome the competition, and thrive.
We know it's vital to distinguish your brand and reputation in a way that builds trust and inspires patient and professional referrals. In our experience helping obstetrician-gynecologists market successfully, we've also found that it is increasingly important to reach women in the workplace, to ethically raise your visibility with direct marketing and to extend your presence in the medical community through practice representatives.
So whether you want to market to win more doctor referrals, transition to other areas, overcome marketplace disadvantages, differentiate yourself from the competition or simply get more patients to call you, we're here to help with a customized and successful OB/GYN marketing and advertising plan that works for you.
About Conference :
ConferenceSeriesllc.LTD is esteemed to invite you to join the 5th Asia Pacific Gynecology and Obstetricswhich will be held from August 22-23,Tokyo,Japan which includes prompt keynote presentations, Oral talks, Poster presentations and Exhibitions.
ConferenceSeries llc.LTD Organizes 3000+ Global Events with over 600+ Conferences, 1200+ Symposiums and 1200+ Workshops on Medical, pharma, Engineering, Science, Technology and Business.
Summary: Gynecology Congress 2018 offer a cutting edge program of renowned international speakers, specialist concurrent sessions, short paper and poster presentations attracting over 450 experts in fertility, assisted conception, sexual health and reproductive biology and gynecology field. This conference has been carefully designed to meet the unique educational needs of Gynecologist. In addition to cutting-edge presentations and debates, this year agenda provides you an opportunity to participate in or organize a workshop.
Gynecology Congress 2018 has been designed in an interdisciplinary manner with a multitude of tracks to choose from every segment and provides you with a unique opportunity to meet up with peers from both industry and academia and establish a scientific network between them. We cordially invite all concerned people to come join us at our event and make it successful by your participation.
A comprehensive range of topics will be discussed in the event including gynecology &obstretics, maternal fetal medicine, gynecology oncology, gynecology endocrinology, pediatric and adolescent gynecology, gynecology surgery, Menopause, Midwifery, womens health nursing and practitioner, sexual andreproductive health, urogynecology,operative gynecology,reproductive medicine, Obstetrics & gynecologic nurses and assisted reproductive technology. At Conferenceseries llc. Ltd, It is our ideology to bring maximum exposure to our attendees, so we make sure the event is a blend which covers professionals such as gynecologists, obstetricians, veteran researchers, Women healthcare professionals from academia & industry making the conference a perfect platform.
Why to attend???
With members from around the world focused on learning about Women's Health and its advances; this is your best opportunity to reach the largest assemblage of participants from the Women's Health community. Conduct presentations, distribute information, meet with current and potential scientists, make a splash with new discoveries in the breast cancer treatment and diagnosis, and receive name recognition at this 3-day event. World-renowned speakers, the most recent techniques, developments, and the newest updates in women's health, breast cancer, gynecological issues, pregnancy, Woman Psychology, women disorders are hallmarks of this conference.
Target Audience:
· Women's Healthcare Students, Scientists and professors
· Gynecology surgeons, pathologists
· Women's health Care Researchers
· Healthcare Faculty
· Medical Colleges
· Healthcare Associations and Societies
· Business Entrepreneurs
· Training Institutes
· Software developing companies