Gynecology and Obstetrics Pathology Market Analysis and Reports | France Conference Series
Market Analysis - Gynecology And Obstetrics Pathology 2018
Market report
The French medical device market is the second largest market in Europe and the fifth largest in the world. In 2014, the French market was valued at US$14.5 billion, and growth is expected to be moderate, reaching US$16.5 billion by 2019.
French manufacturers used to control the majority of the domestic medical device industry, but the current market relies increasingly on imports as manufacturing shifts to other parts of the world. Medical device imports amounted to $3.8 billion in 2015, more than 50% of the overall market. However, French device manufacturers are sophisticated and formidable, presenting significant competition to importers selling in France.
Opportunities in the French market: The French medical device market is robust. Manufacturers producing in-demand technologies such as diagnostic imaging equipment, disposable medical products, non-invasive surgical devices, orthopedic implants, intensive care equipment, hygiene products, and other innovative products will find their products are well-received.
Total market demand in France for medical equipment was estimated at USD 37 billion in 2017, with imports accounting for USD 13.1 billion. Imports from the United States were forecast at USD 4.4 billion, or 33.5 percent of total imports. This percentage is expected to remain approximately the same over the next three years, with overall demand growing at three percent annually.
The medical device packaging market in Europe is expected to grow at a CAGR of more than 7% during the period 2018-2022.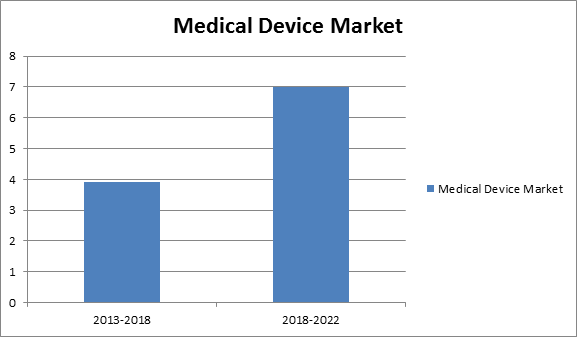 There are approximately 26,000 medical technology companies in Europe. Most of them are based in Germany, followed by the UK, Italy, Switzerland, Spain and France. Small and medium-sized companies make up almost 95% of the medical technology industry.
The population aged 65 and above in the European region is set to rise to 224 million in 2050.Italy has the highest percentage of elderly (above 65 years) population in Europe at 22%.
Causes of Death by Major Disease Areas In Europe.
Data Source: Eurostat, data relate to year 2014 (non-disease directly related causes of deaths: EFPIA calculations), May 2017
The impact of the major NCDs (diabetes, cardiovascular diseases, cancer, chronic respiratory diseases and mental disorders) is equally alarming: taken together, these five conditions account for an estimated 86% of the deaths and 77% of the disease burden in the Region.
As per the 2017 report Non communicable diseases account for 80% of healthcare cost in Europe but only 3% of health budget are spent on disease prevention. There is high demand for disease prevention programs and health insurance market.
Gynecology and Obstetrics Pathology 2018 is a world class conference, where renowed international speakers, specialists will take concurrent sessions of infertility, assisted contraception, reproductive medicine, latest innovation in the field of gynecologic and obstetrics pathology.
The conference has been carefully designed so as to acknowledge the various recent researches going on in the field of gynecologic pathology and obstetrics. In addition to the paper presentations, the conference will provide its attendees to attend sessions of presentations and debates, workshops and symposiums as well as poster presentations. This conference on Gynecology and Obstetrics Pathology 2018 will deal with various tracks from the different fields of Gynec Pathology. The congress provides you with an unique opportunity to meet up with peers from both industry and academia. We co-ordinally invite all concerned people to come and join us at our event and make it a successful one by your esteem participation.
A vast array of topics will be discusses in the congress which includes Pre & Post Partum Care, Gynecologic Oncology, Urogynecology, Contraception, Reproductive Endocrinology and Medicine, Cervical Cancer, Latest Innovation in Gynecological Pathology and Breast Disease & Management. At Conference series, it is our ideology to bring maximum exposure to our attendess, so we make sure the event is a blend which covers professionals such as gynaecologists, obstetricians, midwifes, nurses, pathologists, veteran researchers, women healthcare professionals from academia & industry making the conference an enriching valley of information and experience.