Healthcare Informatics Market Analysis and Reports | USA Conference Series
Market Analysis - Healthcare Informatics 2017
Revenue Generated by Healthcare IT Industries globally:
Healthcare Informatics market is poised to reach USD 228.7 Billion by 2020, growing at a CAGR of 13.4% during the forecast period of 2015 to 2020. The healthcare provider solutions segment is anticipated to grow at the prominent compound annual growth rate i.e. (CAGR) of 16.4% during the forecast period. This part is further classified into clinical solutions and non-clinical solutions. Non-clinical solutions considered for the largest share of the global healthcare informatics market in 2014. Nevertheless, the clinical solutions segment is assured to grow at the highest CAGR of 19.8% in the forecast period. The Information Technology infrastructure management services part accounted for the largest share of 48% of the global healthcare informatics market in 2014. This part is projected to reach USD 23,489.0 million by 2020, growing at a CAGR of 7.6% during the forecast period.
National Funds Allotment to Healthcare Informatics Research in world:

Healthcare Informatics investment in more than 30 nations including the majority of the world's most developed economies (but excluding Brazil, Russia, India or China), found stark contrasts between health costs in the United States and those of other nations. According to report, in 2012, the average of a list that includes, for example, the UK, France, Germany, Mexico, Canada, South Korea, Japan, Australia and the U.S., spent 9.3% of GDP on health care, unchanged from the previous year. The highest figures in this study were in America at 16.9% of GDP, The Netherlands at 11.9%, France at 11.6%, Switzerland at 11.4%, Germany at 11.3%, Austria at 11.1%, Denmark at 11.0% and Canada at 10.9%.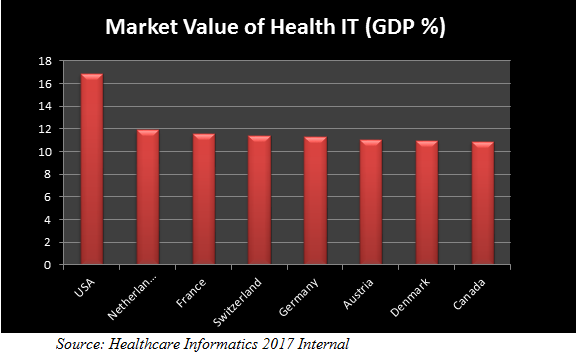 Investment on Healthcare expenditure around globe:
Total health care expenditures around the world are difficult to determine, but $6.5 trillion would be a fair estimate for 2014. That would place health care at about 8.2% of global GDP, with expenditures per capita about $903. This $6.5 trillion breaks down to approximately $3.0 trillion in the U.S., $2.7 trillion in non-U.S. Clearly, there is vast disparity in the availability and cost of care among nations, as there is with personal income and GDP. Health care spending per capita in the U.S. was equal to about $9,500 in 2014. Globally, the total prescription drug market was over $12.5 trillion in 2020.
Investment on Healthcare expenditure in USA:
Health care costs continue to rise in the U.S. and throughout the developed world. Total U.S. health care expenditures were estimated to be $3.09 trillion in 2014, and are projected to soar to $3.57 trillion in 2017.The health care market in the U.S. in 2014 included the major categories of hospital care ($959.9 billion), physician and clinical services ($618.5 billion), dental services ($122.4 billion) and prescription drugs ($290.7 billion), along with nursing home and home health care ($248.5 billion). Registered U.S. hospitals totaled 5,723 properties in 2012, according to an American Hospital Association survey, containing 920,829 beds serving 36.1 million admitted patients during the year.
Major Healthcare Informatics Associations in USA
AVI- Association for Veterinary Informatics
Harvard Medical School
Johns Hopkins University
Stanford University
The University of Texas Health Science Center at Houston
University of Utah
Major Healthcare Informatics Associations around the Globe:
ACHI - The Australasian College of Health Informatics
AHIEC - The Australian Health Informatics Education Council
ATHS - Australasian Telehealth Society
AVI- Association for Veterinary Informatics
BCS Health - British Computer Society Health
BMIA - Belgian Medical Informatics Association
COACH - Canada's Health Informatics Association
CNIA - Canadian Nursing Informatics Association
EFMI- European Federation for Medical Informatics
HISA - Health Informatics Society of Australia
Industries Associated with Healthcare Informatics Research around the Globe:
AAC Holdings, Inc.
Abbott Laboratories
AbbVie Inc.
Abeona Therapeutics Inc.
ABIOMED, Inc.
Acadia Healthcare Company, Inc.
Adcare Health Systems
Adeptus Health Inc.
Akebia Therapeutics, Inc.
Aldeyra Therapeutics, Inc.
Walgreens Boots Alliance, Inc.
Health Net Inc.
Healthcare Services Group, Inc.
HealthSouth Corporation
DISCLAIMER:
The information developed in this report is intended only for the purpose of understanding the scope of hosting related international meetings at the respective locations. This information does not constitute managerial, legal or accounting advice, nor should it be considered as a corporate policy guide, laboratory manual or an endorsement of any product, as much of the information is speculative in nature. Conference Organizers take no responsibility for any loss or damage that might result from reliance on the reported information or from its use.