Hospice Market Analysis and Reports | Belgium Conference Series
Market Analysis - Hospice 2020
Summary
Hospice Care is Special type of Medical care that focuses on the Treatment of a Chronically ill, terminally ill or seriously ill patient's pain and symptoms, and attending to their emotional and spiritual needs. The Palliative care is interdisciplinary approach to medical and nursing care with a focus on providing relief from the symptoms, including pain, and physical and mental stress at any stage of illness. Globally so many people in need of the Palliative care for their Sevier Diseases with special Medical care. So the Conference gives a importance on the Hospice and medical care.
Conference series are glad to welcome all the attendees, presenters and exhibitors from all over the world to Tokyo, Japan on April 15-16, 2020 for "7th World Congress on Hospice and Palliative Care". We invite you all to share your knowledge and expertise on theme of "New Innovations and Multidisciplinary approach to Palliative Care" with the fellow attendees and presenters.
Scope and Importance
Hospice and Palliative Care is very necessary for the person who has a serious condition that may result in physical, psychological, social, or spiritual distress from the disease process or treatment. Palliative care is not reserved for the people in End of life care and it's mainly for the people improve quality of life, decrease depressive symptoms, and increase survival time. The U.S new Report shows that the growth is observed in the number of hospital palliative care teams: 72% of U.S. hospitals with fifty or more beds report a palliative care team and one-fifth of community hospitals have palliative-care programs. So many people are suffering from the serious Disease but only the few people getting the palliative care facilities. The Every person has to know about the importance of the palliative care to get Quality Life
Palliative care in Europe
Palliative care in the context of advanced disease and end-of-life care in the final months and weeks of life represent the last phase of health and social care for citizens before their death. In 1967 Cicely Saunders founded St Christopher's Hospice in South London with focusing on treatment for serious ill people.
To develop the palliative care in 1988 European countries formed first European Association for Palliative Care (EAPC), which came into being in Milan with 42 founding members, and which by 2005 represented the interests of 50,000 health care workers and volunteers across 40 countries
This new field of palliative care helped define, from a clinical point of view, the needs and problems of the terminally ill patient. The aims of palliative care and the elements to be addressed are broadly agreed by experts in the field
Attending to physical, psychological, social, spiritual and practical expectations and needs;
Providing support to the family though loss, grief and bereavement
Preparation for, and management of, the dying process and death
World Health Organization Statistics
According to the World Health Organization (WHO) the definition of the palliative care is "An approach that improves the quality of life of patients and their families facing the problems associated with life-threatening illness, through the prevention and relief of suffering by means of early identification and impeccable assessment and treatment of pain and other problems, physical, psychosocial and spiritually." The WHO Report says that every 40 million people need palliative care and 78% of them people live in low- and middle-income countries. Only 14% of people receiving the palliative care in world wide.
The majority of adults in need of palliative care for chronic Disease cardiovascular diseases (38.5%), cancer (34%), chronic respiratory diseases (10.3%), AIDS (5.7%) and diabetes (4.6%)
In the world more than 25.5 million people die every year with serious Diseases that requires palliative care. For the palliative care the support from the family. Because of that every year the Hospice and palliative care day will celebrate to give the knowledge and importance of palliative care. The palliative care is organized every year October 2nd Saturday. In 2019 October 12 Hospice and palliative care day is celebrated with theme of 'my care, my right'.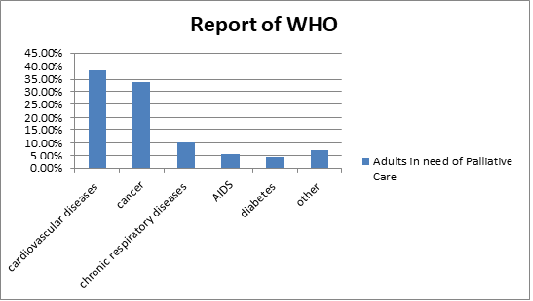 Medicare Growth
Medicare is Health care Society that helps in the Giving the Nursing and palliative care service to the Diabetes and certain illness. Medicare Established in 1965 and it has four parts Where Part A provides inpatient/hospital coverage, part B provides outpatient/medical coverage, Part C provides the offers an alternate way to receive your Medicare benefits, and Part D provides prescription drug coverage. The Survey made on the number of people are benefited from the Medicare the growth was observed from 2015 to 2019. There are 22 million people get benefited from Medicare in 2019 in 2015 its 16.4 million people.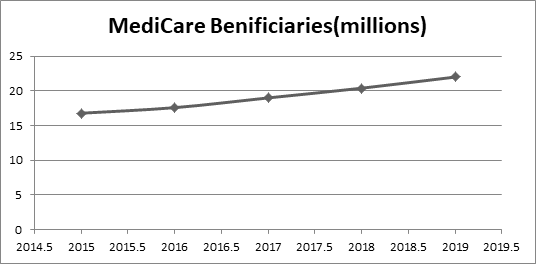 Palliative Care Team Growth
Less than 10% of the general requirement for palliative consideration is being met all inclusive. The quantity of individuals who experience genuine wellbeing related enduring is a lot higher, with an extra 35.5 million individuals requiring some level of palliative consideration outside of end-of-life care More than 80% of these cases are in low-and center pay nations, where access to prompt discharge oral morphine, a fundamental and cheap prescription to mitigate torment, also some other sort of palliative consideration, is seriously inadequate. According to new report in U.S it shows that growth of hospital palliative care teams. In 2007 its 7%, 53% in 2008, 67% in 2015 and in 2019 72% of U.S. hospitals with fifty or more beds report a palliative care team.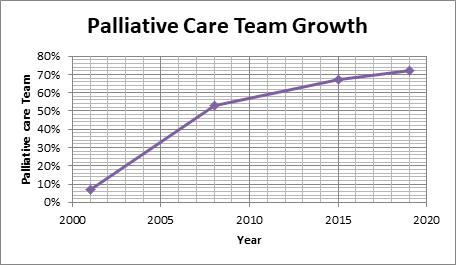 The Centre to Advance Palliative Care (CAPC) is national organization working in increasing in availability of Quality Palliative care to the people who is facing serious illness. The CAPC provides Health professionals with the training, tools and technical assistance necessary to start and sustain successful palliative care programs in hospitals and other health care settings. The CAPC Organization Studied on Palliative medicine to reduce the cost and improve in the quality of the life. They mainly studied on impact of palliative care by giving the models like Impact of Early medicine on the palliative medicine, Impact of Inpatient Palliative Medicine, Impact of Palliative Medicine at End-of-Life, Impact of Outpatient Palliative Medicine, and Consideration of Caregiver Support Metrics. So the Study gives the result of Palliative Medicine and care pathways are impacting professional practice, patient outcomes, quality of care, and length of stay and hospital costs.
ConferenceSeries takes immense pleasure and extend a warm welcome to attend the 7th World Congress on Hospice and palliative care to be held in Brussels, Belgium during October 21-22, 2020.
The Conference mainly focuses on "New Innovations and Multidisciplinary Approach to Palliative Care" brings together renowned experts from the international scientific community to provide an information of integrated Service required for people with life limiting Conditions with latest Research and Challenges in Hospice and Palliative Care and improve the standard life span of the patient.
Hospice and Palliative care is the Special care and Treatment for the Life threatening Diseases and older people. This Conference gives excellent place for clinicians, researchers, surgeons, Physicians and health practitioners similarly as industrial leaders to take part and contribute their views at this Hospice and Palliative Conference.
Hospice and Palliative Care 2020 is anticipating participation from renowned speakers including researchers, and many from leading universities, Doctors, Nursing Professionals, Specialists in Health and Diagnostic Companies and many from leading universities for presenting their research in the form of Keynote speeches, Oral Presentations, Video presentations, Symposia, Workshops, Poster Presentations, E-Posters and Exhibitions covering a range of topics and important issues which may be helpful for us all from the research to the practical implementations.
Target Audience
Palliative Care Specialist
Pediatricians
Health Care community
Clinicians and Researchers
Funders
General public
Geriatricians
Medical Director
Nursing Home Directors and Members
Palliative Care Nurses
Pharmacists
Occupational Therapists
Healthcare Faculty
Social Workers
Community care coordinators
Business Delegates and Industry Professionals
Researchers
Students and others interested in the field of Medical Care
Introduction to Hospice and Palliative Care
Hospice and Palliative Care is specialized medical care provided for people living with serious illness. It focuses on providing relief from the symptoms and stresses of a serious illness and improves the quality of life. The palliative care uses an interdisciplinary team to fully address the needs of patients and families. Nurse practitioners, nurses, social workers and pharmacists work alongside physicians to address psychosocial and spiritual concerns of patients and families in addition to physical symptoms. The main Difference in Hospice and Palliative care is Hospice care is reserved for terminally ill patients when treatment is no longer curative during the last 6 months of life, assuming the disease takes its normal course. Palliative care can be employed while the patient is continuing active treatment through different phases of their life limiting condition.
Hospice has 4 levels of care: routine home care, general inpatient care, continuous care, and respite care. Most hospice care is routine home care, delivered in the patient's residence to ensure comfort and avoid hospitalization. The expansion of primary palliative care delivered by PCPs will greatly promote symptom management and quality of life for patients throughout the course of a life-threatening illness, not just at the end. Palliative care is a resource for anyone living with a serious illness, such as heart failure, chronic obstructive pulmonary disease, cancer, dementia, Parkinson's disease, and many others. Palliative care can be helpful at any stage of illness and is best provided from the point of diagnosis