Hypertension Market Analysis and Reports | Germany Conference Series
Market Analysis - Hypertension 2020
According to Statistics MRC, the Global Stroke Diagnostics and Therapeutics market is accounted for $23,849.39 Million in 2017 and is expected to reach $49,698.68 Million by 2026 growing at a CAGR of 8.5% during the forecast period. Factors such as technological advancement, a growing aging population, and people suffering from diabetes, Hypertension are favoring the market. On the other hand, increasing health expenditure, hypertension and increasing tobacco users are also fueling the market.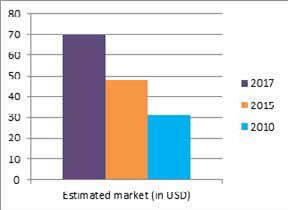 Hypertension is a chronic medical condition in which the arterial blood pressure is elevated to an undesired level. Hypertension is a lifelong disease, which means that a patient may require to take medications every day for the rest of his/her life. Thus, the demand for anti-hypertensive drugs is sustainable and will increase with an increase in the number of target patients. Anti-hypertensive drugs were the second largest therapy area in 2011 with the global sales value of more than USD 40 billion, according to the World Preview 2018 report by Evaluate Pharma.
Some of the key players contributing to the global anti-hypertensive drugs market include Novartis AG, Pfizer, Inc., Johnson & Johnson Ltd, Sanofi S.A., Lupin Limited, Ranbaxy Laboratories Limited, Merck & Co., Inc., Astra Zeneca Plc, and Takeda Pharmaceutical Company Limited.
This research report analyzes this market depending on its market segments, major geographies, and current market trends. Geographies analyzed under this research report include
• North America
• Asia Pacific
• Europe
• Rest of the World
• America
Hypertension congress 2020 mainly aims to provide an prospect to share the knowledge regarding the Hypertension conference among the large number of medical professionals like , Scientists, Professors , Cardiologists, Researchers, Deans Heads, Directors, and Founders or Writers and Employees of the related companies of the Hypertension and Healthcare, Cardiology and related departments, Organizations, Associations, Laboratory members and Young researchers working in the field of hypertension treatment and Healthcare management. This conference mainly focuses on spreading awareness about the challenges in the field of hypertension and Healthcare. This Hypertension Congress or rather all Hypertension related gatherings, cardiology events, and Hypertension Conference will help in frameworks organization, B2B uniting amidst specialists, researchers, and academicians.
Target Audience:
Directors of Hypertension or related Programs or Associations
Heads, Deans and Professors of Hypertension or Cardiology departments
Scientists and Researchers organizers
Doctors
Medical Colleges
Writers
Healthcare professionals
Founders and Employees of the related companies
Clinical investigators
Hospitals and Health Services
Pharmaceutical companies
Laboratory members
Training institutions