Infection Control Market Analysis and Reports | USA Conference Series
Market Analysis - Infection Control 2017
Infection Control Therapeutic Market
The global market for infectious disease treatments was valued at $90.4 billion in 2009. This market is expected to increase at a compound annual growth rate (CAGR) of 8.8% to reach $138 billion in 2014. The largest market share belongs to antibiotic treatments for bacterial and fungal diseases at 53% of the total infectious disease treatment market. Fungal disease treatments will experience a slightly higher compound annual growth rate (CAGR) of 6.2%, from $4.6 billion in 2009 to $6.2 billion in 2014. Viral disease treatments will have the fastest compound annual growth rate (CAGR) of 12.1%, increasing from nearly $45 billion in 2009 to $79 billion in 2014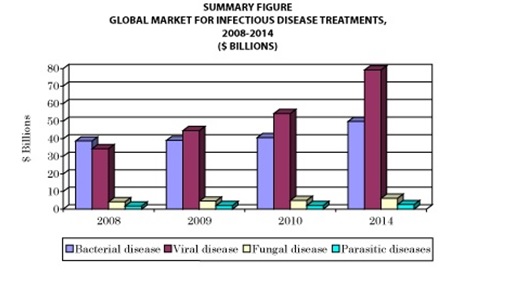 Infection Control Market worth 17.78 Billion USD by 2021
The infectious diseases therapeutic market in US is estimated to grow at a rate of 3.37% between 2014- 2019. As per the records, 25% of deaths are mainly due to infectious diseases globally. Current market trend shows that North America. America highest global market is expected in Asia then followed by the Europe in the global infectious diseases therapeutics market. . The main reasons behind the highest global market of infectious diseases therapeutics market in the above countries is mainly due to large number of patients and due to increase in government funding. Market for infectious disease molecular diagnostics tests includes hospitals, blood banks, reference laboratories. The report "Infection Control Market by Disinfection (Disinfectant, Disinfectors, Endoscope Reprocessors, Wipes, Face Masks) Sterilization (Steam Sterilization, Ethylene Oxide, VHP, E-beam, Contract Services) End User (Hospitals, Lifescience) - Global Forecast to 2021", analyzes and studies the major market drivers, restraints, and opportunities in North America, Europe, Asia-Pacific, Latin America, and Middle East and Africa in the coming years.
Why Chicago
Chicago is the third most populous city in both the U.S. state of Illinois and the American Midwest with an average population around 2.7 million. . The city lies within the humid continental climate zone and with seasonal variations. The city is an international hub for finance, commerce, industry, technology, telecommunications, and transportation. Chicago was listed as an alpha global city by the Globalization and World Cities Research Network. The institutions in and around Chicago consistently rank among the top "National Universities" some of the top ranked universities in Chicago include- North-western University; The University of Chicago; Illinois Institute of Technology; Loyola University Chicago; and University of Illinois at Chicago. Some schools include: Chicago State University; North Park University; Columbia College Chicago; North-eastern Illinois University; Roosevelt University; Saint Xavier University; and Rush University. A lot of scope for research is there in and around Chicago exclusively in the sectors of Science and technology and in the field of medicine. There is also research going on in the areas of banking and finance. Scientists from top universities contribute world class research through the Chicago conferences, workshops and symposiums wherein and professionals from business take part with Great Spirit and add glory to the meetings and workshops organized by OMICS Group International.
Members associated with Infection control
Infection Prevention Society around 2,000 members
The Association for Professionals in Infection Control and Epidemiology (APIC) is the leading professional association for infection preventionists (IPs) with more than 15,000 members
LSHTM_Control of Infectious Diseases has 19 members
Global Public Health is having 106913 members
Worldwide Data
Societies and Associations related to Infection Control
Association for Professionals in Infection Control and Epidemiology (APIC)
Asia Pacific Society of Infection Control (APSIC)
Ho Chi Minh Society of Infection Control (Vietnam)
Indonesian Society of Infection Control
Korean Society of Nosocomial Infection Control(KOSNIC)
Sri Lanka Infection Control Nurses Association
Taiwan Infection Control Society (ICST)
The Infectious Diseases Society of Taiwan (IDST)
Borneo Malaysia Infection Control and Antimicrobial Society Kota Kinabalu,
Infection Control Association of Singapore
Australasian College of Infection Prevention and Control (ACIPC)
Malaysia Infection Control Association
Hong Kong Infection Control Nurses Association (HKICNA)
Universities related to Infection Control
University of Illinios-Chicago
University of Toledo
University of south Florido
University of California, Berkerly
Drexel University
Colombia University, New York
University of Washington
Texas A&M Health Science Centre
Tulane University
Loma Linda University
University of Minnesota-Twin Cities
University of South Carolina
Rutgers University-New Jersy
University of Arizona
With the grand success from the previous relevant annual International conferences, Conference Series LLC is organizing "Infection Control" (Infection Control 2017) scheduled during September 25-26, 2017 in Chicago, USA. Infection Control 2017 brings together the global leaders in infection control and relevant fields to present their research at this exclusive scientific program.
The infection control conference hosting presentations from editors of prominent refereed journals, renowned and active investigators and decision makers in the field of infectious diseases, immunology, microbiology, infection prevention and infection control. Infection Control 2017 Organizing Committee also invites young investigators at every career stage to submit abstracts reporting their latest scientific findings in oral and poster sessions.
Infection prevention and control is required to prevent the transmission of communicable diseases in all health care settings. Infection prevention and control demands a basic understanding of the epidemiology of diseases; risk factors that increase patient susceptibility to infection; and the practices, procedures and treatments that may result in infections. The risk of acquiring a healthcare-associated infection is related to the mode of transmission of the infectious agent (e.g. CDI, SSI, CRE, MRSA, etc.) and the type of patient-care activity or procedure being performed and the underlying patient's host defences.
The conference attains significance when we look at the worldwide deaths due to Infectious Diseases. Tetanus (500,000), Measles (1 million), HIV/AIDS (1 million), Hepatitis B (1.1million), Malaria (2.1million), Diarrhoea (3.1 million), Tuberculosis (3.1 million) and Respiratory Infections (4.4 million).