Infection Control Market Analysis and Reports | USA Conference Series
Market Analysis - Infection Control 2018
Importance and Scope
Infection control refers to policies and procedures used to minimize the risk of spreading infections, especially in hospitals and human or animal health care facilities. The purpose of infection control is to reduce the occurrence of infectious diseases. These diseases are usually caused by bacteria or viruses and can be spread by human to human contact, animal to human contact, human contact with an infected surface, airborne transmission through tiny droplets of infectious agents suspended in the air, and finally by such common vehicles as food or water.
When we look at the worldwide deaths due to Infectious Diseases the conference get significance on some diseases like Tetanus (500,000), measles (1 million), Malaria (2.1million), hepatitis b (1.1million), diarrhoea (3.1 million), tuberculosis (3.1 million), HIV/AIDS (1 million) and respiratory Infections (4.4 million).
Conferenceseries LLC welcomes all the specialists and super specialists, research scholars, industrial professionals and student delegates from biomedical and healthcare sectors to be a part of the esteemed Infection Control-2018. It also catalyses for information exchange and networking between researchers and business entrepreneurs of diverse backgrounds for the advancement of Technology and Research in the field of Infection Control. As this will be the best amalgamation of academia and research involving every aspect of empirical and conceptual thinking in exploring new dimensions in this field. It is open to all types of research methodologies both from academia and industry.
With the grand success from the previous relevant annual International conferences, Conference Series LLC is organizing "Infection Control" (Infection Control 2018) scheduled during September 17-18, 2018 in San Diego, USA. Infection Control 2018 brings together the global leaders in infection control and relevant fields to present their research at this exclusive scientific program.
Who should attend?
• Microbiologists
• Bacteriologists
• Virologists
• Parasitologists
• Mycologists
• Pathologists
• Pharmacists
• Epidemiologists
• Health Care Professionals
• Infectious Diseases Specialists
• Infection Prevention and Infection Control Specialists
Why to attend?
With members from around the world focused on learning about global trends on emerging infectious diseases and its advances in therapeutic and diagnostic market, this is your best opportunity to reach the largest assemblage of participants from the Infectious diseases community. This particular conference conduct presentations, distributes information, conducts meetings with current and potential scientists, make a splash with new drug developments, and receive name recognition at this 3 days event. World renowned speakers, the most recent therapeutic and diagnostic techniques, developments, and the Novel technologies and therapeutic measures for infectious diseases prevention and control are hallmarks of this conference.
Targeted Audience
• Directors, Board Members, Presidents, Vice Presidents, Deans and Head of the Departments
• Infectious Diseases Researchers, Scientists, Faculties, Students
• Infectious Diseases Associations and Societies
• Medical Colleges
• Pharmaceutical Companies and Industries
• Medical Devices Manufacturing Companies
• Drug Manufacturing Companies and Industries
• Laboratory Technicians and Diagnostic Companies
• Business Entrepreneurs and Industrialists
• Training Institutes
• Software Developing Companies
• Data Management Companies
A Unique Opportunity for Advertisers and Sponsors at this International event: http://infectioncontrol.conferenceseries.com/sponsors.php
Infection Control Therapeutic Market
The global market for infectious disease treatments was valued at $90.4 billion in 2009. This market is expected to increase at a compound annual growth rate (CAGR) of 8.8% to reach $138 billion in 2014. The largest market share belongs to antibiotic treatments for bacterial and fungal diseases at 53% of the total infectious disease treatment market. Fungal disease treatments will experience a slightly higher compound annual growth rate (CAGR) of 6.2%, from $4.6 billion in 2009 to $6.2 billion in 2014. Viral disease treatments will have the fastest compound annual growth rate (CAGR) of 12.1%, increasing from nearly $45 billion in 2009 to $79 billion in 2014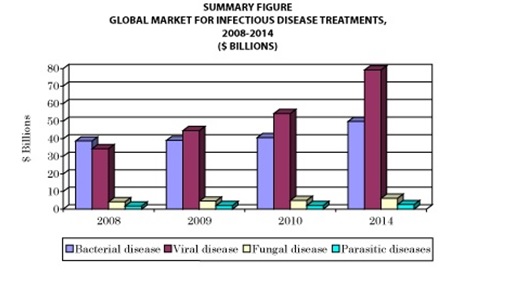 Infection Control Market worth 17.78 Billion USD by 2021
The infectious diseases therapeutic market in US is estimated to grow at a rate of 3.37% between 2014- 2019. As per the records, 25% of deaths are mainly due to infectious diseases globally. Current market trend shows that North America. America highest global market is expected in Asia then followed by the Europe in the global infectious diseases therapeutics market. . The main reasons behind the highest global market of infectious diseases therapeutics market in the above countries is mainly due to large number of patients and due to increase in government funding. Market for infectious disease molecular diagnostics tests includes hospitals, blood banks, reference laboratories. The report "Infection Control Market by Disinfection (Disinfectant, Disinfectors, Endoscope Reprocessors, Wipes, Face Masks) Sterilization (Steam Sterilization, Ethylene Oxide, VHP, E-beam, Contract Services) End User (Hospitals, Lifescience) - Global Forecast to 2021", analyzes and studies the major market drivers, restraints, and opportunities in North America, Europe, Asia-Pacific, Latin America, and Middle East and Africa in the coming years.
Why San Diego
San Diego is the eighth-largest city in the United States and second-largest in California with an estimated population of 1,394,928, located on the west coast of the country near to the border with Mexico with attractive beaches and numerous tourist attractions, the city has been given the nickname 'America's Finest City'. The 1,200 acre Balboa Park is a popular spot for local culture, with many green spaces as well as museums, theaters, and the world-famous San Diego Zoo. The climate of San Diego, California is categorized as a semi-arid Mediterranean climate. It enjoys mild, sunny weather throughout the year. The largest sectors of San Diego's economy are tourism, defense/military, international trade, and research/manufacturing, respectively. San Diego is also home to more than 140 contract research organizations (CROs) that provide contract services for pharmaceutical and biotechnology companies. San Diego has hosted several sports events.
The institutions in and around San Diego consistently rank among the top "National Universities" some of the top ranked universities in San Diego include- University of California, San Diego (UCSD); San Diego State University; University of San Diego, National University, San Diego Mesa College etc., A lot of scope for research is there in and around San Diego exclusively in the sectors of Science and technology and in the field of medicine. There is also research going on in the areas of banking and finance. Scientists from top universities contribute world class research through the San Diego conferences, workshops and symposiums wherein and professionals from business take part with Great Spirit and add glory to the meetings and workshops organized by Conference Series llc. Another attraction of San Diego is its immediacy to Mexico. Because they share an international border, Tijuana and San Diego are grouped together as an international metropolitan area. San Diego has been called "the birthplace of California".
The National Galleries of San Diego: Balboa Park, SeaWorld, San Diego Zoo, Gaslamp Quarter, Seaport Village, Old Town State Historic Park, Point Loma and Cabrillo National Monument, San Diego Museum of Art, Midway Aircraft Carrier Museum, Mission Beach, Sunset Cliffs Natural Park, Mission Basilica San Diego de Alcala.
Members associated with Infection control
1. Infection Prevention Society around 2,000 members
2. The Association for Professionals in Infection Control and Epidemiology (APIC) is the leading professional association for infection preventionists (IPs) with more than 15,000 members
3. LSHTM_Control of Infectious Diseases has 19 members
4. Global Public Health is having 106913 members
Societies and Associations related to Infection Control
1. Association for Professionals in Infection Control and Epidemiology (APIC)
2. Asia Pacific Society of Infection Control (APSIC)
3. Ho Chi Minh Society of Infection Control (Vietnam)
4. Indonesian Society of Infection Control
5. Korean Society of Nosocomial Infection Control(KOSNIC)
6. Sri Lanka Infection Control Nurses Association
7. Taiwan Infection Control Society (ICST)
8. The Infectious Diseases Society of Taiwan (IDST)
9. Borneo Malaysia Infection Control and Antimicrobial Society Kota Kinabalu,
10. Infection Control Association of Singapore
11. Australasian College of Infection Prevention and Control (ACIPC)
12. Malaysia Infection Control Association
13. Hong Kong Infection Control Nurses Association (HKICNA)
Universities related to Infection Control
1. University of Illinios-Chicago
2. University of Toledo
3. University of south Florido
4. University of California, Berkerly
5. Drexel University
6. Colombia University, New York
7. University of Washington
8. Texas A&M Health Science Centre
9. Tulane University
10. Loma Linda University
11. University of Minnesota-Twin Cities
12. University of South Carolina
13. Rutgers University-New Jersy
14. University of Arizona
Infection Control-2018 will be the best platform for all the specialists and super specialists, renowned Scientists, research scholars, students from leading universities and research institutions making this event as a remarkable conference to share experience, foster collaboration across industry and academia, and evaluate emerging technologies across the globe.