Materials Chemistry Market Analysis and Reports | Germany Conference Series
Market Analysis - Materials Chemistry 2020
The field of Materials Science and Chemistry involves wide range of sectors of markets growing respectively like Engineering Resins, Polymer Alloys and blends, advanced batteries and fuel cells, high-performance films, biodegradable polymers and so on.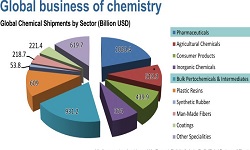 Europe's chemical industry is getting ready to navigate what could be a need much effort in the year 2019. Chemical output in Europe is on course to grow a limited 0.5% to $620 billion in 2019, according to the European Chemical Industry Council, Europe's leading chemical industry group. If there are no major check in progress, production in the German chemical and pharmaceutical industry Europe's largest is anticipated to increase 1.5% in 2019. In 2016, the global market for engineering resins, polymer alloys and blends reached 26.3 billion pounds. With a compound annual growth rate (CAGR) of 5.7%, the market is expected to reach over 27.9 billion pounds by 2017 and approximately 36.9 billion pounds in 2022. In 2016, the global market for advanced battery and fuel cell materials reached $22.7 billion. Growing at a compound annual growth rate (CAGR) of 7.6% from 2017 to 2022, the market is expected to reach $32.8 billion. The global high-performance films market is expected to reach $16.2 billion by 2021 from $11.2 billion in 2016 at a compound annual growth rate (CAGR) of 7.7% from 2016 to 2021. The global market for biodegradable polymers is expected to reach 5.6 billion pounds by 2021 from 2.4 billion pounds in 2016 at a compound annual growth rate (CAGR) of 18.0%
The global market for abrasive products and materials reached $36.6 billion in 2014. This market is expected to reach $37.8 billion by 2015 and $44.2 billion by 2020, registering a compound annual growth rate (CAGR) of 3.2% from 2015 to 2020.
Conference Series organizes 1000+ Global events every year across the globe with support from 1000+ more scientific societies and Publishes 700 Open access journals which contains over 50000 eminent personalities, reputed scientists as editorial board members.
Chemistry Conferences welcome chemical professionals, researchers, professors, scientific communities, delegates, students, business professionals and executives from all over the world to attend the "18th International Conference and Exhibition on Materials Science and Chemistry" which is to be held during May 18-19, 2020 at Berlin, Germany which includes prompt Keynote presentations, Oral talks, Poster presentations and Exhibitions.
Materials Chemistry 2020 which is the primordial chemistry conferences serves as a global platform to discuss and learn about Material Science, Material Engineering, pharmaceutical materials chemistry, biomimetic chemistry, chemical syntheses, characterization and processing of novel materials, nanochemistry, applied materials chemistry, super conducting concepts, polymer chemistry, inorganic materials chemistry, organic materials chemistry, analytical materials chemistry, physical materials chemistry and other basic principles involved in Materials Chemistry.
In the light of this theme, the conference series aims to provide a forum for international researchers from various areas of chemistry, pharmacy, materials science and chemical engineering by providing a platform for critical analysis of new designing, and to share latest cutting-edge research findings and results about all aspects of Materials Chemistry. The current meeting of chemistry conferences will be a multinational gathering and present major areas such as surface enhancement, nanotechnology, polymer science and overall applications.