Materials Congress Market Analysis and Reports | Austria Conference Series
Market Analysis - Materials Congress 2019
Materials Congress 2019
Theme: Exchange of Technological Advances in the field of Materials
Summary:
Materials Science and Engineering is an acclaimed scientific discipline, expanding in recent decades to surround polymers, ceramics, glass, composite materials and biomaterials. Materials science and engineering, involves the discovery and design of new materials. Many of the most pressing scientific problems humans currently face are due to the limitations of the materials that are available and, as a result, major breakthroughs in materials science are likely to affect the future of technology significantly. Materials scientists lay stress on understanding how the history of a material influences its structure, and thus its properties and performance. All engineered products from airplanes to musical instruments, alternative energy sources related to ecologically-friendly manufacturing processes, medical devices to artificial tissues, computer chips to data storage devices and many more are made from materials. In fact, all new and altered materials are often at the heart of product innovation in highly diverse applications.
We invite you, on behalf of the Organizing Committee, to this excellent meeting with great scientists from different countries around the world and sharing new and exciting results in Materials World, which will be held in Austria from June 24-26, 2019 Vienna, Austria. This exciting and informative conference program including plenary lectures, symposia, workshops on a variety of topics, poster presentations and various programs for participants from all over the world.
Importance & Scope:
The field of materials have not only helped the development in different fields in science and technology but also contributed towards the improvement of the quality of human life to a great extent. All this has become possible with the different discoveries and inventions leading to the development of various applications. The core aim of Materials Science 2019 conference is to provide an opportunity for the delegates to meet, interact and exchange new ideas in the various areas of Materials Science.
Why Vienna, Austria?
Vienna is the federal capital and largest city of Austria and one of the nine states of Austria. Vienna is Austria's primary city, with a population of about 1.8 million (2.6 million within the metropolitan area, nearly one third of Austria's population), and its cultural, economic, and political centre. It is the 7th-largest city by population within city limits in the European Union. The city is located in the eastern part of Austria and is close to the borders of the Czech Republic, Slovakia, and Hungary. In 2001, the city centre was designated a UNESCO World Heritage Site. In July 2017 it was moved to the list of World Heritage in Danger. The historic centre of Vienna is rich in architectural ensembles, including Baroque castles and gardens, and the late-19th-century Ringstraße lined with grand buildings, monuments and parks.
Why to attend?
Materials Congress 2019 offers a fantastic opportunity to meet and make new contacts in the field of Materials Science and Engineering, by providing collaboration spaces and break-out rooms with tea and lunch for delegates between sessions with invaluable networking time for you. It allows delegates to have issues addressed on Materials Science by recognized global experts who are up to date with the latest developments in the Materials Science field and provide information on new techniques and technologies. This International Materials Science conference will feature world renowned keynote speakers, plenary speeches, young research forum, poster presentations, technical workshops and career guidance sessions.
Target Audience
Materials Scientists/Research Professors
Physicists/Chemists
Junior/Senior research fellows of Materials Science/ Nanotechnology/ Polymer Science/Biomaterials
Materials Science Students
Directors of Materials Science Companies
Materials Engineers
Members of different Materials Science Associations
Figure 1: Target Audience
Glance at Market of Materials Science:
The global market is projected to reach $6,000 million by 2020 and register a CAGR of 10.2% between 2015 and 2020 in terms of value. The growth in market is estimated to be driven by the increasing demand for aerogel materials from oil & gas and construction applications. The North American region remains the largest market, followed by Asia-Pacific. The Europe market is estimated to be growth at a steady rate due to economic recovery in the region along with the increasing concern for the building insulation and energy savings. The U.S. Bureau of Labour Statistics (BLS) produces annual wage estimates for more than 800 individual occupations. Newly released figures for 2012 put BLS Code 19-2032 (an occupational group encompassing materials scientists) in 82nd place in yearly wages. The group, which includes 7,970 employees across the country, posted an average annual salary of $89,740.
Scientific's index of countries' ability to take advantage of emerging technologies indicates that the US, Germany, Taiwan and Japan have the combination of academic excellence, technology-hungry companies, skilled workforces and the availability of early stage capital to ensure effective technology transfer. Corporate research and private funding were thought to have surpassed government funding figures as far back as 2004. But China will spend US$2.25 billion in nanotechnology research while the US will spend US$2.18 billion. In real dollar terms, adjusted for currency exchange rates, China is only spending about US$1.3 billion to the US's $2.18 billion. US have invested $2.46 billion while China has allotted $2.2 billion.
Figure 2: Nanotechnology Industry Focus
The global market for biomaterials is estimated at $44.0 billion in 2012 and is poised to grow at a CAGR of 15% from 2012 to 2017 to reach $88.4 billion by 2017. The biomaterial polymers market is expected to show the highest growth at a CAGR of 22.1% (2012-2017) due to tremendous ongoing research for the development of biodegradable and bio-compatible polymeric biomaterial and its use in a wide range of applications.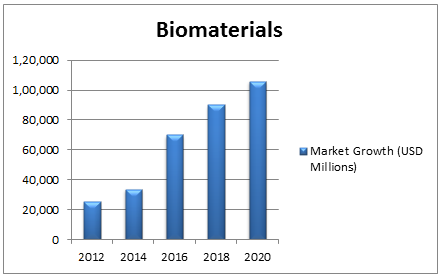 Figure 3: Growth forecast of Biomaterials
Transparency Market Research's new market report, titled 'High Performance Alloys Market - Global Industry Analysis, Size, Share, Growth, Trends and Forecast, 2014 - 2020', provides a detailed description of the high performance alloys market in terms of revenue (US$ million) and volume share (kilo tons) for the forecast period 2014-2020. According to the analysis stated in the report, the global high performance alloys market is expected to rise and reach US$9.09 billion by 2020, from a value of US$6.82 billion in 2013. The report analyses the market with respect to various segments along with the growth opportunities expected in the next six years. In terms of volume, the market stood at 1,110.7 kilo tons in 2013. Overall, the market is expanding at a steady CAGR of 4.2% during the forecast period from 2014 to 2020.
Figure 4: Global high performance alloys market by region (Kilo Tons)
Currently standing at USD 296.2 billion, the ceramics market is forecast to grow to USD 502.8 billion by 2020, as every industry achieves improved manufacturing efficiency along with high renewable energy efficiency. According to global market analysis, in 2014, the Composite materials industry is expected to generate revenue of approximately 156.12 billion U.S. dollars.
Figure 5: Global MMC Market revenue
The silicon photonics market is expected to grow to $497.53 million by 2020, growing at a CAGR of 27.74% from 2014 to 2020. The silicon carbide semiconductor market is estimated to grow $3182.89 Million by 2020, at an estimated CAGR of 42.03% from 2014 to 2020.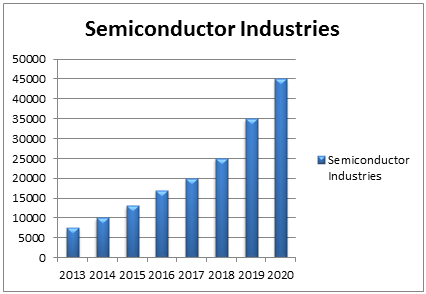 Figure 6: Growth forecast of semiconductor industries. (In Million Dollars)