Microbiology Market Analysis and Reports | Ireland Conference Series
Market Analysis - Microbiology 2017
Microbiology market which earlier accounted for $4.78 billion in 2015 is expected to reach $6.78 billion by 2021, growing at a CAGR of 6.0% in the years 2015 and 2021. Europe holds the second largest share in the global microbiology market, including industrial, food and beverages, antibiotics and vaccines, or the automated technologies with many nations of the EU being strong competitors. Ireland is a leading international competitor for research and development, while continuously accomplishing precise and diversified technological advancements in the field of research and spinning out smarter technological companies across the globe. Ireland continues to grow exponentially in the field of Molecular Diagnostics, Immunodiagnostics, Emerging assays and identification and various other specimen screenings, applications and smart technologies in identification. Ireland currently has world's largest & leading dairy & dairy products industry.
With increasing public awareness and advances in the health care industry, there is a bloom in the global microbiology market, which earlier accounted for USD 4.78 billion in 2015 is expected to reach USD 6.78 billion by 2021, growing at a CAGR of 6.0% in the years 2015 and 2021. This market growth is attributed to the factors of technological advancements, increasing awareness of infectious diseases, antibiotic resistance, re-emergence of the pathogenic microbes, rising prevalence of infectious diseases and emerging outbreaks of epidemics and prevailing endemics, growing expenditure in healthcare across the world besides increase of funding in research, research grants & industrial investments in the field of life science.
In geographical terms, Europe was the second-largest shareholder of the global microbiology market in 2016, making it a prominent market due to factors like acceptance of genome-based diagnostic techniques, supportive government policies, large number of clinical, medical, molecular, immunological & microbial procedures performed across the region with the growing incidence of the headquarters of numerous biotechnology and molecular diagnostic companies in this region.
Microbiological testing of the in-vitro diagnostics industry is used to check contamination or presence of pathogenic microorganisms in a given specimen or a sample and is used in various applications, for instance healthcare - in diagnosis of diseases & infections and/ or sometimes in treatment of tumours and molecular gene therapy, in food and beverage industries for food safety testing, packaging, preservation and transportation, in cosmetics industry for safe testing of cosmetics, in case of allergies or other contaminations, and in environmental monitoring.
Microbiology Market in Ireland:
Ireland is touted as the leading market in Europe for Dairy Microbiology. Apart from being the most important market for Dairy and Dairy products, there are several echelons to the microbiological industry in Ireland, doesn't only employ people from Microbiology background, rather it engages people from different backgrounds of Science and Engineering, having pronounced influence on the fields of agriculture, healthcare, and industry. Industrial and Pharmaceutical Microbiology has been thriving in Ireland since the advent of Leo Laboratories in the year 1959, with the largest industrial biotech campus in the world set up in Dublin. Agricultural Microbiology deals with the genetic engineering of plants, Healthcare industry incorporates drug discoveries via microbes, and Industrial Microbiology comprises the biofuels and new applications of microbes in the environment.
In December 2015, Oculer, an Irish Dairy firm, made the biggest breakthrough for microbiology in a century that can save up to €200m for the industries in detecting Thermoduric Bacteria in dairy- thereby strengthening the leadership of Ireland as the leading Dairy market in Europe.
Euro-Global Microbiology Market:
While, the market in the medical & clinical microbiology is expected to reach USD 5.77 Billion by the year 2021, growing at a CAGR of 11.5% from the current market value of USD 3.35 Billion in 2016. With the advent of new technologies and advances and innovations in the use of older technologies, for instance, PCR is the driving force behind the growth of the microbial diagnostic market. PCR is getting simpler and easier to access, not only in the molecular diagnostics but also in clinical diagnostics. With the automation in the technologies in the clinical diagnostics, the traditional clinical microbiology diagnostics has seen a drastic fall, primarily due to the reduction in the labor, time, chemicals, and other cost pressures, which simply put- has reduced the total "per-test" cost of any diagnostic and health care providers. The highly rising molecular diagnostics market is expected to reach USD 9,333.8 Million by 2021 growing at a CAGR of 9.3% from USD 5,983.5 Million in 2015. The global Bacteriology market was valued at USD 6,727.29 million in 2014 and is expected to grow at a CAGR of 13.03% to reach USD 9,673.38 Million by 2019.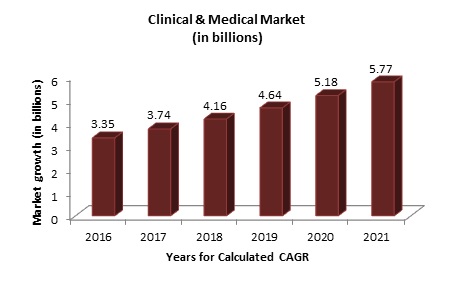 While, in the field of Industrial Microbiology, the markets were valued at $9.9 billion in 2016 and is expected to be valued at $11.4 billion in 2018, growing at a CAGR of 6.1%.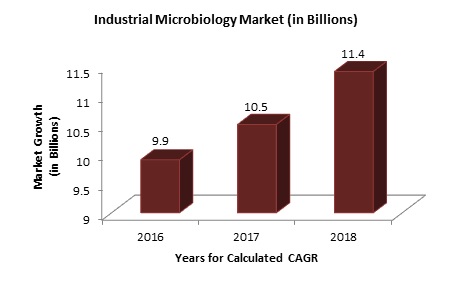 Environmental Microbiology is growing at an unprecedented rate, due to growth and advances in the technology, equipment. These new technologies facilitate simpler and quicker methods of handling samples, besides biosensors is helping to monitor the environment little less laborious and to reduce the time consumed to sample the specimens. With this growth and expansion of the technology, environmental microbiology and its applications have grown three-fold in the past couple of years. With the decreasing costs of the crude oil, although have limited the biofuel research, various governments and environmental agencies have demanded an access to renewable sources of energy and the use of bio-fuels to help save the deteriorating health of the environment. Moreover, the biofuel producers are pivoting towards petrochemicals that are conventionally produced as by-products of the refinery process of these crude materials. Investing in these technologies and environmental microbiology market will make biofuels a practical & sustainable market in near future. Environmental and Industrial Microbiology markets, although are quite different in terms of the products, but the technologies used is common and will continue to benefit the industrial microbiology market simultaneously as they generally are spun off from biofuels.
The global market for environmental microbiology technology, equipment and consumables reached $9.8 billion in 2015 and is expected to grow at a CAGR of 4.6% to reach expected revenue of $12.3 billion by 2020. While the automated technological equipment technology was $3.7 billion in 2015, is expected to reach $4.9 billion by 2020, increasing at a CAGR of 6.1%. While the basic equipment segment was recorded to be $3.6 billion in 2015and is projected to cross $4.1 billion by 2020 at a CAGR of 2.8%.
The microbial environmental monitoring is now a foremost developing segment industrially, with numerous concerns in the segments of industries, research, transportation, public utilitarian works, other utilities and also real estate. Microbes are not only used in food or beverage production or in antibiotic production, rather they are put to a much higher and crucial use- for instance, bioremediation of soils, or in the oil spills caused by off-shore petroleum drilling for oil recovery, in mining, for mineral beneficiation, degradation of xenobiotic compounds, composting, wastewater treatment, electricity generation, mineral leaching, degrading radioactive contamination among numerous and countless benefits.
The FDA (Food and Drug Administration) has set scientific criterions for microbiological testing in food and beverage industrial applications. The industries that manufacture drugs, antibiotics, pharmaceuticals and nutraceuticals, vaccines, cosmetics- topical, hair, skin and nail applications, dairy, food, and beverages etc., mandatorily use these regulatory standards and criteria to ensure that their products are safe for human consumption and application. These microbial tests include analysis of fungi (especially molds and spores), bacteria (E. coli, Salmonella, Listeria, endospores etc.), mycotoxins, endotoxins, allergens, pollen, and air particulates, contaminated water, dust, sweat, cross-contaminated food and any other "ingredient" that are not supposed to be in those products.
The food industry market is thus divided into various segments: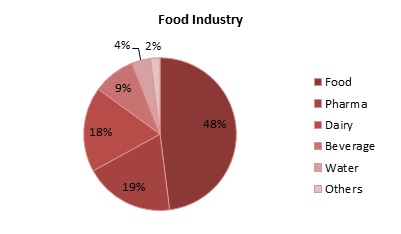 With the awareness and concerns regarding food safety and various ethics followed by people and industries, there is a constant pressure in developing and adopting new technologies in food microbiology. The food safety testing industry is expected to grow at a CAGR of 7.4% in the period of 2016-2021 to reach a value of $18.11 Billion by 2021, from the current $12.67 Billion at 2016.
The global antibiotics and the anti-bacterial market was valued at $41.39 billion in 2016 and is expected to reach $48.42 billion by 2020, at a CAGR of 4.0%. The global market for antifungal therapeutics was valued at $10.7 billion in 2013 and is projected to reach $12.2 billion in 2018, a five-year compound annual growth rate (CAGR) of 2.7%. While coming to the global vaccines market, it is expected to reach $48.03 billion by 2021 from the current $32.24 billion in 2016 growing at a CAGR of 8.3%.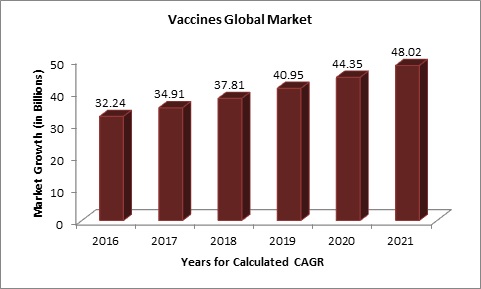 History of Microbiology & the Advances in the Research:
Microbiology has seen lot many ups and downs especially since the time of Aristotle in 4 B.C., where it's existence was denied straight forward till 15th and 16th centuries, where the only handful of people were aware of its existence, thankfully to the invention of high magnifying lenses and microscopes.
History of Microbiology is divided into 4 stages- Discovery, Transition, Golden, and Modern.
Major Societies of Microbiology:
American Society for Microbiology (ASM), Association of Medical Microbiology and Infectious Disease, Australian Society for Microbiology, Belgian Society for Microbiology, Environmental Microbiology & technology Association, European Society of Clinical Microbiology and Infectious Diseases (ESCMID), French Society for Microbiology, German Society for Hygiene and Microbiology, Union for General and Applied Microbiology, Welsh Microbiology Association, World Health Organisation, World Society for Microbiology, International Committee on Food Microbiology and Hygiene, Irish Society of Clinical Microbiology, Italian Association for Clinical Microbiology, Italian Society of Microbiology, Microbiology Society, Nordic Society of Clinical Microbiology and Infectious Diseases (NSCMID), Scottish Microbiology Association, Society for Applied Microbiology, Society for General Microbiology (SGM), Society for Industrial Microbiology and Biotechnology, Infectious Disease Society of Ireland, International Society for Infectious Diseases, International Society for Infectious Diseases.
Major and Key Companies in Microbiology:
Abbott Laboratories Inc., AbbVie, Allergan, AstraZeneca, Baxter International, Bayer, Bio-Rad Laboratories Inc., Bristol-Myers Squibb, Cepheid, GlaxoSmithKline, Johnson and Johnson, Merck & Co Inc., Mitsubishi Tanabe Pharma, Novartis, Novo Nordisk, Pfizer, Roche, Siemens AG, Unilever.
References:
bccResearch, Food Safety Magazine, Markets And Markets, Mordor Intelligence, Strategic Consulting, Transparency Market Research, Grand View Research
For more details contact Event Manager
T: 650-268-9744 | M: 702-508-5200; Ext: 8043
46th World Congress on Microbiology, scheduled on September 18-19, 2017 in Dublin, Ireland offers a premier forum for discussions in this fascinating interdisciplinary field of microbiology which focuses on centralizing & consolidating the discoveries and advances from the fields of molecular biology, medicine, physics, chemistry, mathematics, microbiology, and biochemistry.
Microbiology 2017 follows the motto of cogito ergo sum, which translates to "I think, therefore I am". We thoroughly believe that one learns through experiences and social participations, and that true learning happens in the hallways of conferences & through networking, so we at the Microbiology 2017, focus on the increased networking through discussions of active participants, and changing the "what" to "how"- from the presentation to the discussion to facilitate learning for all.
The theme of the conference, "Perceiving the challenges of the inter-disciplinary world of microbes through Research, Response & Regulation" conveys the message clearly. With 2 days of intense powerful scientific presentations, discussions, workshops, keynotes, special sessions, speaker & poster sessions, and exhibitions we are sure that you will thoroughly enjoy the conference.