Midwifery Congress Market Analysis and Reports | Australia Conference Series
Market Analysis - Midwifery Congress 2017
Summary of Midwifery Congress 2017:-
Midwifery Congress 2017 provides the perfect platform for all the participants which is an interactive and engaging 3-day event: unique in format, content, networking and engagement. The main theme of Midwifery Congress 2017 is "Midwifery- With women and for women". Since midwifery needs are essential for every woman in her life time during child birth and also after, the midwifery associations are growing worldwide. Bearing a child and giving birth is considered as a boon for every woman, in this process a lot of changes takes place in her body where she has to be aware of to maintain her health. Midwives play a crucial role in educating the women how to put up her health and baby's health. They also help in making the delivery painless, stress less as far as possible. Midwives are the Centre of attraction in maternity health care.
Importance of Midwifery:
The midwife is recognized as a responsible and accountable professional who works in partnership with women to give the necessary support, care and advice during pregnancy, labor and the postpartum period, to conduct births on the midwife's own responsibility and to provide care for the newborn and the infant. This care includes preventative measures, the promotion of normal birth, the detection of complications in mother and child, the accessing of medical care or other appropriate assistance and the carrying out of emergency measures. Midwives have an important role in health and wellness promotion and education for the woman, her family and the community. Midwifery practice involves informing and preparing the woman and her family for pregnancy, birth, breastfeeding and parenthood and includes certain aspects of women's health, family planning and infant well-being. A midwife may practice in any setting including the home, community, hospitals, clinics or health units.
Scope of Midwifery Congress 2017: Why to Attend???
A Midwifery conference is an opportunity to meet others within specialty to network and to learn the latest clinical information. It is an opportunity no nurse should overlook. I've always embraced the opportunity to attend nursing conferences and have made a point to encourage others to attend whenever the opportunity arises. Nursing conferences allow nurses of all levels of experience to participate in an area of career and education growth that is not easily found within the structure of the workplace. All too often the floor/ bedside nurse believes that conferences are only for management, while others may think that spending one or more days not earning a pay check may not outweigh the opportunity to clock in some additional overtime. There may be a whole host of other reasons why a nurse would prefer to remain home rather than attending a conference. Despite the plentiful excuses (the top two being cost and time), the benefits far outweigh the costs.
Why Melbourne?
Melbourne is the hub of Nursing Institutes and center for nursing research. In recent years, the number of international students for nursing at Melbourne's universities has risen rapidly. There
are options available for hospital trained nurses to upgrade their qualifications to a Bachelor of Nursing (post registration) in Melbourne.
Melbourne is the capital and most populous city in the Australian state of Victoria, and the second most populous city in Australia. It is a leading financial Centre in the Asia-Pacific region, and ranks among the top 30 cities in the world in the Global Financial Centers Index.
Associations and Societies in Australia:
Australian and New Zealand College of Mental Health Nurses
Australian College of Critical Care Nurses
Australian College of Midwifery Incorporated
Australian Neonatal Nurses Association
Australian College of Midwives
Australian Nursing Council Inc.
Australian Nursing Federation
Nursing Council of New Zealand
Royal College of Nursing Australia
Royal Australian College of Obstetricians & Gynecologists
Market growth of Midwifery Care Research in the last and upcoming ten years:
The past three decades have witnessed a remarkable growth in midwifery development. In both Korea and the United States, nurse scientists are poised to address important issues related to the prevention and management of significant health care problems. The need for greater nursing Care development in the areas of midwifery, self-management, genetics, and child birth, health promotion across the lifespan, technology, and mental health are briefly highlighted. Future research efforts will be enhanced by interdisciplinary collaboration and the creation of international nursing research centers. At the same time, we need to remain cognizant of the importance of mentoring future midwifery Care.
Non-Federal Research Associations and Foundations:
Oncology Nursing Society Foundation
American Nurses Foundation (ANF)
National Institute of Nursing Research (NINR)
Sigma Theta Tau International Honor Society of Nursing (STTI)
Research Positions:-
Research Nurse
Midwives
Certified nurse midwife
Certified registered nurse anesthetist (CRNA)
Clinical nurse specialist (CNS)
Universities in Melbourne:
Australian Catholic University
La Trobe University
RMIT University
Deakin University
Monash University
Victoria University
Australian Catholic University
The University of Melbourne
Nursing Universities Globally:
CMC Vellore College of Nursing
Duke University School of Nursing
Yale School of Nursing
School of Nursing, University of Washington
School of Nursing, University of Michigan
University of Edinburgh Nursing School
School of Nursing Johns Hopkins University
School of Nursing, Midwifery and Social Work at University of Manchester
School of Nursing, University of Pennsylvania
University of Toronto
Karolinska Institute
King's College London (KCL)
University of Manchester
Associations and Societies globally:
Canadian Nurses Association
Indian Nursing Council
Japanese Nursing Association
Nursing Association of Nepal
Nursing Council of New Zealand
Nursing and Midwifery Council
New Zealand Nurses Organization
Philippine Nurses Association
Philippine Nurses Association of United Kingdom
Nursing & Midwifery Council United
Sigma Theta Tau International Honor Society of Nursing
Number of Registered Nurses: 360 (in thousands)
Australia: 257 (in thousands)
Worldwide: 20380 (in thousands)
Midwifes only: 35 (in thousands)
Statistical Representation:-
Global market for Women's Health:
The global market for women's health therapeutics will grow from nearly $33.0 billion in 2015 to nearly $40.6 billion by 2020, with a compound annual growth rate (CAGR) of 4.2% for the period of 2015-2020.
The infertility treatment devices market is expected to reach USD 3,698.92 Million by 2020 from USD 1,822.32 Million in 2015, at a CAGR of 15.21%. Infertility treatment devices are used in assisted reproductive technologies (ART) like in vitro fertilization, intracytoplasmic sperm injection, and surrogacy for the treatment of infertility.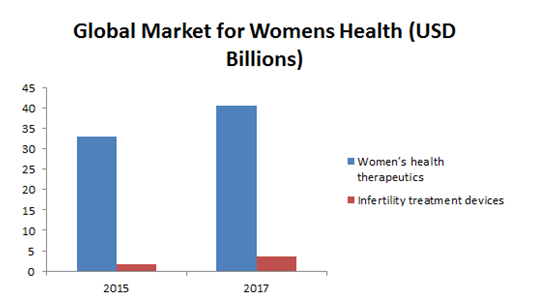 Market Insights:
Globally:
The global long term care market size was valued at USD 705 billion in 2015 and is expected to grow at a CAGR of around 5% over the forecast period. In September 2015, the Housing America's Older Adults-Meeting the Needs of an Aging Population and Harvard Joint Center concluded in their new research that by 2030, the percentage of people aged over 50 in the U.S. is expected to exceed by 70%. Moreover, in January 2016, the AARP declared a free income tax assistance service for people aged 60 and above. The out-of-pocket burden for long term care facilities is high, especially for the nursing care.
USA:
North America dominated the long term care market in 2015 owing to the increasing aging population, government funding, and the implementation of the streamlined regulatory framework. Around 60% of the funding for long term care in the U.S. comes from the Medicaid. By 2050, it is expected that one in five Americans would be at least 65 years of age. The funding is set to increase with the implementation of the Patient Protection and Affordable Care Act.
Asia Pacific:
Asia Pacific is expected to grow at the fastest CAGR of 6.2% over the forecast period owing to the increasing number of people diagnosed with chronic illnesses. Moreover, international care homes are also investing in countries such as India and Japan. For instance, in October 2013, BAYADA Home Health Care, a home healthcare giant based in the U.S. acquired 26% stake of India Home Health Care (IHHC).In India, 65% of the hospital visits can be managed at home. In May 2016, My Care Line raised USD 526,000 for its alliance with Hoffman World. The Spanish Company provides Hoffman methodology of rehabilitation. In India, Portea is one of the market leaders in the home healthcare industry. In September 2015, Portea raised USD 37.5 million for investing in better home healthcare facilities.
Competitive Market Share Insights:
Brook dale Senior Living, Inc.,
Sunrise Senior Living, Inc.,
Emeritus Corporation,
Atria Senior Living Group,
Extendicare, Inc.,
Gentiva Health Services, Inc.,
Senior Care Centers of America,
Kindred Healthcare, Inc.,
Genesis Healthcare Corp.,
Home Instead Senior Care, Inc.
Industry Report - Industry SWOT Analysis Chapter
The Nursing Care Facilities industry is in the mature stage of its life cycle. Over the 10 years to 2021, industry value added (IVA), which measures the industry's contribution to the US economy, is expected to grow at an average annual rate of 3.4%. This growth rate indicates that the industry will expand faster than GDP, which is projected to increase at an annualized rate of 2.2% over the same period. While demographic trends will continue to promote industry growth, nursing care facilities have been part of American communities since the early 20th century.
Industry Analysis & Industry Trends:
Over the five years to 2021, the industry is expected to continue expanding. Continued aging of the population, which is expected to accelerate over the five-year period, will drive industry growth.
Global Skilled Nursing Care Services Market, By Type of Connectivity-
Connected to hospital
Connected to assisted living community
Connected to both hospital and assisted living community
Freestanding
Major regions analyzed under this research are:
Europe
North America
Asia Pacific
Rest of the World
Australia
Bibilography: