Multimedia Market Analysis and Reports | Italy Conference Series
Market Analysis - Multimedia 2018
Summary of Multimedia & Artificial Intelligence Conference
The main objective of Multimedia Conference for 2018 is to congregate scholars from all over the world to present current research and advances in the relevant fields of Multimedia and to foster an environment to exchange ideas and information on all technical and practical aspects. Multimedia 2018 is an interdisciplinary conference serving professionals from academic and industry to discuss the novel trends in Multimedia Technologies & Applications including Animation, Graphics, Virtual Reality, Computer Games, Image processing, Computer Vision & Pattern Recognition, Multimedia Networking & Communication, Machine Learning, Neural Networks and many more latest technologies. Multimedia Applications as well as Artificial Intelligence has been applied to a wide variety of areas including uses in medicine, education, entertainment, security, advertising and many more. The emerging field of Multimedia Conferences seeks to address the challenges and define the future of this cross-disciplinary field.
Scope and Importance
Multimedia Conferences 2018 will be held in Rome, Italy during July 19-21, 2018. Multimedia & Applications Conferences will continue to bring together experts and practitioners from both industry and academia to exchange and share their experiences, present research outcome, seek collaborations and to spark new ideas, with the aim of developing novel projects and exploiting new technology for Multimedia Technologies. It also provides the premier interdisciplinary forum for researchers, practitioners, business delegates and student community to present and discuss the most recent innovations, trends and concerning interactive techniques, practical challenges encountered and the solutions adopted in the field of Multimedia & Artificial Intelligence.
Why Rome?
Rome is the capital and the biggest city of Italy. Rome is identified as a global city and as the 13th most visited city in the world because of its importance in finance, commerce, media, entertainment, arts, international trade, education and tourism. The economy of Rome is largely dominated by services, high-technology companies (IT, aerospace, defence, telecommunications), research, construction and commercial activities (especially banking), and the huge development of tourism are very dynamic and extremely important to its economy. The research work going on in the field is in a good range when compared to the other cities. Lisbon is the fastest growing city in the Italy with an excellent economic growth.
Rome is continuously focusing on Multimedia technology, R&D-oriented, technology-driven manufacturing industry. The Italian economy returned to growth across the last 3 months of the year 2016, making a positive contribution GDP of around 1.6% across 2015, its highest since 2007.
About 61 percent of R&D spending goes to the very pronounced publicly funded and university research landscape. Industry receives about a 27-percent share. Rome is unique in that science as a resource is available to industrial companies in a highly compact manner and offers companies excellent cooperation opportunities. Rome is Italy's top tourist city destination. It is a great city to visit, mixing venues of historical interest with exciting recreation and entertainment opportunities. Alongside its major historical sites, Rome offers a diverse range of top attractions – world famous buildings, museums, city parks, cabaret theatres, festivals and of course plenty of shopping opportunities. Multimedia 2018 Conference at Rome will certainly give a wonderful experience to attendees to explore the beautiful city with gaining knowledge.
Members Associated with Multimedia Research
Computer Scientists, Experts, Academic Professors, Practitioners, Software Professionals, Graphic designers, Animators, Artists, Business delegates, scholars, young researchers, talented student community and researchers in the field of Multimedia, Image Processing, Computer Games, Computer Vision, Pattern Recognition, Virtual Reality and so on.
Academia: 40%
Industry: 50%
Others: 10%
Statistics of Researchers, Academicians and Industrial Professionals working on Multimedia & Artificial Intelligence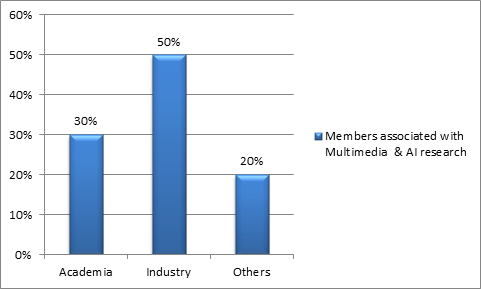 Societies Associated with Multimedia & Artificial Intelligence research
· Italian Association for Artificial Intelligence
· Italian Association for Pattern Recognition (GIRPR)
Major Multimedia Associations in Europe
· European Multimedia Associations Convention
· European Imaging and Sound Association
· European Association of Animation Film
· European Mobile Media Association
· European Association for Computer Graphics
· ACM Europe
· ACM SIGGRAPH Education Committee Europe
· Foundation for Research & Technology
· Digital Europe
· European Association of Software Science and Technology
· European Association of Technology Enhanced Learning
· European Association for the Study of Science and Technology
· Computer and Communications Industry Association
· European Chapter of the Association for Information Science and Technology
· European Association for Biometrics
· European Association for Virtual Reality and Augmented Reality
· European Robotics Association
· European Games Developer Federation
· Interactive Software Federation of Europe
· Casual Games Association
· EADH - The European Association for Digital Humanities
· European Association of Animation Film
Major Multimedia Associations across the globe
International Federation of Multimedia Associations
Broadband Multimedia Marketing Association
ACM SIGMM - the Special Interest Group on Multimedia
Great Lakes Graphics Association
Graphic Community Home
Graphic Arts Association
Motion Graphics Association
Computer Graphics Association
National Computer Graphics Association
International Engraved Graphics Association
Video Graphics Association
International Animated Film Society
Association International du Film d 'Animation
Autodesk Animation User Group Association
Society for Animation Studies
Northeastern Animation Students Association
Japanese Animation Association
Association of Dutch Animation Producers
Automated Imaging Association
Visual Communications Industries Association
Printing and Imaging Association of Georgia
Digital Imaging Association
The Association for Medical Imaging Management
Specialty Graphic Imaging Association
Major Industries Associated with Multimedia & Artificial Intelligence research in Italy
· Antlos
· XMetrics
· ChatSim
· Drexcode
· Unfraud
Major Industries Associated with Multimedia & Artificial Intelligence research in Europe
· Aigency
· Artomatix
· Aylien
· Babylon Health
· BrainWaveBank
· BenevolentAI
· Cleo
· Dataiku
· Darktrace
· Dragonera
· DigitalGenius
· Echobox
· Genomics Medicine Ireland
· Grip
· Knowmail
· Phrasee
· Relayr
· Signal Media
· Seldon
· Stepsize
· Talkwalker
· Tractable
· Onfido
· Yedup
· Zeitgold
Major Industries Associated with Multimedia research across the globe
Multimedia Research Group Inc
Fiserv, Inc.
Live Nation Entertainment
CC Media Holdings
Virgin Media
Yahoo
Cablevision Systems
Liberty Media
DISH Network
Viacom
CBS
Time Warner Cable
Google
News Corp
Amazon.com
Comcast
Walt Disney
Apple
General Electric
Revenue Generated by Artificial Intelligence ($ Millions):
Artificial intelligence (AI) is poised to have a transformative effect on consumer, enterprise, and government markets around the world. An umbrella term that refers to information systems inspired by biological systems, AI encompasses multiple technologies including machine learning, deep learning, computer vision, natural language processing (NLP), machine reasoning, and strong AI.
These technologies have use cases and applications in almost every industry and promise to significantly change existing business models while simultaneously creating new ones. The market intelligence firm forecasts that annual worldwide AI revenue will grow from $643.7 million in 2016 to $36.8 billion by 2025.
The market forecasts span the period from 2016 through 2025 and include segmentation by the six fundamental AI technologies: machine learning, deep learning, computer vision, natural language processing, machine reasoning, and strong AI. Revenue forecasts are further segmented by software, hardware, and services in addition to segmentation by world region.