NanoDelivery Market Analysis and Reports | Japan Conference Series
Market Analysis - NanoDelivery 2018
Summary of Nanodelivery 2018 Conference:
Nano Delivery 2018 is an emerging field of engineering and life sciences that promises to revolutionize medicine and medical technology. There are numerous applications of nanomedicine and Drug Delivery using Nanotechnology in medicinal diagnostics. These include improved imagining of the human (or any) body and detecting tumors that are only a few cells in size.
The idea that pharmaceutical agents should be delivered specifically to diseased cells holds the promise of a variety of benefits. The promise of individualized medicine is that it is efficient. Targeted drug-delivery allows doctors and patients to benefit from small dosages at just the right place and thus from fewer side effects.
Nanomedicine has therapeutic uses as well. Nanotechnology is capable of delivering medication to the exact location where they are needed, hence lesser side effects. It can also be used to destroy harmful organisms or cancer cells by interrupting their division process. Nanoprobes can be made to generate radiation that could kill bacteria, viruses and cancer cells. Nanotechnology also theoretically allows the mimicking of natural biological processes, e.g. repair of damaged tissues or acting as artificial red blood cells to transport oxygen.
The global market for healthcare nanotechnology is expected to reach USD 196.02 billion by 2020 growing at a CAGR of 12.1%, according to a new study by Grand View Research, Inc. Increasing susceptibility of patients towards chronic diseases such as cardiovascular, neurological, oncology and respiratory diseases coupled with increasing R&D spending opening new application avenues is expected to drive market growth over the next six years. Other drivers of this market include increasing government and private sector R&D aid and new players entering the market to bridge the gap between supply and demand.
Importance & Scope of Nano Delivery:
Researchers are developing a nanoparticle that can be taken orally and pass through the lining of the intestines into the bloodsteam. This should allow drugs that must now be delivered with a shot to be taken in pill form. The researchers have demonstrated the technique with lab mice so far.
Researchers are also developing a nanoparticle to defeat viruses. The nanoparticle does not actually destroy viruses molecules, but delivers an enzyme that prevents the reproduction of viruses molecules in the patients bloodstream. The effectiveness of the technique has been demonstrated in lab tests.
About venue:
Tokyo is Japan's capital and the world's most populous metropolis. It is also one of Japan's 47 prefectures, consisting of 23 central city wards and multiple cities, towns and villages west of the city center. The Izu and Ogasawara Islands are also part of Tokyo. Prior to 1868, Tokyo was known as Edo. A small castle town in the 16th century, Edo became Japan's political center in 1603 when Tokugawa Ieyasu established his feudal government there. A few decades later, Edo had grown into one of the world's most populous cities. With the Meiji Restoration of 1868, the emperor and capital moved from Kyoto to Edo, which was renamed Tokyo ("Eastern Capital"). Large parts of Tokyo were destroyed in the Great Kanto Earthquake of 1923 and in the air raids of 1945.
Today, Tokyo offers a seemingly unlimited choice of shopping, entertainment, culture and dining to its visitors. The city's history can be appreciated in districts such as Asakusa, and in many excellent museums, historic temples and gardens. Contrary to common perception, Tokyo also offers a number of attractive green spaces in the city center and within relatively short train rides at its outskirts.An ancient city that has grown organically rather than according to an imposed plan, Tokyo exhibits a layout that differs radically from the grid-like patterns of cities like Washington, D.C., or Chicago. The streets follow no discernible pattern, though they might approximate a spiderweb, with concentric circles like Meiji-dori intersected by radiating streets like Shinjuku-dori and Yamate-dori. The geographical center is arguably Chiyoda-ku, where the Imperial Palace is located, though Chiyodaku, with its abundant public park space, hardly qualifies as Tokyo's "downtown." No other area qualifies as downtown either; instead, the city has several concentrated "centers," such as Shibuya, Shinjuku, and Ikebukuro. Other hubs include Setagaya, the Ginza, and Ueno.
The Tokyo region is Japan's leading industrial center, with a highly diversified manufacturing base. Heavy industries are concentrated in Chiba, Kawasaki, and Yokohama, while Tokyo proper is strongly inclined toward light industry, including book printing and the production of electronic equipment.
More significantly, perhaps, Tokyo is Japan's management and finance center. Corporations with headquarters or branches or production sites in other parts of the country often have large offices in Tokyo, Marunouchi being the location of many of these. The close relationship between government and business in Japan makes a Tokyo location advantageous if not necessary.
To the north of Marunouchi is Otemachi, where Japan's leading financial institutions and insurance companies are located. Otemachi is also home to NTT, the communications giant. Of course, Tokyo is also the site of the Tokyo Stock Exchange, located in Kabutocho.
Tokyo was particularly affected by an economic boom in Japan in the 1980s when the country emerged as a global financial center rivaling Europe and the United States. The economic upswing led to speculation, and especially to real estate speculation. Land prices soared at the time, as did the value of the yen. The economy leveled out by the early 1990s, but Tokyo real estate remained the most expensive in Japan and held a similar rank on a global scale.
Why to Attend??? :
2nd International Conference and Exhibition on Nanomedicine and Drug Delivery - 2018 which will be the greatest gathering devoted to Nanomedicine and Drug delivery.
• Professionals giving a chief specialized gathering to detailing and finding out about the most recent new era advancements created over the span of time alongside examining their applications.
• Events incorporate intriguing issues introductions from everywhere throughout the world and expert systems administration with enterprises, driving working gatherings and boards.
• Meet Your Objective Business area with people from and around the world focused on getting some answers concerning Pharmaceutics and Nanotechnology , this is the most obvious opportunity to accomplish the greatest accumulation of individuals from wherever all through the World.
• Conduct appears, scatter information, meet with current, make a sprinkle with another item offering, and get name affirmation at this event. Generally acclaimed speakers, the most recent techniques, methodologies, and the most breakthrough updates in Pharmaceutics and Engineering are indications of this meeting.
Nanomedicine Market in Japan:
Nanomedicine is a promising sub-segment in medicine that took off in the 1980s with the first generation of developed nanopharmaceuticals. With the use of nanotechnology, drugs can be delivered in ways not experienced so far.U.S. is a strong actor in this field with many patents having commercialized several nanopharmaceuticals.
The global nanomedicine market was valued at US$50.1 billion in 2011 and is projected to grow to US$96.9 billion in 2016. The share of nanomedicine to the total global pharmaceutical market is estimated at 5.3 percent in 2011 indicating its niche character presently.
In Japan, for various reasons, the nanomedicine market size in terms of the total market is much smaller. A rough estimate shows that the share is between 1 to 2 percent corresponding to approximately US$1 to 2 billion. A limited number of approved Japanese nanodrugs together with a long time until approved foreign products entered the Japanese market have seemingly slowed the market expansion.
Japan = World's 2nd largest pharmaceutical market!
Japan is the 2nd largest pharmaceutical market in the world, marking JPY 10 trillion (USD 84.4 billion) in ethical drug in 2016.
Nikkei Stock Average has been continuously increasing since mid October, 2016.
The government is to ease the regulations to develop new medicines for intractable diseases by shortening 5 years of drug development time.
Japan hugely depends on imported pharmaceutical products. The annual import value in Japan was JPY 1.94 trillion (USD 16 billion) in 2015 compared to the export value of JPY 0.32 trillion (USD 2.7 billion).
Japan's pharmaceutical industry is the world's second largest market, after U.S., valued at US$112.1 billion in 2012 or 11.6 percent of the world market. Historically, the market has been protected from foreign competition. These days, however, deregulation has prompted investment from abroad and increased the presence of foreign companies. The pharmaceutical industry is one of the few industrial sectors in which Japan has a trade deficit. Japan imports more than two times what it exports. The rapid aging of the population and the weak global competitiveness of domestic companies are contributing factors to the trade deficit.
Japan Nanomedicine Market Size:
There is no market information available on the size of Japan's nanomedicine market published by any of the large Japanese market research companies. Table 2 below tries to estimate the market size. The global nanomedicine market was estimated to be about 5 percent of the global pharmaceutical market in 2010 and 2011. In case of Japan, this ratio is much lower compared to the global nanomedicine market. A rough estimate indicates that the market size was approximately 1-2 percent of the Japanese pharmaceutical market in 2011-2012, or roughly between US$1 billion – US$2 billion. The drug lag of imported nanopharmaceuticals is one cause of this. Nanomedicines have not been defined in Japan and are regulated within the general framework of the Pharmaceutical Affairs Law (PAL) on a product-by-product basis .
Approved Nanopharmaceutical Products by Application:
As there is no specific definition for drug and device (nanocarrier) combinations, they are regulated as drugs or medical devices according to their main function or purpose.
Pharmaceuticals are classified as nanomedicine by their sizes, i.e. materials in the submicron range.Information on marketed nanopharmaceuticals in Japan comes from various sources including "Current Initiatives in Japan for Nanomedicines", Kumiko Sakai-Kato, Toru Kawanishi, 2011, National Institute of Health Sciences (NIHS) and Ministry of Health, Labour and Welfare (MHLW) .
Unit: USD Billion Source: Japan Pharmaceutical Manufacturers Association "Data Book 2016"
| | | | |
| --- | --- | --- | --- |
| Trade name | Technology | Compound | Company |
| Ropion | Lipid emulsion | Flurbiprofen | Kaken (JPN) |
| Visudyne | Liposome | Verteporfin | Novartis |
| Zevalin | Antibody Conjugates | Zevalin | Bayer |
| Somavert | PEGylated protein | Pegvisomant | Pfizer |
| Emend | Nanocrystal | Aprepitant | Merck |
| Abraxane | Polymeric Nanoparticles | Paclitaxel | Abraxis |
Government Pushing for Change:
Order to reduce the time span from discovery and innovation to commercialization, the importance to establish open user facility networks to promote the integration of dissimilar fields and academic-industry collaboration is emphasized.
It is apparent that the government is aiming at more concrete and speedy results for R&D. Issue-driven innovation based on "exit-oriented" R&D is targeted to impact the competitive power of related industries.
A report by the Japan Science & Technology Agency titled "Japan's New Science and Innovation Policy – Beyond the Boundaries for Innovation", published in 2016 (50) lists up the time span for selected target applications of nanomedicine, such as:
Molecular imaging (2015-2020)
Integrated system of drug delivery, diagnosis and treatment (2015-2020)
Implant devices for diagnosis and treatment (2020-2030)
Nano-cell surgery (2020-2030)
3D-imaging in cells (2020-2030)
These are quite ambitious targets showing the directions where R&D will be focused.
In addition to the latest basic plan, there are other signals that the government is increasingly prioritizing innovative medicine. For instance, The Ministry of Health, Labour and Welfare will jointly with the European Union (EU) promote the development of nano-based block copolymer micelles. Together with European Medicines Agency (EMA) the ministry has released a reflection paper (February 2013) emphasizing that such micelles are able to preferentially accumulate in solid tumors (51).
Nanomedicine – Research and Development in Japan:
University of Tokyo
Hokkaido University
Osaka Prefecture University
Osaka University
Tohoku University
National Institute for Materials Science
The Japanese Nanomedicine Industry:
Nanomedicine start-ups and small-medium enterprises have driven the innovation process, not only in US and Europe but also in Japan. The commercialization of nanopharmaceuticals have basically followed three types of business models , such as:
Development of a nanotechnology platform used to add value to second-party products
Development and manufacturing of high-value materials for the pharmaceutical industry
Development of nanotechnology-improved pharmaceuticals or medical devices
The majority of start-ups has adopted the third business model utilizing nanotechnology to develop own proprietary product pipelines. Often such companies introduce new or standard drugs that are delivered with a drug delivery system. Then they try to team up with pharmaceutical companies that take the products through the clinical trials.
Drug Delivery Devices market in Japan:
Japan has one of the world's most advanced healthcare facilities. The healthcare administration in Japan is also becoming a model for many developing nations.
The report details several factors driving the market, some of which are listed below.
Drivers
· Increased prevalence of chronic diseases
· Advances in drug delivery system
· Increase in individual therapy
· Increased understanding about drug metabolism among the population
· Increasing demand for generic drugs
· Requirement of controlled drug release
Japan's drug delivery market has been segmented into oral drug delivery systems, nasal drug delivery system, pulmonary drug delivery system, injectable drug delivery, ocular drug delivery, topical drug delivery, transmucosal drug delivery and implantable drug delivery. The segmentation on oral drug delivery system is sub-divided into solid oral drugs (includes tablets, capsules, powders, and pills), liquid oral drugs (includes syrups and solutions), semi-solid oral drugs (includes gels, emulsions, suspensions, and elixirs). The segmentation on nasal drug delivery systems has been subdivided into nasal drops, nasal sprays, nasal powders, nasal gels. The segmentation on pulmonary drug delivery systems includes metered dose inhalers, dry powder inhalers, and nebulizers. The segmentation on injectable drug delivery has been further segmented into general injectable, self -injection device, needle-free injectors, auto-injectors, and pen injectors.
The global drug delivery system market size was valued at USD 379.2 Billion in 2015. Growing efforts towards formulating dosage forms that would help in maximizing the bioavailability of the drug at the target site while increasing the patient convenience are driving the global market growth. The introduction of the novel drug delivery systems such as subdermal implants that are available in different forms such as rings and patches are expected to aid in the industry growth.
The evolution of the drug delivery systems is directly attributed to changing preferences by patients as well as healthcare professionals. A few of the many advancements include-
• Introduction of Biopharmaceutical classification systems (BCS) class II drug in oral dosage forms
• Introduction of auto-injectors
• Availability of advanced implants in customized shapes and sizes
• Introduction of advanced pulmonary devices such as Smartcard and Adaptive Aerosol Delivery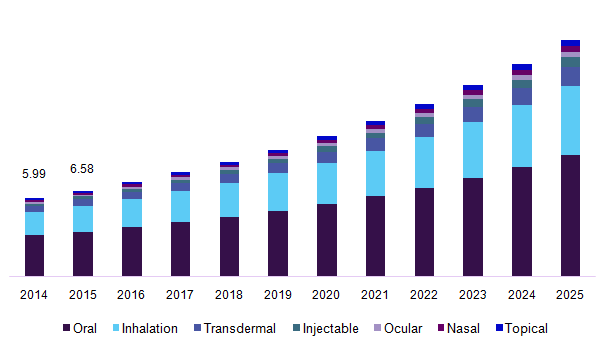 Japan drug delivery systems market, by route of administration, 2014 - 2025 (USD Billion)
Global Tissue Engineering Market:
The global tissue engineering and cell therapy market stood at nearly $9.9 billion in 2014 and is forecast to see an annual average growth rate of 21% to reach a value of around $73 billion by 2025.
Tissue Engineering is a process involving in-vitro development of tissues or organs. It is done to replace or support the function of defective or injured body part. Tissue engineering involves the application of biology and engineering for innovation of tissue substitutes that can maintain, restore and improve the function of ruptured human tissue. Products developed by this procedure are efficient and durable. Tissue engineering is gaining its popularity in various areas such as burn treatment or wound care, neurology products, orthopedics, urological products and others. On the basis of type of material used, tissue engineering and regeneration market can be segmented into synthetic, genetically modified and biological materials.
The global regenerative medicines market is anticipated to achieve USD 50.11 billion by 2021, registering a CAGR of 12.7% during the period of 2015-2021. On the back of expanding demand for bone and joint reconstructive surgeries within the nation, North America with the most shares in global regenerative dominated the market followed by Europe in 2015. Further, it's projected that by 2019 Europe might surpass the North America market in the field of stem cell and regenerative medicine. Eastern and Western Europe are anticipated to demonstrate extended request in light of the fact that the requirement for transplants through regenerative drugs will be expanding for several applications in coming future. Asia-Pacific countries are required to show up-surged request amid 2015-2021. In addition to that, Asia-Pacific transforming into one of the prime mainlands in providing regenerative medicines on bone and joint in nations like India, China, Japan and South Korea are anticipated to give a lift to the stem cell market within these countries .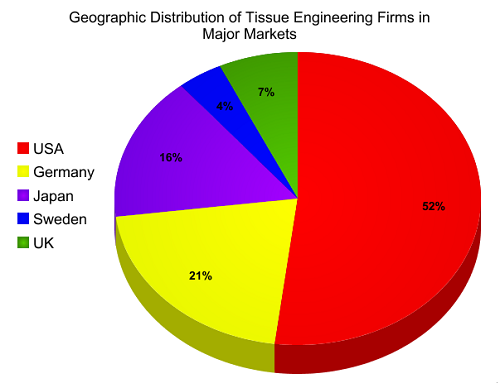 Pharmaceutical Regulations in Japan:
Manufacturing, importation, and sales of drugs and medical devices are regulated by the Pharmaceutical Affairs Law (PAL) of Japan.
All manufacturing and marketing applications in Japan for drugs and devices are reviewed by the Pharmaceutical and Medical Devices Agency (PMDA) . All applications are thoroughly reviewed before PMDA submits an approval recommendation to the Ministry of Health, Labour and Welfare (MHLW).
Under PAL, when importing to Japan and selling pharmaceutical products manufactured in other countries, a license for marketing authorization is required. The Marketing Authorization Holder (MAH) will be the owner of the license for marketing authorization.
The MAH must be based in Japan and can be the foreign company's Japan office, the foreign company's distributor, or an independent third party acting as the Designated Marketing Authorization Holder (DMAH).
To import and market a new drug in Japan, an approval (marketing approval) will be necessary. And the approval must be held by the Marketing Authorization Holder.
A foreign manufacturer intending to manufacture drugs in foreign countries and export them to Japan, is required to be accredited by MHLW as an "Accredited Foreign Manufacturer" (84). And it is necessary to obtain accreditation for each foreign factory location at which pharmaceuticals for export are manufactured.
The appointed MAH will be responsible for the labelling and advertising of the pharmaceuticals in Japan. As stipulated in PAL, the manufacturer's/seller's address, name of product, production indication, name of ingredients, expiration, etc., must be printed on the container of drugs.
Overall research in various disciplines:
The North American nanomedicine market held the majority of global market share in 2012 because of the rapidly growing nanomedicine market in the Asia-Pacific, Latin American and African region, presence of large number of patented nanomedicine products and favorable regulatory framework in the region. In addition, the presence of sophisticated healthcare infrastructure supports development of advanced products such as nano probes, nanorobots, monoclonal antibody based immunoassays and nanoparticle based imaging agents for early detection of diseases.
However, the Asia-Pacific region is expected to grow at a faster CAGR owing to presence of high unmet healthcare needs, research collaborations and increase in nanomedicine research funding in emerging economies such as China, India and other economies in the region. China is expected to surpass the United States in terms of nanotechnology funding in the near future, which indicates the growth offered by this region.
Major Nano Delivery Associations around the Globe:
Companies involved in Nano Delivery:
USA
Global