Pediatrics Neonatal Care Market Analysis and Reports | UAE Conference Series
Market Analysis - Pediatrics Neonatal Care 2019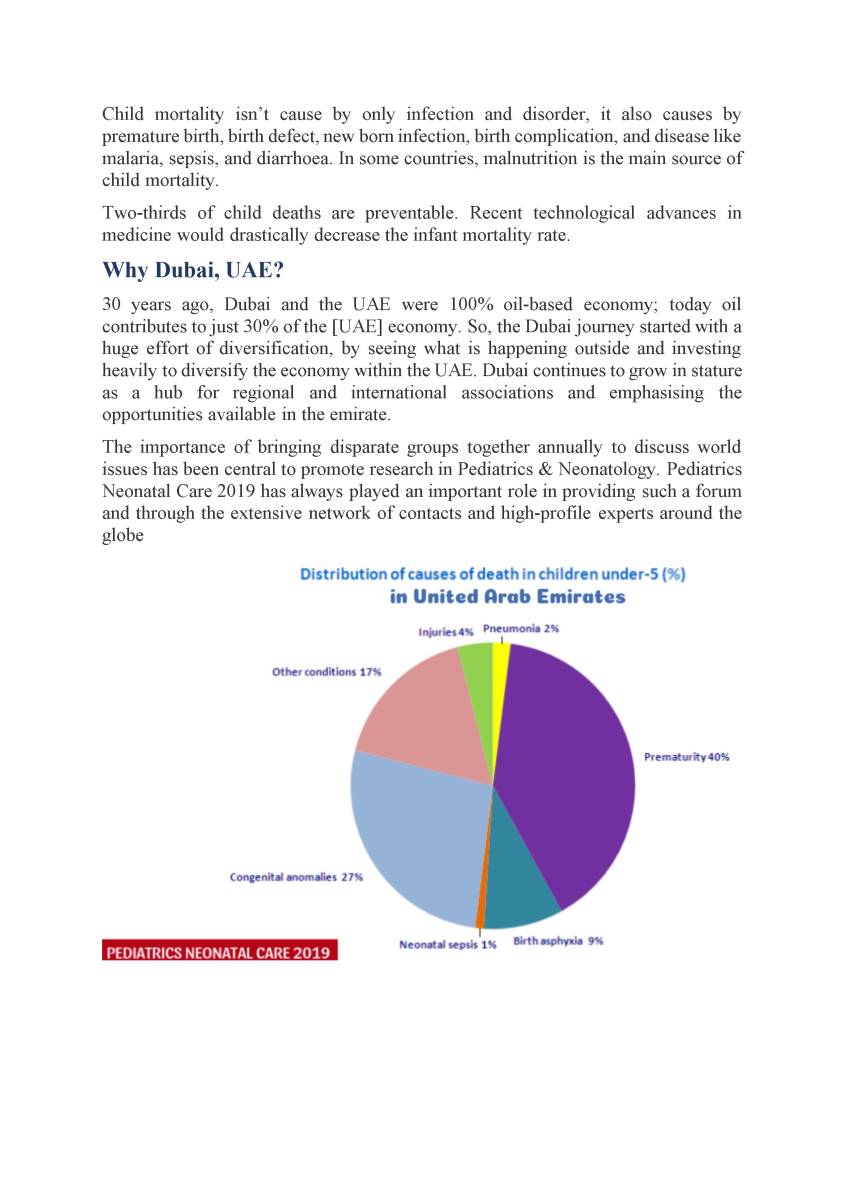 About Conference
Join us for the PEDIATRICS NEONATAL CARE 2019
Update your skills, enhance your knowledge base, and broaden your horizons—all in one place!
Theme: Promoting the Value of Pediatrics, Neonatology & Child Care: Hope of the Future
Date: November 22-23, 2019
Location: Dubai, UAE
PEDIATRICS NEONATAL CARE 2019 typically incorporate lectures, paper and poster sessions, and panel discussions with prominent international experts and scholars. We also feature product exhibitions, workshops, and student research competitions that generate networking opportunities for all attendees.
The 2019 Conference is bringing together 50+ professionals from 23+ countries for the education, innovation and collaboration – all at one time, all in one place.
Choose from 20+ education sessions, 10+ exhibitors, and endless networking events.
Abstracts are welcome in all areas related to Pediatrics, Neonatology & Primary Care.
Continuing Professional Development (CPD) Credits
Like previous conference, PEDIATRICS NEONATAL CARE 2019 CONGRESS is accredited by the Continuing Professional Development (CPD) credits. The Certification enlightens professionals to authorize their expertise into a structured and established approach towards the hunger of knowledge.
Continuing Professional Development keeps you up to date on current and emerging developments.
Why to attend?
Scientific Sessions, Workshops, Key note forums, Posters, lunch & learns–provide unique learning and career building opportunities that you just can't find anywhere else.
Below you'll find reasons why you should attend our conference and consider sending your employees to our conferences as well.
Presenting a paper
Networking for future collaborations
Strengthening and expanding the human network
Added Research Value
Specialty Exhibit Areas- Companies often have tools to display that we haven't seen yet
Learning in a New Space
Break Out of Your Comfort Zone
The focus and energy of Like-Minded Individuals
The Serendipity of the Random Workshop
Lightning Sessions
Market Debuts
We look forward to collaborating with you at our conference!