Neuroscience Congress Market Analysis and Reports | UAE Conference Series
Market Analysis - Neuroscience Congress 2018
Neurochemistry Congress 2017 welcomes attendees, presenters, and exhibitors from all over the world to Dubai , UAE.We are delighted to invite you all to attend and register for the 25th International Conference on Neurochemistry and Neuropharmacology which is going to be held September 24-25,2018 in Dubai, UAE. The organizing committee is gearing up for an exciting and informative conference program including plenary lectures, symposia, workshops on a variety of topics, poster presentations and various programs for participants from all over the world. We invite you to join us at the Neurochemistry Congress 2018 where you will be sure to have a meaningful experience with scholars from around the world. All the members of Neurochemistry and Neuropharmacology 2018 organizing committee look forward to meet you at Dubai,UAE
For more details please visit- https://neurochemistry.neurologyconference.com/
Importance and Scope Neurochemistry and Neuropharmacology is the study of how drugs influence cellular function in the nervous system, and the neural mechanisms through which they influence behaviour. The studies are more concerned with the interactions of neurotransmitters, neuropeptides, neurohormones, neuromodulators, enzymes, second messengers, cotransporters, ion channels, and receptor proteins in the central and peripheral nervous systems. Advanced studies are being made to improvise developments in drugs to treat numerous diverse neurological disorders, including neurodegenerative diseases known to be Parkinson's disease and Alzheimer's disease, pain, addiction, psychological disorders and many more.
It is necessary to focus Neurochemistry and Neuropharmacology and the use of neuropharmaceuticals to transform brain processes in the way of enhancing memory, mood, sensation, thinking and attention in people.
Gross Profit Margin of Neuropharmaceutical related companies :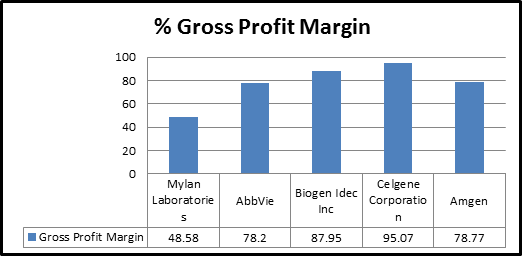 Market Capitalization of Neuropharmaceutical companies: In 2014, investors provided $3.3 billion into firms that are developing drugs for brain-destroying or psychiatric illnesses. Some big drug companies, including Johnson & Johnson, Roche and Novartis, are finding ways to reinvigorate their efforts. New medicines for severe depression, psychosis and schizophrenia could reach the market within the next few years, and treatments for Alzheimer's, Parkinson's and some forms of autism are a real possibility, too.
Sales Profile of Neuropharmaceutical companies :
The statistic depicts the research and development expenditure of the entire pharmaceutical industry of the United States from 1995 to 2014. In 2004, the expenditure of the entire U.S. pharmaceutical industry on research and development came to 47.6 billion U.S. dollars.
Neurochemistry Congress 2018 invites all the participants from all over the world to attend 25th International Conference on Neurochemistry and Neuropharmacology during September 17-18, 2018 in Dubai, UAE. which includes prompt keynote presentations, Oral talks, Poster presentations, Workshops, and Exhibitions.